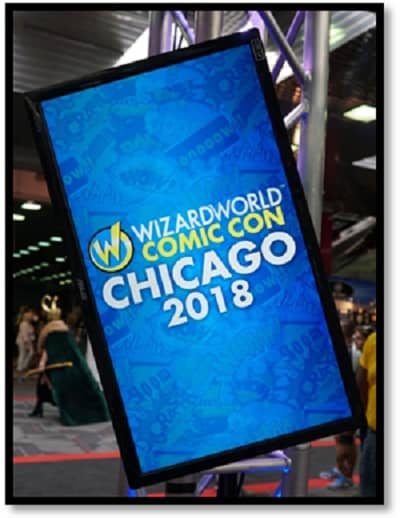 Nothing says summer in Chicago like the annual August bacchanalia that is Wizard World's Chicago Comic Con. Granted, the title Granddaddy of All Comic Cons still belongs to San Diego, which paces our attendance at 167K fans annually, but the local Midwest version is still a sight to behold.
Though exact attendance figures haven't been made public since 2009, estimates place the August, 2018 event at the Donald A. Stephens Convention Center at over 100K. With more than 300 exhibitors, many of which attend a number of Wizard World shows across the country every year, all (and I do mean all) of the 840K square feet of exhibition space is consumed. Black Gate photog Chris Z and I have covered this event since 2010 and its been amazing to watch the show nearly double in size, both in the number of exhibitors as well as attendees, during the past eight years. It is equally amazing to consider the guy who works on your car during the day may be dressed like Superman for four days every summer.
Because though it is billed as a "comic" convention, Wizard World draws in a large number of cosplayers from all over the region, and they are what make this event one we never miss. The costumes are simply incredible, but just as entertaining are those which are not; created from cardboard and fabric scraps and held together by the sheer love of a particular character.
---