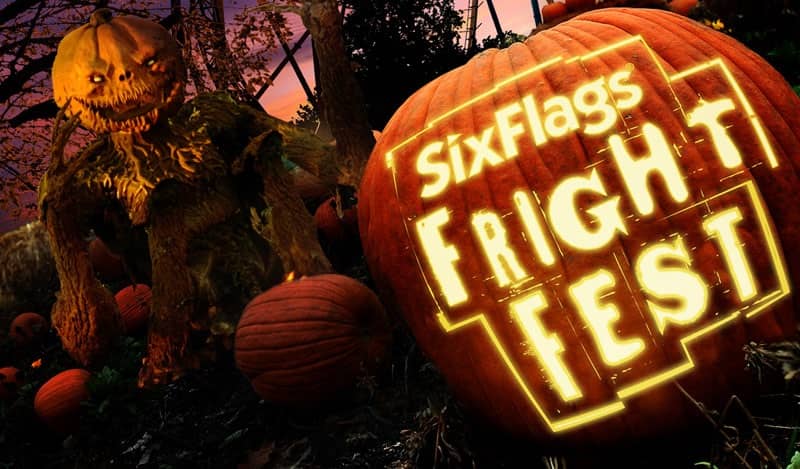 It was in my second year of writing for Black Gate, that I was invited to my very first Halloween press event, which was to cover our local Six Flags Amusement Park's Fright Fest. Launched in 1993, the Gurnee, IL attraction, Six Flags Great America, is hosting its 25th Fright Fest this year, and the Friday prior to its opening Saturday night has traditionally been used as a "dress rehearsal" for the staff while also hosting corporate outings and press. Attendance is held to 2000 people which is awesome for a park that reportedly has a capacity of 30K. This means lines are short and its actually possible to hit up all the rides as well as the special "haunted attractions" in the five hours the park is open that evening.
Over the years Fright Fest has had its ups and downs which seems to have loosely followed the mood of America itself. In 1999, Six Flags licensed and opened Alice Cooper's Brutal Planet "haunted house," featuring music from the album and using leather-clad go-go dancers as entertainment while you waited in line – assuming, I can only suppose, that something called "Fright Fest" was meant to be more of an "adult" event. Six Flags also licensed other intellectual properties for mazes and scare zones over the years, including the Saw films. Décor in the park back then pulled no punches, with elaborate and sometimes very gory scenes set up in the grassy areas, and impressive, movie-quality makeup on the actors.
Following the real-life horror of 2001, Great America pulled way back. That year and for several years after, Fright Fest became family friendly in the extreme with almost no decorations and the scares confined to a corn maze and lots of creepy clowns. I didn't mind. We'd seen enough stuff on the news to last us awhile.
---