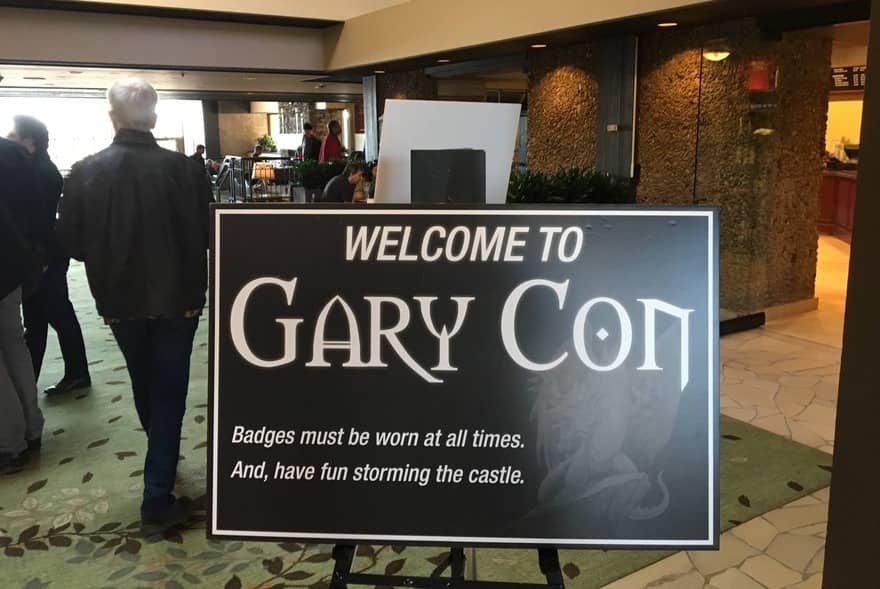 My favorite gaming convention is Gary Con, founded in Gary Gygax's home town of Lake Geneva, Wisconsin, in 2009, the year after he passed away. I attended many of the early Gary Cons, but regrettably have missed the last few years. I'd heard the convention had outgrown the lodge outside of town and was now being held in a much larger venue a few minutes outside town, the Grand Geneva Resort & Spa, and I was very curious to see just how big it has become. So I packed up my car on Saturday morning and made the 90-minute drive north from St. Charles, Illinois, to Lake Geneva.
How much has it grown? A lot. Just a few years ago Gary Con was a few hundred gamers who gathered to remember Gary and celebrate all that he brought to gaming. But on Saturday morning I walked into a sprawling modern gaming convention, with thousands of folks happily throwing down dice in multiple buildings and numerous gaming rooms. I'm delighted to report that, while it had gotten much grander, Gary Con has lost none of its friendly atmosphere — or its focus on the kind of old-school role playing pioneered by Gygax.
The highlight of the con for me is always the Exhibit Hall, which has always felt more like an intimate gathering of friends than just a place to hawk wares. In past years I've met many some of the most creative minds in the OSR ("Old School Revival") community there, including Jeffrey Talanian, author of the Astonishing Swordsmen & Sorcerers of Hyperborea RPG, Daniel Proctor, creator of Labyrinth Lord, Stephen Chenault, creator of Castle & Crusades, and Jon Hershberger, co-founder of Black Blade Publishing (OSRIC). Every year I also take the opportunity to meet up with friends such as Dave Kenzer and Jolly Blackburn of KenzerCo.
The tiny Exhibit Hall has grown enormously since I'd last attended, however. In fact, there were over 50 exhibitors spread across two halls, including Frog God Games, Goodman Games, Kobold Press, Northwind Adventures, Troll Lord Games, Hammered Game Tables, Inner City Games Designs, Pacesetter Games, Total Party Kill Games, and many more. Truly an old-school role player's paradise!
---