Experience an Epic 4X Game with Heroes of Land, Air & Sea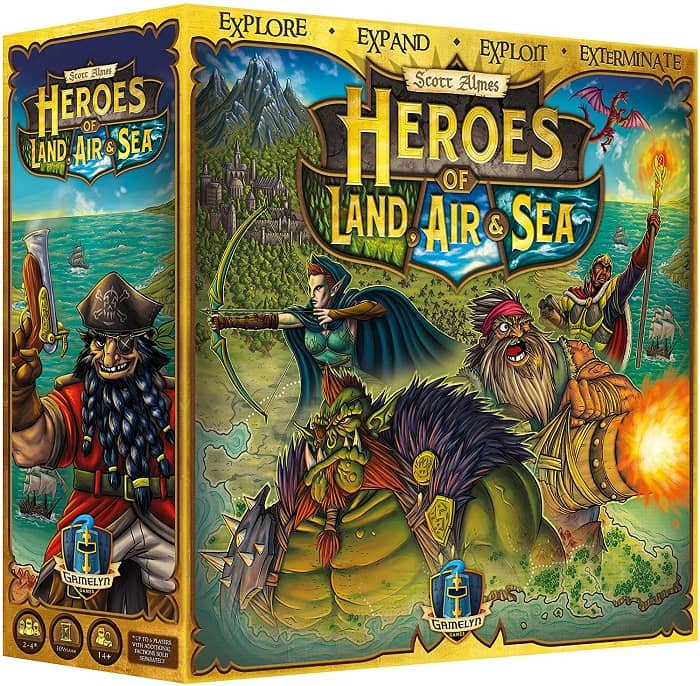 Heroes of Land, Air, & Sea (Gamelyn Games, 2018)
I love elegantly designed games, and games with deep replay value. When I fall in love with a board game, it's usually because it has simple mechanics, backed up with a rich and creative setting.
But mostly, I fall for games with a cool map.
While I was walking the floor at Gen Con 2019, I wandered into a packed booth where they'd set up several sample boards for the new Heroes of Land, Air & Sea game. Competing booths nearby had open areas with loud demo games underway, but the Gamelyn Games crew instead had simply set up a few mid-game boards, then walked away to allow attendees to gawk as long as they wished.
It worked. Readers, I gawked. This is a huge and beautiful 4X game (Explore, Expand, Exploit, Exterminate), with a 3D mapboard, gorgeous terrain, dynamic miniatures, and detailed accessories. It's precisely the kind of colorful and deliciously intriguing play surface that brings gamers from far and wide just to ask, "What the heck is THIS??" Have a look at the set up below and see what you think.