Fantasy Literature: The Change: Tales of Downfall and Rebirth edited by S. M. Stirling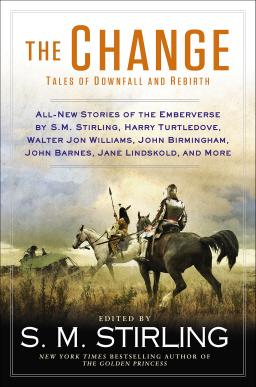 In The Change, the author of the Emberverse novels opens the doors to his post-apocalyptic universe wide. A substantial text at more than 600 pages, it contains 16 stories and an introduction by S.M. Stirling, who also contributes "Hot Night at the Hopping Toad," featuring the most contemporary protagonist of the Emberverse series, Orlaith.
Sterling's series has seen extensive attention here in the Fantasy Literature column at Black Gate. Those entries were less reviews than low brow scholarly chatter about the many interesting features, issues, and aspects of the Emberverse. This, however, is a review. But what is this Emberverse?
In short, the Emberverse begins with something commonly called the Change (some tales here call it other things, of course). In 1997 all high-energy technologies cease to function — something tweaked the rules of physics. Guns won't fire. Electricity doesn't electricit. Even steam engines won't steam — at least not usefully. While the sun burns on, here on Earth, the technological culture we take for granted grinds to a halt. Billions die by violence, through hunger, and from disease.
Some small number survive; Stirling's early novels in the series describe the events of the Change and the first ten or so years; 2014's novel, The Golden Princess, features the granddaughter of various key players of the recovery from the Change in the Pacific northwest: Orlaith Mackenzie. A lot of war and politics lies behind the cutting edge of the series, but these stories take place at various points in the chronology of the Emberverse.
The first question: can a reader new to the Emberverse read and enjoy this anthology? Yes.