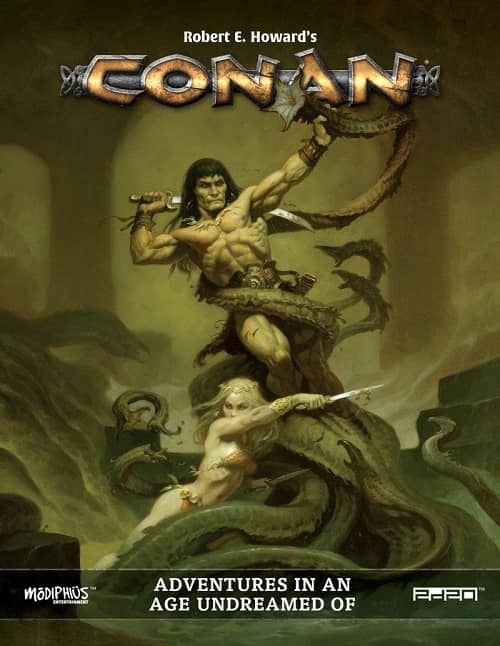 That title is probably the last time, in this article, that I'm going to refer to this game with all those words. It was important to get it right, the first time, but usually I just call it Conan 2d20.
Because that's what it is: it is playing a Conan game by using Jay Little's 2d20 engine or mechanic, which he designed for Modiphius. There are other Conan RPGs out there, all of them, of course, out of print: an "original" TSR Conan RPG (I've never had the experience), a GURPS version (I only just learned about this one, and I've never played GURPS — the Hero System was my game of choice during the "universal system" era), and Mongoose's d20 version (which I did play, at GaryCon one year, and it was a delight!). Outside of RPGs designed — or modified — specifically to accommodate a Conan vibe and setting, there are a number of options ranging from d20 derivations from Astonishing Swordsmen & Sorcerers of Hyperborea to Low Fantasy Gaming to Crypts & Things to Sharp Swords & Sinister Spells to "other system" derivations such as Savage Worlds to RuneQuest to Barbarians of Lemuria to many others that I'm either forgetting or about which I simply don't know. Of these other games, when I make an argument that Conan 2d20 is my most favorite system for accurately emulating Conan pulp fiction, I should make clear that I have not played all of them, though I have read (and even played) most of those listed above.
Getting into Conan 2d20, for the casual gamer, or for the merely curious, demands a fair amount of cognitive load. This is because, I believe, the system is so innovative — and those innovations are precisely what makes this a Conan game. I have encountered many anecdotes of gamers and consumers gleefully obtaining this gorgeous hardcover tome (or PDF), riffling through it, saying, "Huh?" then setting it aside with a "Sorry, not for me, but the art is pretty, and this still makes a good resource." This describes my own initial reception, as I was losing my mind to higher Levels of play in Pathfinder and, with immense relief, was going "old school" by picking up Swords & Wizardry. But I kept sneaking glances at Conan 2d20 and thinking "what if?" Bob Byrne and I tried to do something via Play by Post. In my home group, a year or so later, I got a 1e enthusiast to start running for my casual players so that I could give 2d20 a go with two seasoned players. But then, after I had successfully run two adventures, the pandemic hit, and these two players weren't interested in online play.
---