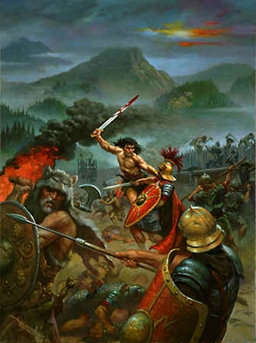 I've got a couple Holmes-related posts in the works, but am not done researching any of them (no, I don't just make up my posts as I go: I actually put some thought into them; even if  it may not always appear so). Fortunately, I've got no shortage of other areas of interest that I can use to fill the gap (I still haven't figured out how to get a baseball-related post here. Although, if I still had my copy of that Daryl Brock book.  Maybe something on W P Kinsella.).
The esteemed Ryan Harvey used to review Conan pastiches here at Black Gate. I am absolutely a Robert E. Howard and Conan fan. Perhaps you read this recent post? So, looking to indulge my non-mystery interest (I really want to write something on Tolkien's Nauglamir, but it's not even outlined yet), I turned to Conan.
Harry Turtledove is best known for his alternate history novels. I've read little Turtledove, so I can't expound on them. However, one that I did read and enjoyed very much was The Guns of the South, which involves time-travelers bringing Robert E. Lee AK-47s, changing the outcome of the American Civil War (it's better than it sounds). I definitely enjoyed it more than his other alt-Civil War book, How Few Remain.
Back in 2003, Turtledove joined the list of authors putting out Conan pastiches for Tor Books. Fans of Conan know that this line was quite hit and miss. Conan of Venarium was the 49th and last of the Tor originals, coming six years after the previous entry.
You can read Ryan's review of that one, here. I'll include a quote that I think sums up his thoughts on Venarium's predecessor:  "I am glad to report that Conan and the Death Lord of Thanza is superior to Conan and the Mists of Doom. Unfortunately, that still ranks it as the second worst Conan novel I've read."
---