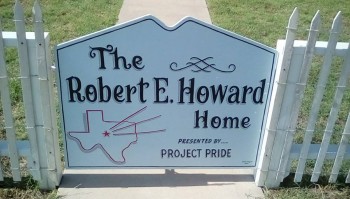 Most readers of Black Gate are probably already aware, but for those who are not, Robert E. Howard Days has been a major annual event for the small town of Cross Plains, Texas, since 1986. The gathering, including an annual dinner and festival and much more, has celebrated the life and writings of Robert E. Howard, the godfather of Sword and Sorcery literature and the creator of such fictional characters as Conan the Cimmerian, King Kull, the boxing sailor Steve Costigan, and many others. Yes, all of this has gone on in June for more than three decades.
Until this year.
As one might expect, because of the Coronavirus, Howard Days did not take place in 2020.
How sad.
But understandable.
Still, I had the great fortune to attend Robert E. Howard Days in 2018. I had planned to visit again in 2020, but … well, we all know what happened.
---