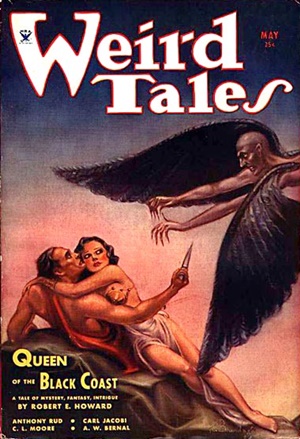 Robert E. Howard wrote twenty-one tales of Conan, the mighty-thewed Cimmerian. And with today's entry from Patrice Louinet, Hither Came Conan has looked at all of them: plus, we tossed in "Wolves Beyond the Border" as a bonus! We'll wrap things up with a summary post. But read on as we close out our examination of the Conan Canon with  story that is generally considered to be in the top two or three – when it's not ranked number one.
Robert E. Howard's best Conan tale? Well, it's a toss between "Beyond the Black River" and "Red Nails," with a definite leaning for the latter. No way I can say otherwise: I have repeated this over and over, and it's in print in many places.
And here I am today having to explain why "Queen of the Black Coast" is the best of the Conan tales. Had I been allotted "Vale of the Lost Women," you would have known I was lying to you, but "Queen"? Luckily for me, "Queen of the Black Coast" is obviously one of the best Conan tales (general consensus), and it also happens to be one of my personal favorites. It contains some very memorable scenes – Conan and Bêlit's discussion of the afterlife and the gods, most noteworthily – and it addresses in a powerful manner Howard's theme of the cycle of civilizations:
Conan's flight from the city to live a barbaric life of piracy only to sail right into the poisonous river that leads to the heart of darkness and the last degenerate survivor of a once-powerful civilization. Powerful stuff in a story that is replete with exquisite – if dark – imagery, and a tragic ending that no one can ever forget. So yes, easily one of the best Conan stories. But not "the best."
I have been mulling this problem for a while now, and of course, I had the answer all along: "Queen of the Black Coast" is the best Conan tale to read if you have never read any before. In other words, it is the perfect story to discover the character, the Hyborian setting, and of course Howard's talent.
One of the numerous problems that have plagued the perception of the Cimmerian by the general public is this idea that the tales represent as many steps in Conan's so-called "biography," though nothing in the series supports that notion. So, how do you understand a character and his motivations if you have no real biographical background? Well, think James Bond or Dirty Harry and read on.
---