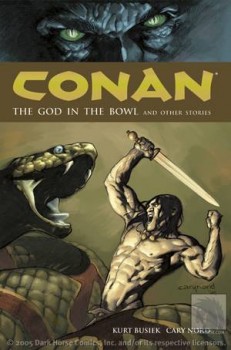 Reportedly, Ernest Hemingway bet Howard Hawks that the director couldn't make a good movie out of his worst book. Hawks took the bet and we ended up with Humphrey Bogart in To Have and Have Not (it's not Bogie's best, but I vote Hawks the winner of the bet). Suppose I told you I could show you that one of what's commonly considered among the worst Conan stories isn't really that bad – and that it's a pre-genre police procedural? Ready to take on the challenge?
In 2015, Black Gate's Discovering Robert E. Howard series showcased the breadth and diversity of REH's writings. Boxing stories, westerns, science fiction, Solomon Kane, El Borak: Howard was an immensely talented author who wrote in a variety of genres. My first entry in the series was about Steve Harrison, Howard's take on the hardboiled private eye with a weird menace twist. As you can read in that essay, Howard didn't care for the genre and he abandoned it almost as quickly as he entered it. Today, I'm going to look at his lone police procedural. Yep – Robert E. Howard wrote a police procedural before the term was even in use. And it features Conan!
The general consensus is that Howard hit the mark with his fourth Conan story, "The Tower of the Elephant," published in March of 1933. His first was "The Phoenix on the Sword," which appeared in Weird Tales in December of 1932 and was a rewrite of an unpublished Kull story, "By This Axe I Rule." Farnsworth Wright, editor of Weird Tales, rejected the second, "The Frost Giant's Daughter," which to me, reads more like a chapter in a longer work than a self-contained story.
"The God in the Bowl" was probably written in early 1932 and was Howard's third Conan story. Wright rejected this one as well and it did not see print in any form until an edited version by L. Sprague de Camp was published in 1952's Space Science Fiction, Volume 1, Number 2 (the story has nothing to do with either space or science fiction…). De Camp did less chopping on this one than most of his Conan edits, but fans could finally read Howard's original text in Donald Grant's The Tower of the Elephant in 1975.
---