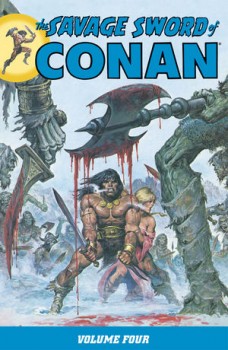 This series explores the Savage Sword of Conan collections from Dark Horse reprinting Marvel Comics' premiere black-and-white fantasy mag from the 1970s. Previous installments: Volume 1 / Volume 2 / Volume 3.
In volume 4 the superb team of John Buscema (pencils) and Tony DeZuniga (inks) continues to dominate the magazine's "Golden Age" (i.e. the late 70s). However, this volume begins with John's talented brother Sal Buscema stepping in for issue #37, ably inked by Rudy Nebres.
It's a good issue, but things really take off when the regular (John) Buscema/DeZuniga team returns in #38 to adapt the story "Road of Eagles" by Robert E. Howard and L. Sprague DeCamp. This is a landmark issue: Conan has never looked more fierce, and his world hasn't been this fully realized since Alfredo Alcala's hyper-detailed inks in the mag's early days.
I've read that Buscema didn't care much for DeZuniga's inks — but he didn't really like anyone's inks over his pencils except his own. That's fairly common for the Great Pencillers of comics history — yet they were usually too busy with deadlines to do their own inks.
Personal taste aside, Roy Thomas obviously realized the greatness of the Buscema/DeZuniga pairing. He made sure this team worked together as often as possible: 7 out of these 12 issues feature John Buscema pencils with DeZuniga inks. Roy even tapped DeZuniga to ink two more great issues penciled by Sal Buscema (i.e. #39 and #44).
---