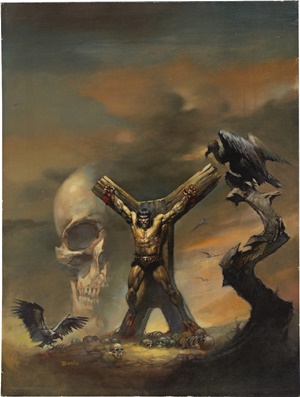 Three stories to go! This week, Robert E Howard Foundation multiple time award winner, Jeffrey Shanks, takes on "A Witch Shall Be Born." That ain't exactly an easy task. See what he's got to say about this one.
Thou Shalt Not Suffer "A Witch Shall Be Born" — Or Maybe You Should?
"A Witch Shall Be Born" is not usually on anyone's list of the top tier Conan stories – despite containing what could arguably be the most powerful and iconic scene in the entire series. The tepid reception to "Witch" is not entirely unfounded – the novella-length yarn is heavy on exposition, awkwardly constructed, poorly paced at times, and somewhat anticlimactic in its dénouement. And yet it has moments in which Howard's powerful vision shines through the flaws. Howard Jones and Bill Ward noted in their recent REH Re-Read series  that it feels a bit like a draft, and I tend to agree. The story was written hastily in just a few days as Patrice Louinet has noted, and feels a little like a piece of choice meat that is a bit undercooked – It could have used another minute on the grill, but it's still pretty damn tasty.
"Witch" was published in Weird Tales in the December1934 issue. As with "Black Colossus, it is a Hyborian version of one of Howard's blood and thunder, Harold Lamb-style "Oriental" tales, in the same vein as the Crusades yarns he had been writing a few years earlier. The small kingdom of Khauran in which much of the story is set is something of analog to the historical Crusader kingdom of Outremer, a Western (Hyborian) polity precariously set on the fringes of the Eastern steppes.
---