Weird Tales Deep Read: October 1934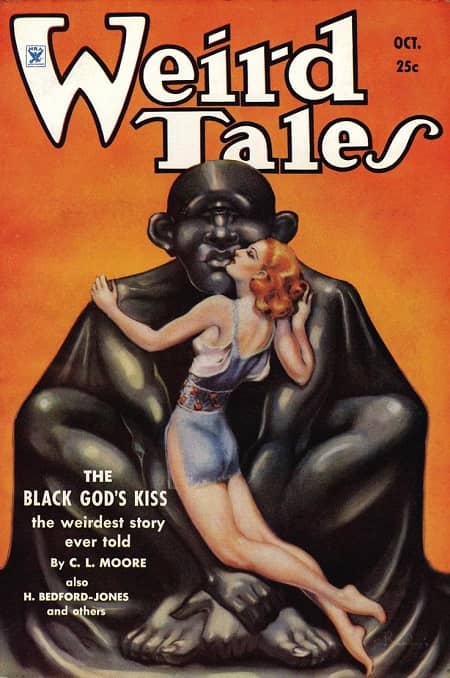 Cover by Margaret Brundage
This third installment of the Weird Tales deep read covers the eleven stories in the October 1934 issue, including the first Jirel of Joiry story by C. L. Moore. Her flame didn't burn as long in the Unique Magazine as the Lovecraft-Howard-Smith trinity's did, but it did burn as brightly. Moore had sixteen stories in Weird Tales between 1933-1939, twelve in an incredible burst of creativity in the years 1934-1936.
This issue had three stories set in the U.S. (27%) and one each in France, Hyperborea, the U. K., Hyboria, Africa, Serbia, Italy, and an unknown locale (9%). Six had a contemporary setting (55%) and five were set in the past (45%). All in all a decent issue, with the stories averaging 2.27, the score being dragged down by some of the shorter pieces, which were largely undistinguished.
Notable authors include Clark Ashton Smith, Robert E. Howard, with one of his longest and most ambitious stories, the aforementioned C. L. Moore, and fairly reliable veterans Paul Ernst and H. Bedford-Jones, and Manly Wade Wellman. The Ernst and Eadie offerings could be considered science fiction, the rest fantasy.