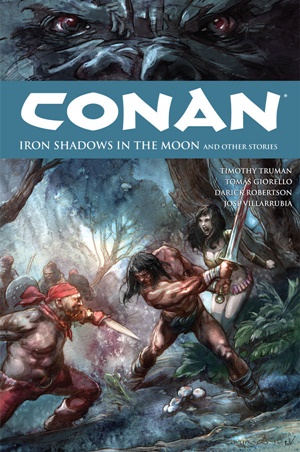 Timothy Truman turned sixty-three recently. Truman is one of the leading graphic book writers and artists in the industry. He was a cornerstone of Dark Horse's Conan line, both writing and drawing.
Truman scripted "Iron Shadows in the Moon," which Morgan Holmes recently expounded on. So, today we've got a bonus Hither Came Conan post, looking at Dark Horse's version. Along with some discussion of the 'before and after' in that storyline.
The Free Companions covered issues 16 -18 of Dark Horse's Conan The Cimmerian run. They picked up the storyline after the end of "Black Colossus," with Conan at Yasmela's side, to the disapproval of the Khorajans. He rescues her brother, king Khossus, but by story's end, is displaced by Prince Julion of Muric (Al-Muric), an exiled stepson of King Strabonus.
Issues 19 – 21, Kozaki, cover Conan leading the Free Companions. After being dismissed from Khorajan service by Al-Muric, they raided willy nilly, building up some enmity.
But all of this is muddled together, as Dark Horse has Conan, near dead, in the swamps of the Ilbars River, the lone survivor of the Free Companions. And until Shah Amaruth shows up, pursuing Olivia, the story is a mélange of flashbacks involving Conan, Olivia's story, and activity in the swamps. It will take more effort than it's worth to sort through all that, so I'll just work in a relatively linear fashion, time-wise.
---