Conan's Father: William Smith, 1933-2021
Conan's Father: William Smith, 1933-2021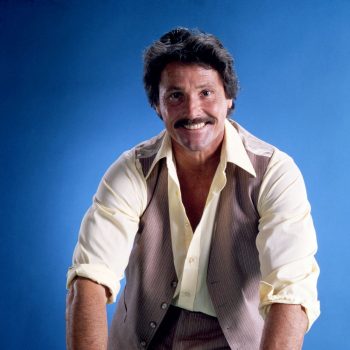 William Smith
We all have our end-of-year rituals, those small ceremonies that prepare us to ring out the old year and ring in the new. For me, one of the most important is watching the current TCM Remembers, the annual short film with which Turner Classic Movies bids farewell to the film people that we've lost throughout the year. It's always beautifully done, and it always makes me tear up, usually no more the thirty seconds in.
Some of its subjects — the more famous ones — come as no surprise, as I heard about their deaths when they occurred during the year. There will always be many people, though, that I only find out about when I watch the video, late in December. This year one of the people that I didn't know was gone was William Smith, who died July 5th at the age of eighty-eight.
William Smith? Who was William Smith? Oh, you know him — I guarantee it. To say that he was a prolific actor is to greatly understate the case. He has two hundred and seventy-five movie and television credits listed on IMDB, the first a miniscule part in 1942's The Ghost of Frankenstein when he was nine years old and the last in 2020, in the Steve Carell comedy Irresistible.
Between those widely separated dates William Smith was in damn near everything; you would be hard pressed to name a police or detective or western television series of the 60's, 70's or 80's that he didn't appear in. Big and beefy, his rugged looks and demeanor in the Clint Eastwood/Jack Palance mold gained him steady work in action films, usually as a heavy, and you would never guess that he spoke four languages and loved to read Dostoevsky in the original Russian.
One of the reasons I watch TCM Remembers is to get ready for my annual New Year's Eve get together with one of my oldest friends, a degenerate movie buff like myself. Every December 31st for the last twenty-five years we meet to pay tribute to the folks we've lost by showing clips of them from television shows and movies that we own. (Bob and I both have shamefully large DVD and Blu-ray collections. Streaming? Streaming my fanny!) The wives heave a sigh of relief as we repair to the back of the house to immerse ourselves in our yearly bout of cinematic reminiscence and nostalgia. Sometimes picking a memorial scene can be difficult, but when I saw that William Smith had died I knew instantly what scene of his I would use. Out of all the possible choices, I really had no choice at all.
Top stars can be choosy about the jobs they take, but that's a luxury denied to most character actors. William Smith worked on some good films, but he also appeared in a lot of crapola, a fair amount of it ultra-low budget science fiction and fantasy offerings like The Thing with Two Heads and Grave of the Vampire and Invasion of the Bee Girls, the last one a favorite of Roger Ebert, God knows why. There was one exception to this run of fantastic film stinkers, though — in 1982 Smith was cast as Conan's father in Conan the Barbarian, and that's the role that I will always remember him for.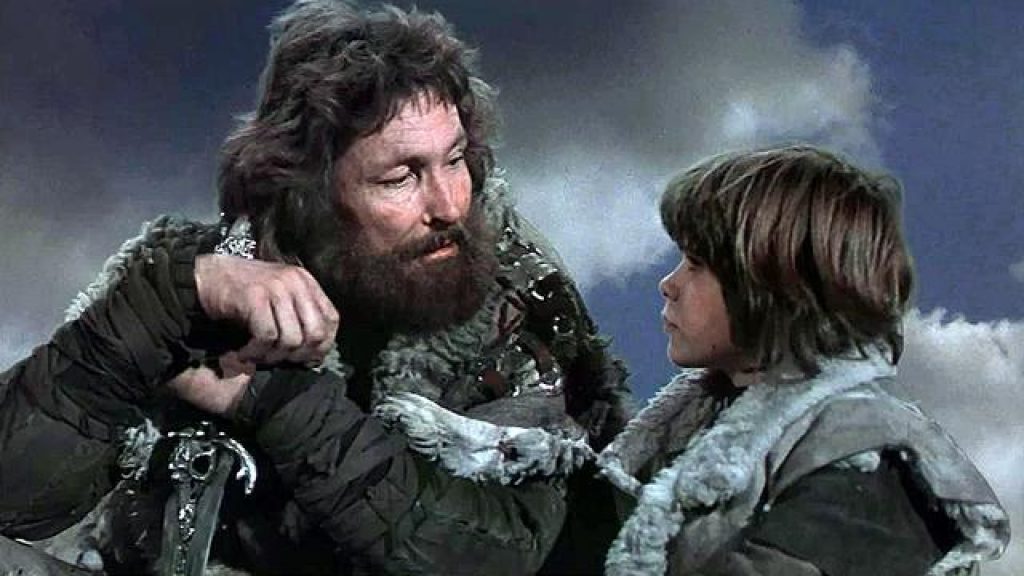 Father and Son
If you know the movie, you know the scene (the opening one of the film, in fact). High on a snow-capped mountain Smith as Conan's father is telling his young son the facts of life:
Fire and wind come from the sky, from the gods of the sky. But Crom is your god — Crom, and he lives in the Earth. Once giants lived in the Earth, Conan, and in the darkness of chaos, they fooled Crom, and they took from him the enigma of steel. Crom was angered, and the Earth shook, and fire and wind struck down these giants and they threw their bodies into the waters. But in their rage, the gods forgot the secret of steel and left it on the battlefield. And we who found it are just men. Not gods, not giants – just men. And the secret of steel has always carried with it a mystery. You must learn its riddle, Conan. You must learn its discipline. For no one, no one in this world can you trust. Not men, not women, not beasts — this you can trust.
Then he hands Conan the sword he has forged himself, and the scene is over. It takes Smith seventy-seven seconds to deliver his lines, and it's all the dialogue that he has in the movie, but Laurence Olivier couldn't have done it any better; It's simply magnificent. (Credit should of course be given to the writers, Oliver Stone and John Milius, who also directed the movie and who was responsible for another all-time classic monologue, Robert Shaw's Indianapolis speech in Jaws.)
I know that Conan fans are divided about Conan the Barbarian (for all its faults, I've always loved it and always will), but I don't have the slightest doubt that Robert E. Howard would have heartily approved of this scene at least, and of the man who played the barbarian's father.
A few minutes later Smith departs the movie as James Earl Jones' Thulsa Doom and his minions appear and lay waste to Conan's village. Conan's father gives as good an account of himself in that hopeless battle as William Smith does in the film itself. You don't have an almost seventy-year career in movies and television if you can't rise to good material and make a maximum impact with whatever you're given, and Conan the Barbarian demonstrates that Smith knew exactly how to do that. He was a thorough professional, and he will be missed.
Bob and I didn't actually get together on New Year's Eve — damned COVID. But I selected my tribute scenes anyway, and since there was no hurry, I watched them over the first few weeks of the year. When I pulled Conan the Barbarian out of the stack, it was hard to stop after the great beginning William Smith gave it, so I went ahead and watched the whole thing. I couldn't think of a better way to start 2022.
---
Thomas Parker is a native Southern Californian and a lifelong science fiction, fantasy, and mystery fan. When not corrupting the next generation as a fourth grade teacher, he collects Roger Corman movies, Silver Age comic books, Ace doubles, and despairing looks from his wife. His last article for us was Living in the Labyrinth: Susanna Clarke's Piranesi