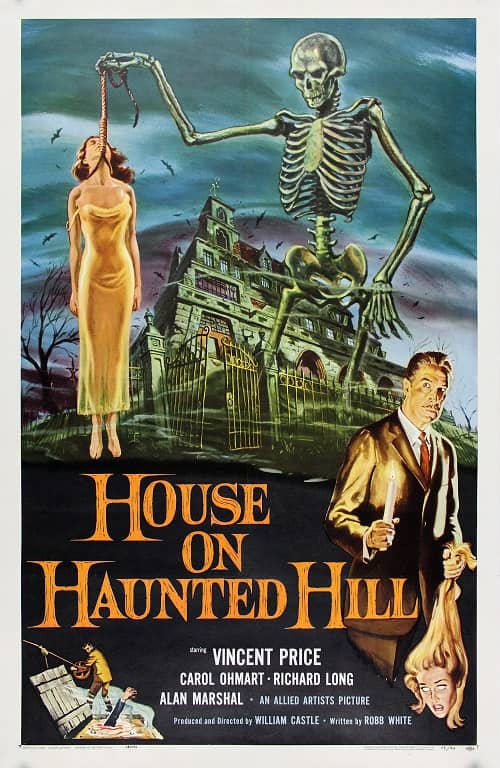 House on Haunted Hill (Allied Artists, 1959)
In 2019 (aka "the Time Before") one of the quintessential horror movies of our time celebrated its 60th birthday. The House on Haunted Hill (1959) starring Vincent Price, Carol Ohmart, Alan Marshal and Julia Mitchum was not only critically acclaimed in its own time, but still has an 88% fresh rating on Rotten Tomatoes today. Filmed for $200K over the course of 14 days in 1958, the film has netted over $1.5M and counting, thanks to video rentals and streaming. Ironically, its 40th anniversary remake in 1999, starring Geoffrey Rush and Famke Janssen cost $37M to make and has only netted $43M to date worldwide, making the original House proportionally the clear winner with fans.
What you may not know is the many ground-breaking elements of the film which still influence entertainment and promotion today. To start, director William Castle was the original master of guerilla marketing. His technique first appeared with his movie Macabre (1958) but due to its success, it was replicated with House a year later. Mr. Castle offered $1,000 Lloyd's of London insurance policies for those brave enough to watch his horror film. However, if anyone with the policy by the died of fright during the movie, that person's next of kin would be paid $1,000. In addition to this, Castle had select theater owners station nurses in their lobbies and park hearses outside. Castle himself said it was a shame no one actually expired during his movies as it would have been exceptional publicity. Today, directors such as J.J. Abrams (Super 8) and J.A. Bayona (Jurassic World; Fallen Kingdom) have taken such gimmicks even further to promote their films. Just Google the name of the movie and "guerilla marketing" to see the examples.
---