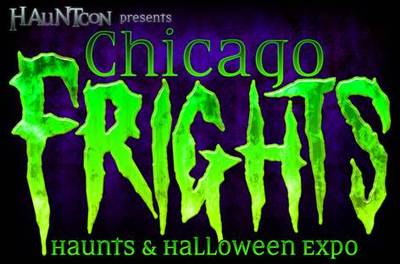 If you recall, a verbal thrashing from Editor and Big Cheese John O'Neill, resulted in we here at Goth Chick News publishing a thorough accounting of our whereabouts throughout the year. The purpose being less about flaunting the enviable circles Black Gate photog Chris Z and I roll in (i.e Days of the Dead and Walker Stalker Con) and more about attempting to squeeze some additional expense account funds out of the boss.
That strategy went about how you would expect.
What we didn't expect was additional invitations to some new events celebrating their inaugural year here in the Windy City. And since the invitations were local, we'll be able to further stretch the Black Gate expense account which basically consists of some Starbucks gift cards tossed during the St. Patrick's Day parade and several hundred game play tokens from Dave and Busters.
Haunted attraction industry icon and all around nice guy Leonard Pickel, launched a new haunts and Halloween conference here in Chicago, called Chicago Frights, which Chris Z and I had the pleasure of perusing this last weekend.
---