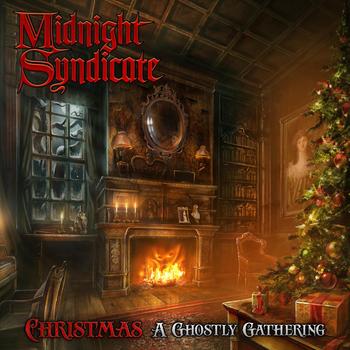 As you are all likely aware by this point, I go all fan-girl when it comes to my goth-boy-band crush, Midnight Syndicate.
From way back when they were providing the soundtrack to the Playboy Mansion's Halloween bashes to the music they produced for movies like The Dead Matter, I've hung on their every note; and no fantasy game night or Halloween season would be complete without them.
So when Ed Douglas contacted me to say Midnight Syndicate had recently completed something really special that would be right down my under-lit, cob-webby alley, I promptly began stalking the mail carrier until the package arrived.
And once again, the boys deliver – in a wonderfully different and unexpected way.
A Christmas album.
Yes, you read that right. Midnight Syndicate has just released Christmas: A Ghostly Gathering.
How, oh how to describe this to you?   Let's just say that if Beetlejuice invited you over to the Maitlands for a holiday Zagnut, he'd be playing this collection on all speakers.
Midnight Syndicate has taken your favorite holiday tunes and added in their unique mixture of dissident chords, eerie harmonics and original craftsmanship to deliver charmingly haunting fare that will take you from October straight through December.
---