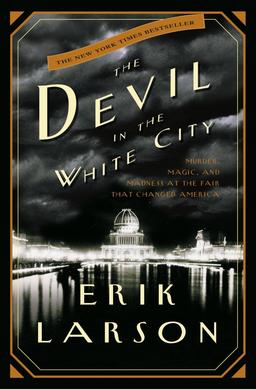 Nearly two years have passed since I first reported Warner Bros. continued to slog through script development on a movie version of Erik Larson's tale of murder in the 1893 Chicago World's Fair, The Devil in the White City.
Larson's book, which tells the twin narratives of serial killer H.H. Holmes and Daniel H. Burnham the architect behind the World Fair, was first put in development by Tom Cruise's production company, but the option lapsed in 2004.
What then ensued was a series of various studio options, all which lapsed before the movie could get out of development hell. White City finally came to rest with Warner Bros. where it has languished for the last several years until their option also expired, resulting in an aggressive bidding war which was ultimately won this summer by Paramount.
Leonardo DiCaprio has been attached to the White City project for nearly ten years, doggedly pursuing the film since shortly after Cruise's company lost out. DiCaprio is specifically keen to play Holmes rather than the far more likable character of Burnham, because DiCaprio wants to portray an entirely unsympathetic "bad guy."
Holmes most certainly fits the bill.
H.H. Holmes murdered between 27 and 200 people, mostly single young women, against the backdrop of the Chicago World's Fair. The reason the spread on the quantity of victims is so large is, due to his insidious corpse disposal methods, the exact body count was impossible to pin down. Even Holmes himself couldn't recall the precise number, when he was finally caught, tried, and hung in 1896.
---