Goth Chick News: Super Heros, Zombies and Three Guys in Green Tights
Goth Chick News: Super Heros, Zombies and Three Guys in Green Tights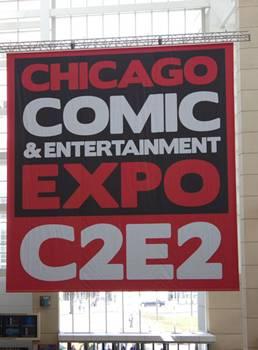 If you happened to be hanging out in downtown Chicago recently, perhaps enjoying the first wiff of a thaw in the air, then you also ran a fair chance of seeing Khaleesi riding the El train.
After all, April in the Windy City can only mean one thing.
It is once again time for the mother of all spandex parades, otherwise known as the Chicago Comic and Entertainment Expo (C2E2 for you cool kids).
Started back in 2010, C2E2 is a fan convention spanning the latest and greatest from the worlds of comics, movies, television, toys, anime, manga and video games. The 840K square foot show floor was packed light saber to body suit with literally hundreds of exhibitors, panels and autograph sessions. And though this year's attendance has not yet been officially published, estimates place it at a record-breaking 60K plus.
As we have done for the prior four years, Black Gate photog Chris Z and I gleefully donned our official press passes (by far the coolest looking ones in the industry) and waded into the fray; in order to provide you a chance to peep at least a small portion of the sights too numerous to catalog.
Thanks to a pre-opening chat with perennial Goth Chick News fav, horror comic writer Dirk Manning, we were able to skirt the biblical-sized masses queued at the entrance and get an early look at show floor. The sheer number of booths dedicated to comics alone made me wonder (and later discover) the actual size of the domestic industry for comics and graphic novels, in dollars.
[Click on the images for bigger versions.]
Are you ready?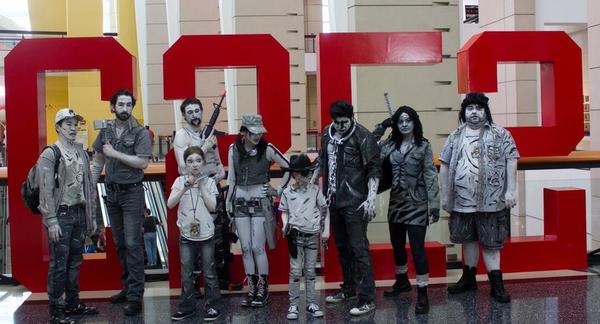 $870 million.
Which is pretty impressive for a product whose average selling price is $2.50.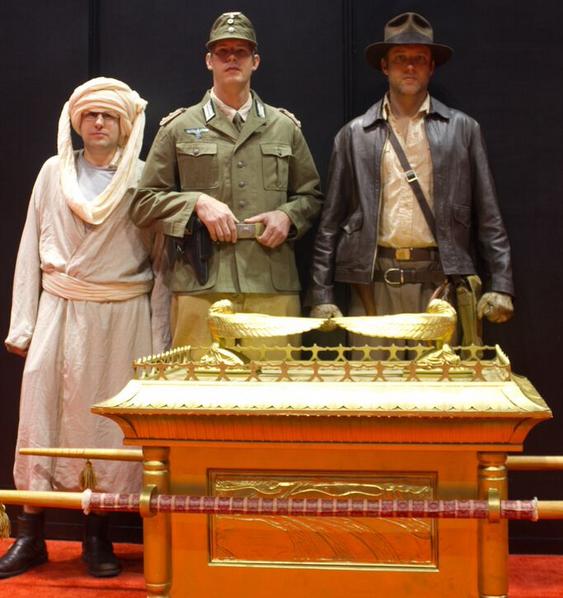 And though I tried to discover how much money goes into cosplay in the US, I was unable to locate figures. However, based on what we saw that Saturday, the numbers are probably equally staggering.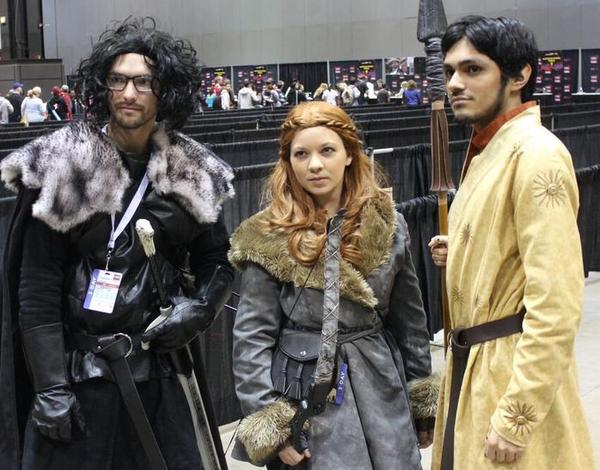 Most of the costumes we saw were serious – meaning the people who had created them weren't ordering from some online Halloween store and getting an off-season discount. As you can see from the pictures, we're talking significant expendable income and the dedication of any hardcore hobbiest.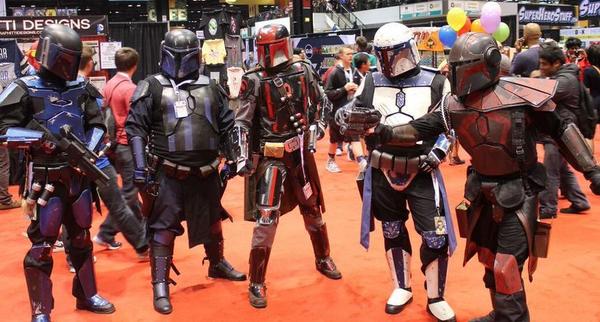 But back to the comics.
As I mentioned, we dropped in on Dirk Manning's booth for a chat about his latest project Then It Was Dark.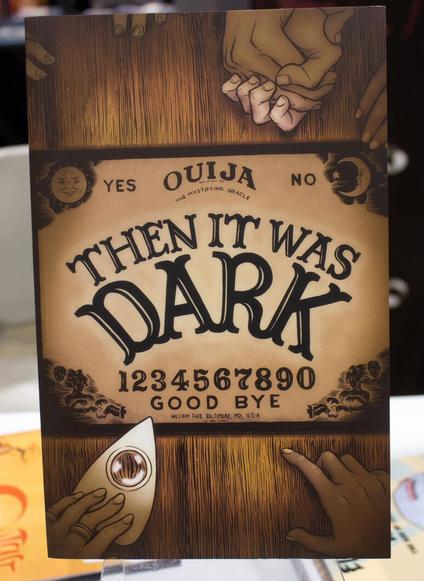 From the strange, nighttime experiences of a man deployed in Iraq to the story of a house haunted by a slightly mad old Jewish matriarch, from a chaplain's first experience performing an exorcism, to the history of spiritualism, to a ghost that seems to love LARPs, Then It Was Dark collects a variety of strange experiences from talented and diverse voices, including our beloved Mr. Manning's.
True paranormal tales have found their way into prose books forever, but I've never never before seen them in comics. Which is a shame, because stories like these all but beg to be drawn, and now they have been.
Then It Was Dark is available from editor Sarah Benkin's website, Peppermint Monster.
In another uber cool comic encounter, we had the pleasure of chatting with Sandy King, wife of legendary horror movie director John Carpenter and actor Thomas Ian Griffith, about the upcoming comic they helped create with Carpenter; Asylum.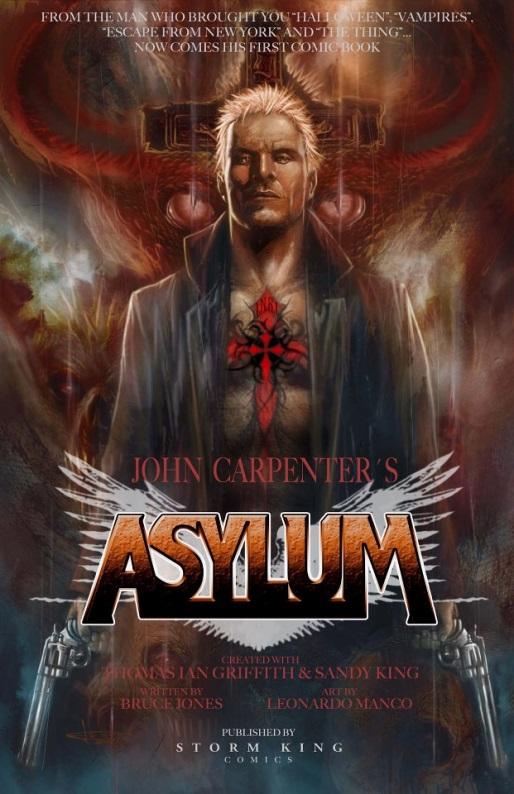 "It's essentially a horror comic about a conflict that involves the most powerful evil of all, and a plan to open a portal in Los Angeles that would be the beginning of the end for mankind," said King of the series. "The stakes are big, but we all love that. And John has loved that type of stuff since he was a kid."
Carpenter isn't the writer for Asylum, which will be scripted by veteran comics writer Bruce Jones, with interior art by Jason Craig, but King also made it clear that this isn't just some project Carpenter is lending his name to, either. While he's well aware that the comics industry is relatively new ground for him, Carpenter is confident that he's learning from some of the best.
King and Griffith hinted that a movie deal based on Asylum might (just might) be in the works and Griffith agreed to discuss it further in an upcoming interview.
Stay tuned.
Asylum is currently in installment number 9 and available now where all fine comics are sold.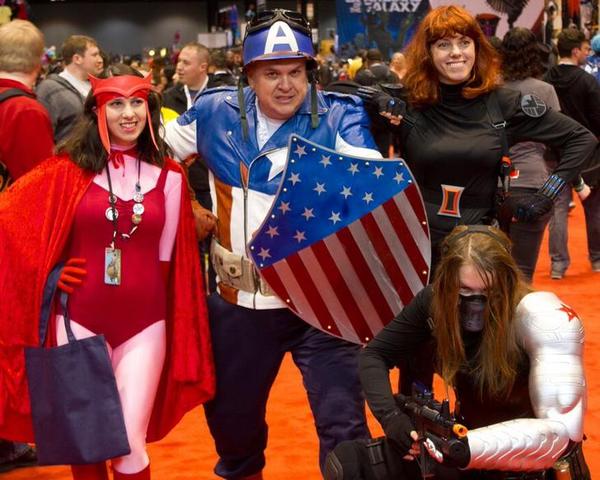 C2E2 also hosts its share of authors and publishers, all touting the lastest and greatest in a variety of genres. But it was an encounter with author Max Brooks that left me in this convention's one and only fan-girl swoon.
In case you can't place the name, Brooks is the author of World War Z, the fabulous source material that was translated into the movie of the same name but with far more mixed review (though starring the equally fabulous Brad Pitt).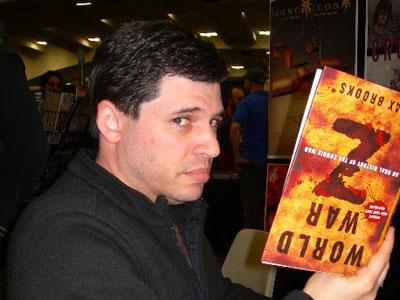 Aside from the fact that Max Brooks is kind of a hottie, and forgetting the fact that his Dad is none other than comedian Mel Brooks (yes, THE Mel Brooks), Brooks left me embarrassingly tongue-tied because he was… well… just so darn charming.
After I expressed my admiration for not only the book, but also the audio version of World War Z, Brooks disclosed that he was dyslexic and as a child, had a difficult time reading. He therefore submerged himself into the world of audio books and became so enamored of listening to stories that he was determined to become an author himself.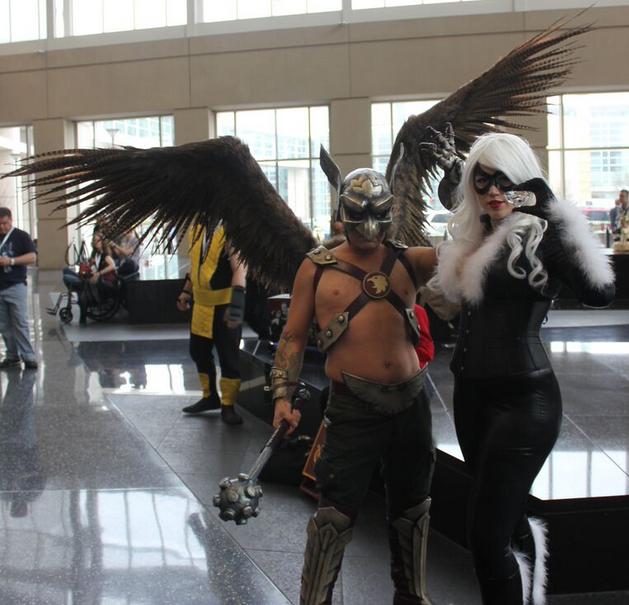 Brooks then went on to make my day (and maybe my whole year) by writing a personal note on the inside cover of a copy of World War Z, just for me.
And once Chris Z stopped rolling his eyes and busting me for going all gooey over Max, we moved on to our two favorite "products" of the convention.
First was the custom-embroidered fezzes by a company called Fez-O-Rama.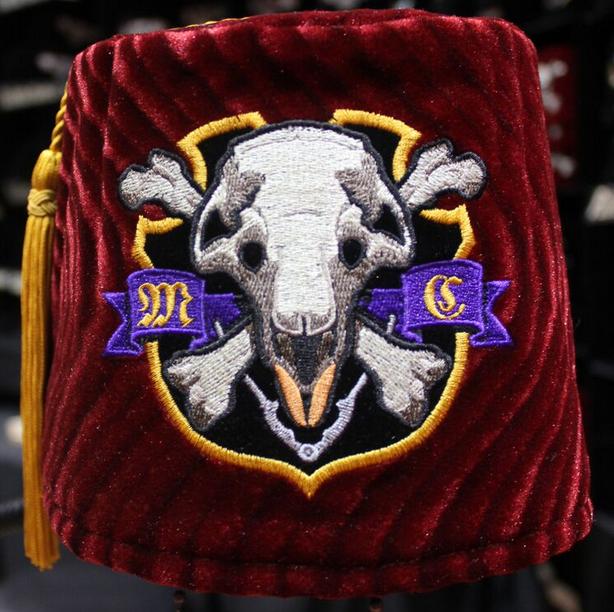 As they're purveyors of "fine embroidered velvet fezzes for all of your fez hat and custom fez needs," the only question is – why the heck not?  According to the folks manning the booth, the fez is coming back in a big way thanks to Doctor Who, and Fez-O-Rama is there to provide unique fez hat designs ranging from Tiki and Horror themed fezzes, to Science and Gaming fezzes.
They even recently launched a Cthulhu fez – are you listening Dirk Manning?
Which brings us to the three guys in tights – or more specifically, three guys in Robin costumes.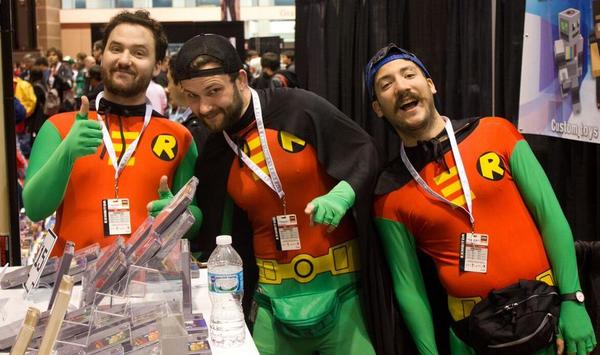 Their company was called Ink Whiskey and their product was fairly ingenious. Founder Matt Cornell ("International flight attendant by day, whiskey drinking retro gaming nerd by night") came up with the idea of converting old Nintendo console games into hidden liquor flasks. "After all," Matt reasons, "who's going to question what looks like a perfectly legit copy of Super Mario Bros. in your back pocket?"
Selling for $20, each Ink Whiskey game flask has been turned into a "parody" as to not land Matt and the boys in serious legal trouble. So instead of Duck Hunt you'll get "Drunk Hunt" and instead of Final Fantasy you'll get "Fine Ale Fantasy," but you'll have to look closely to tell the difference from the original game.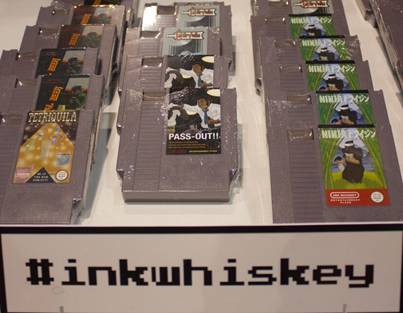 And aside from this being just about the coolest idea ever, I had to know why the boys in the Ink Whiskey booth were hanging out wearing skin-tight Robin costumes? So tight by the way, that all three were forced to wear strategically placed fanny packs.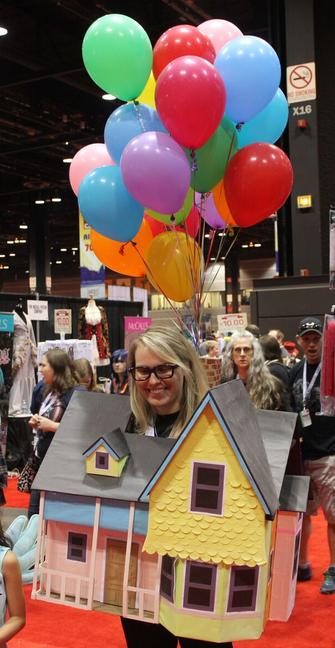 "You came over here to see what we were selling didn't you?"
Touche.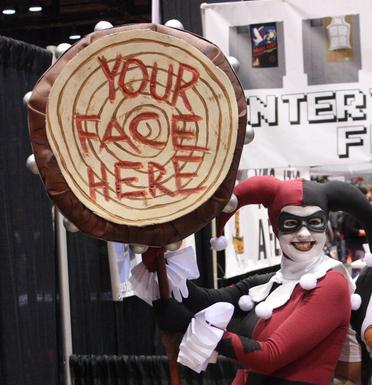 Have a comment or question? Post it here or drop a line to sue@blackgate.com.