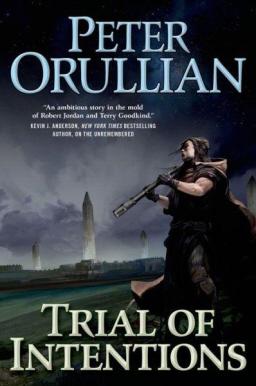 Trial of Intentions is the second volume in Peter Orullian's Vault of Heaven series, following The Unremembered (2011). In his recent Black Gate article, Peter gives a tantalizing glimpse of the worldbuilding in these novels:
In the midst of these political machinations, this one regent realizes that even if she can get all the kingdoms to agree, it might not be enough. The sheer numbers of the army they could create may be insufficient this time. What do you do then?

War machines.

In the instance of my book, this takes a couple of forms. There is, in fact, an entire kingdom given to the production of what I call "gearworks." This society is densely populated with smiths of various kinds all designing and building better war machines…

This time, the threat from beyond the veil is more dire than ever before. And to meet it, this lone regent realizes that mere muscle and bone won't be enough. The escalation needs to go further this time. They need to exhaust approaches that might once have seemed inconceivable and forbidden…

War is coming. One of those great wars you read about. The kind people call "the war to end all wars." And in the face of such a thing, you arm. You do all you can. Pull out all the stops. Ask impossible, impractical, maybe unholy things. Because losing isn't an option. Losing means annihilation.
Peter has been writing a series of acclaimed short stories set in the same world, and many of those are available free online at Tor.com. It's a great way to get introduced to to Vault of Heaven. Here's a few helpful links.
---