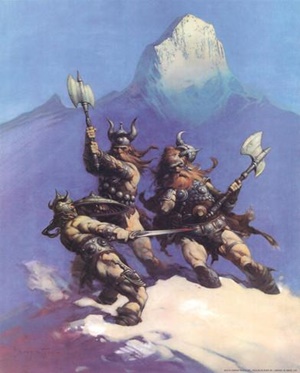 Welcome to a brand new, Monday morning series here at Black Gate. Join us as a star-studded cast of contributors examine every original Conan story written by Robert E. Howard: and tell you why THAT is the best of the bunch. Read on!
"KNOW, oh prince, that between the years when the oceans drank Atlantis and the gleaming cities, and the years of the rise of the Sons of Aryas, there was an Age undreamed of, when shining kingdoms lay spread across the world like blue mantles beneath the stars—Nemedia, Ophir, Brythunia, Hyperborea, Zamora with its dark-haired women and towers of spider-haunted mystery, Zingara with its chivalry, Koth that bordered on the pastoral lands of Shem, Stygia with its shadow-guarded tombs, Hyrkania whose riders wore steel and silk and gold. But the proudest kingdom of the world was Aquilonia, reigning supreme in the dreaming west. Hither came Conan, the Cimmerian, black-haired, sullen- eyed,sword in hand, a thief, a reaver, a slayer, with gigantic melancholies and gigantic mirth, to tread the jeweled thrones of the Earth under his sandalled feet."—The Nemedian Chronicles
And so it began. In the December, 1932 issue of Weird Tales (a good month for pulps! Black Mask included stories by Frederick Nebel, John Carroll Daly and Erle Stanley Gardner), Conan of Cimmeria, a barbarian who had wrested the kingship of the mighty kingdom of Aquilonia with his sword, struggles mightily with…paperwork! Truly, heavy is the crown…
But Robert E. Howard, creator of Kull, Solomon Kane, El Borak and others, had come up with what would become the most recognizable character in the Fantasy genre. No silly Hobbitses here!
It wasn't all mead and concubines from the get go, however. Farnsworth Wright, editor of Weird Tales, and who remained intertwined in Howard's life to the end, rejected two ("The Frost Giant's Daughter" and "The God in the Bowl") of the first three tales. Not exactly a stellar start.
---