Neverwhens: Picts, Romans, Eldritch Horrors and Giants in the Earth collide in The Shadows of Thule by Patrick Mallet and Lionel Marty
Neverwhens: Picts, Romans, Eldritch Horrors and Giants in the Earth collide in The Shadows of Thule by Patrick Mallet and Lionel Marty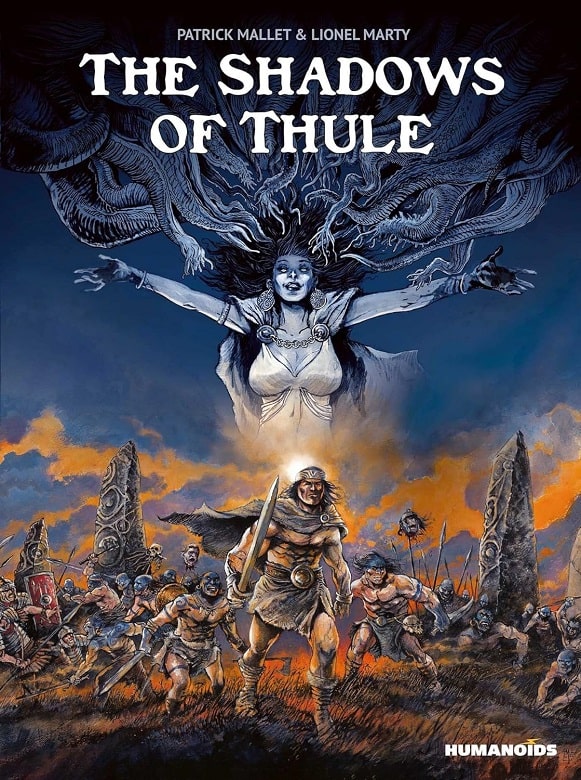 The Shadows of Thule (Humanoids, August 15, 2023). Cover by Lionel Marty
Scotland, 2nd Century AD. The Roman conquest has stopped south of Hadrian's Wall; beyond it lies the land of the unconquered Gauls, and even further north, the wild hills of the Pictish people.

When a Roman general loses his wife in a Pictish raid, a mysterious necromancer convinces him to awaken an ancient horror and unleash it on the North. In response, Cormak Mac Fianna, the last king of the Picts, unites his fractured tribes to fight the rising evil. But he soon finds that the power of his tribes is not enough to stop the terrifying Shadows of Thulé from destroying everything in their path.

The only solution is to join forces with their enemies to fight the coming apocalypse but can the Picts, the Gauls, and the Romans set aside their differences long enough to save the world from the ancient evil threatening their existence?
It's a growingly fine time for sword & sorcery: via small press efforts, via a new work by a major press (Howard Andrew Jones's magisterial Lord of a Shattered Land) and by Titan's reprints and pastiche of the works of Robert E. Howard. Among Titan's efforts has been a much-heralded new Conan comic (rightly so, so far), but this ignores the long-standing catalog of French sword & sorcery comics (indeed, the French mag The Cimmerian is several years old already, and also decidedly better than Marvel's recent mishandling of the adventuring barbarian.) Fortunately, Humanoids has been increasingly making a number of their titles available in English translation, and one of the newest is about as Sword & Sorcery as it gets!
[Click the images for sword-and-sorcery versions.]

The Shadows of Thule, pages 9 and 22. Click to embiggen.
Sword & Sorcery is also a direct outgrowth of historical adventure fiction, and the two have also intertwined more neatly than a lot of other fantasy. As such, what better way to celebrate the subgenre's resurgence — and my getting back to this column — than with a review of a love song to everything from Robert E. Howard and Lovecraft to Simon Bisley, Richard Corben, and the glory days of AD 2000 and Heavy Metal, The Shadows of Thule by author Patrick Mallet and artist Lionel Marty is cleanly translated from the French and beautifully illustrated and bound in an oversize/album-size (remember THAT term!) case-binding that does credit to the larger-than-life story within that is about as Weird Tales as you are going to get!
Slightly less spoiler-free, but no big reveals.
The story is written in two parts, as noted, each named for one of the two female characters — the first a centuries-old sorceress, out for revenge against Rome; the second her young, Pictish foil. However, both women are part of a larger ensemble of both heroes and villains, that includes kings and chieftains, Roman generals, Romano-British soldiers, turncoats, members of the lost race of giants, and even a goddess. It's pretty kitchen sink, so it is surprising how well Mallet keeps his narrative together.

Pages from The Shadows of Thule. Art by Lionel Marty
There are two prologues that set the story in motion — one two or three hundred years in the past, another 19 years before the main story. Both are crucial plot devices, though they could probably have been told in flashbacks or in story reveals, and nothing would have been lost. As it is, the second prologue sets us up to think this story will be about one thing, when really, it turns out to be a subplot that goes a very different way.
Part One is the tighter of the two halves and reads like a pastiche Bran Mak Morn pastiche (and the Picts herein are clearly *Howard's* Picts, not those of history), and the Pictish king Cormak (another name often used by Howard), might as well be called Bran. This isn't a bad thing — it's good pastiche, and if the climactic finale had occurred then, it would have felt very much like an REH homage.
Part Two is more interesting, though also more uneven. There is the slightest touch of Arthuriana and Celtic myths darker shadows (no Arthur and his myth cycle do not figure in this story), and definitely feels like an homage to some of the great S&S comics of the 80s. Unfortunately, this also means the narrative becomes more episodic and also spends a lot of time on visually beautiful fight scenes that don't, however, really do much for the story itself.

Pages from The Shadows of Thule. Art by Lionel Marty
A subplot involving the Great Goddess and the consequences of that encounter could be lifted right from the pages of Slaine, and while interesting, doesn't really do anything to advance the story. Still, the author and artist's love of the genre and the themes they are working with is obvious, and they stick the landing with a satisfying resolution.
The print edition (I cannot speak to the digital version) has an appendix with character sketches, layout mock-ups and an interview with Mallet and Marty that discusses their love of the genre, how they collaborated, why they think sword & sorcery is undergoing a resurgence NOW, and a tease at future projects, all in the same genre.
Not perfect, but beautiful and a great evening's read.