Neverwhens: Picts, Romans, Eldritch Horrors and Giants in the Earth collide in The Shadows of Thule by Patrick Mallet and Lionel Marty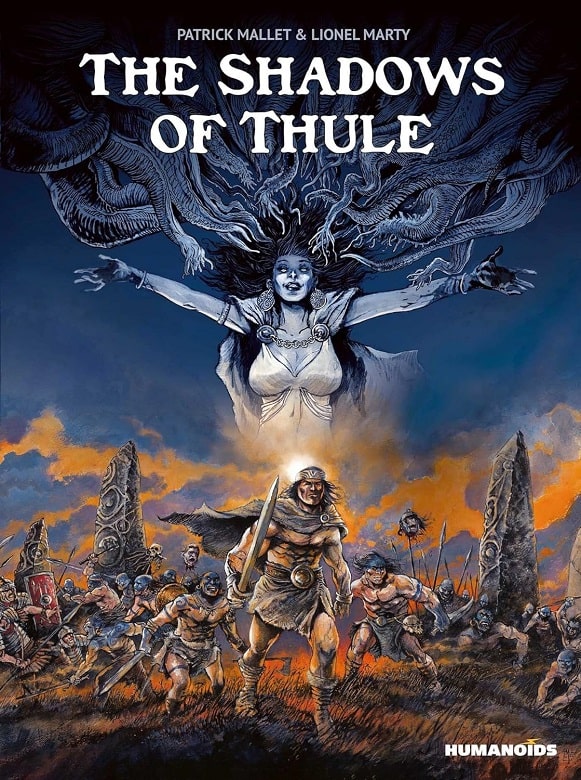 The Shadows of Thule (Humanoids, August 15, 2023). Cover by Lionel Marty
Scotland, 2nd Century AD. The Roman conquest has stopped south of Hadrian's Wall; beyond it lies the land of the unconquered Gauls, and even further north, the wild hills of the Pictish people.

When a Roman general loses his wife in a Pictish raid, a mysterious necromancer convinces him to awaken an ancient horror and unleash it on the North. In response, Cormak Mac Fianna, the last king of the Picts, unites his fractured tribes to fight the rising evil. But he soon finds that the power of his tribes is not enough to stop the terrifying Shadows of Thulé from destroying everything in their path.

The only solution is to join forces with their enemies to fight the coming apocalypse but can the Picts, the Gauls, and the Romans set aside their differences long enough to save the world from the ancient evil threatening their existence?
It's a growingly fine time for sword & sorcery: via small press efforts, via a new work by a major press (Howard Andrew Jones's magisterial Lord of a Shattered Land) and by Titan's reprints and pastiche of the works of Robert E. Howard. Among Titan's efforts has been a much-heralded new Conan comic (rightly so, so far), but this ignores the long-standing catalog of French sword & sorcery comics (indeed, the French mag The Cimmerian is several years old already, and also decidedly better than Marvel's recent mishandling of the adventuring barbarian.) Fortunately, Humanoids has been increasingly making a number of their titles available in English translation, and one of the newest is about as Sword & Sorcery as it gets!