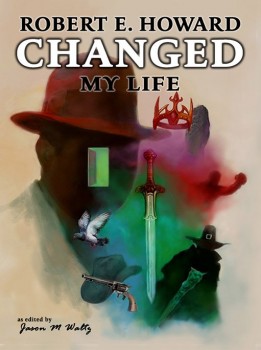 Recently publisher Rogue Blades Foundation announced the release next year of the title Robert E. Howard Changed My Life. Award-winning author Adrian Cole will appear in that book. Below he offers some of his memories of discovering Howard and how such affected his writing career.
Having been a big fan of Robert E. Howard's work since I first discovered it back in the 1970s (when like many others I got hold of those wonderful Lancer paperback editions of King Kull and then Conan), I was very easily persuaded to join the contributors to the Rogue Blades Foundation project, Robert E. Howard Changed My Life.
Okay, as a title, that's a quite dramatic statement, but in all honesty it's certainly true in my case. At the time I first read REH I hadn't much of an idea about what I wanted to do with my life as far as a "career" went, although I'd already started to write, my initial work inspired by Edgar Rice Burroughs, Tolkien and others. Writing was far more interesting to me than any day job could ever have been and REH added an ingredient to the heady cocktail that ensured my determination and zest to channel my creative energy didn't fade. Inspiration added to imagination, the ultimate mix. At the time REH was enjoying not only a revival, but an explosion of interest that eventually went world wide, and I found myself swept along by it at a critical time in my own development as a writer. I knew that, whatever else happened to me, good times and bad, REH would go on being an inspiration to me for the rest of my days.
---