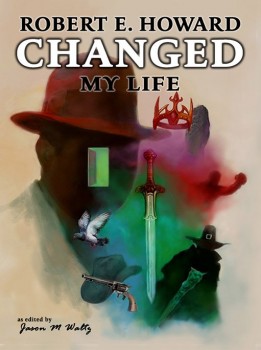 Recently publisher Rogue Blades Foundation announced the release next year of the title Robert E. Howard Changed My Life. Award-winning author Adrian Cole will appear in that book. Below he offers some of his memories of discovering Howard and how such affected his writing career.
Having been a big fan of Robert E. Howard's work since I first discovered it back in the 1970s (when like many others I got hold of those wonderful Lancer paperback editions of King Kull and then Conan), I was very easily persuaded to join the contributors to the Rogue Blades Foundation project, Robert E. Howard Changed My Life.
Okay, as a title, that's a quite dramatic statement, but in all honesty it's certainly true in my case. At the time I first read REH I hadn't much of an idea about what I wanted to do with my life as far as a "career" went, although I'd already started to write, my initial work inspired by Edgar Rice Burroughs, Tolkien and others. Writing was far more interesting to me than any day job could ever have been and REH added an ingredient to the heady cocktail that ensured my determination and zest to channel my creative energy didn't fade. Inspiration added to imagination, the ultimate mix. At the time REH was enjoying not only a revival, but an explosion of interest that eventually went world wide, and I found myself swept along by it at a critical time in my own development as a writer. I knew that, whatever else happened to me, good times and bad, REH would go on being an inspiration to me for the rest of my days.
Now, a youthful, buoyant 70 (stop giggling), I am still in there pitching, and not slowing down. In fact, I seem to be busier than ever, and just as motivated by REH as I ever was. And through the Robert E. Howard Changed My Life project, I've also had a wonderful opportunity metaphorically to rub shoulders with other contemporary REH-inspired writers, such as David C. Smith, Charles Saunders and Keith Taylor. My list of new and forthcoming works contains more than a few references to REH, from the clear inspirational to the undoubtedly subliminal stuff.
There's a collection of new Elak of Atlantis stories, Elak, King of Atlantis, coming soon from Pulp Hero Press, which brings together three reprints from magazines and two new novellas. Henry Kuttner, who created Elak back in the old pulp days, was inspired by REH, and I've tried to capture the mood and spirit of both writers. There are also new Elak short stories of mine in Heroic Fantasy Magazine (2019) and in a forthcoming issue of Tales from the Magician's Skull.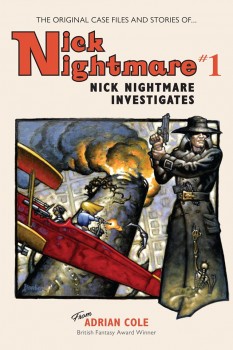 Pulp Hero Press has also started publishing my Nick Nightmare tales, Nick being a "supernatural sleuth" of sorts, the self-styled private eye, public fist, who gets entangled with not only H. P. Lovecrafts's mythos, but also every other kind of villain and monster you can imagine (and a few you wouldn't have). The first volume, Nick Nightmare Investigates (a British Fantasy Award winning collection in 2015) is already out in a reprint with a dazzling cover by Tom Barber, and two more volumes will be released in the near future, Nightmare Cocktails and Nightmare Creatures. Other new Nick Nightmare yarns (not in these collections) are forthcoming, notably in Stephen Jones's estimable Lovecraft Squad series (in its next volume, RISING) as well as the imminent Weirdbook Annual 3.
Also coming from Pulp Hero Press will be reprints of my first novels, The Dream Lords sequence, a sword and planet trilogy that initially came out from Zebra Books in the 1970s (when they also published a terrific list of REH pastiches). There will be some new material added in to each of the three Dream Lords volumes, and ultimately a brand new volume, Dream Lords: Legacy, which will bring together the new stories I've been having published recently in Cirsova Magazine and the revived Startling Stories, together with new material exclusive to the book.
Added to those, there'll be a sword and sorcery collection, Dark Ships Passing, which pulls together several unrelated short stories of mine, some from obscure sources, and new material, notably a new Voidal and Elfloq yarn, which could well be the forerunner of a whole new Voidal cycle! The most obvious REH connection in here is a King Kull story.
Early in the new year, Pulp Hero Press will also bring out a reprint of the novel formerly entitled Night of the Heroes, using its original working title A Death in Pulpworld, which is where Nick Nightmare and many of the characters from his books first appeared.
In the meantime, I'm just catching up on my reading of all the new Conan comic titles, so the REH influences continue. Long may they do so.
---
Adrian Cole has been a published writer for 45 years with more than 30 novels and numerous short stories. His works have appeared in Year's Best anthologies, and in 2015 he won the prestigious British Fantasy Award for Best Collection.
Ty Johnston is vice president of the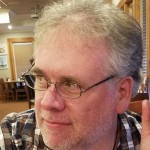 Rogue Blades Foundation, a non-profit organization focused upon bringing heroic literature to all readers. A former newspaper editor, he is the author of several fantasy trilogies and individual novels.