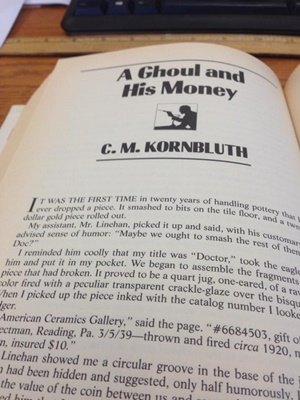 "You're the second guy I've met within hours who seems to think a gat in the hand means a world by the tail." – Phillip Marlowe in Raymond Chandler's The Big Sleep
(Gat — Prohibition Era term for a gun. Shortened version of Gatling Gun)
Hopefully, by now, you're aware of the Back Deck Pulp series of posts I ran over on Facebook. Since this is the fifth collection of them I've run for A (Black) Gat in the Hand!  I've got enough for one more, and this column will run for four more weeks, so there might be another one. You can read the first four Back Deck Pulp posts by clicking the links at the end of this one.
CM KORNBLUTH
Cyril M. Kornbluth was a science fiction author who died of a heart attack, running to catch a train, at the age of 34. Frederick Pohl cowrote several stories with the author and finished some of Kornbluth's stories after the latter died, He said that Kornbluth refused to brush his teeth and educated himself by reading the encyclopedia from A to Z. An interesting individual.
It's Office Desk Pulp! I'm going to have to research C.M. Kornbluth (Apparently, he was known for his science fiction stories). '"A Ghoul and His Money" appeared in the September, 1946 Dime Detective. His protagonist, who is the good guy, is completely annoying and I was hoping something non-fatal would happen to him. It's an interesting take on a hero and I think I'd like to tinker with the concept Fun, short read. Another story from the excellent anthology, Hard-Boiled Detectives.
---