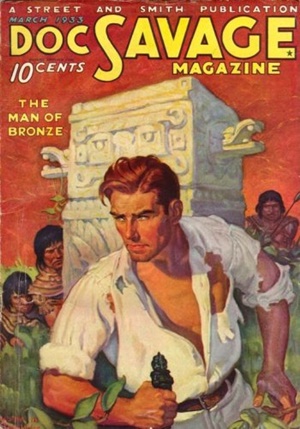 "You're the second guy I've met within hours who seems to think a gat in the hand means a world by the tail." – Phillip Marlowe in Raymond Chandler's The Big Sleep
(Gat — Prohibition Era term for a gun. Shortened version of Gatling Gun)
Back in June, I posted that A (Black) Gat in the Hand was returning this summer. Last year, from May 14th through December 31st, every Monday morning featured a new hardboiled/pulp-related post – mostly by me, but with several friends who wrote some great stuff. I love hardboiled/PI stories and I'm as proud of that series as I am of the two Robert E. Howard ones I've helped coordinate here at Black Gate.
So, I called on some more friends this year, and I sought out some wider-ranging topics – the pulp magazines were FAR more than just mystery and detective-based. The Adventure Pulps were the dominant ones for years, with exciting tales of derring do and discovery. Even today, Doc Savage remains the best-known name among adventure heroes. And Will Murray, who is currently writing authorized Doc Savage novels (plus a LOT more), kicks off our series with a look at the Man in Bronze.
DOC FRANKENSTEIN
Doc Savage was not created so much as he was assembled in much the way Victor Frankenstein stitched together his infamous monster from unconnected charnel parts.
The year was 1932. At the Street & Smith publishing company, they had a surprise runaway success in a magazine called The Shadow. Inspired by a creepy radio voice used to promote their Detective Story Magazine, the mockingly laughing Shadow captured America's imagination in that dark Depression year. The magazine kept selling out. S&S pushed author Walter B. Gibson into producing two novels a month so they could release the pulp periodical every other week. The Shadow Magazine kept selling.
---