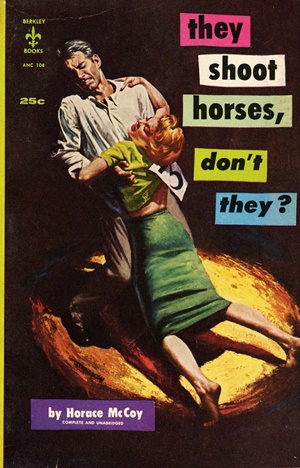 Fellow Black Gater Thomas Parker and I have been exchanging our thoughts on the various topics covered here in this column. I mentioned Horace McCoy's Jerry Frost, head of Hell's Stepsons, sort of a Seals team for the Air Texas Rangers (also fictional). McCoy is, of course, best-known for his novel, They Shoot Horses, Don't They?. Which I've never read. Nor have I seen the movie. So, I asked Thomas. if he'd like to write a guest post on that book. And boy, did he! Read on.
---
"You're the second guy I've met within hours who seems to think a gat in the hand means a world by the tail." — Phillip Marlowe in Raymond Chandler's The Big Sleep
A while back our own Hardboiled Bob Byrne gave us a run-down of the May, 1934 issue of Black Mask, which featured a story by Horace McCoy, a writer whose fame rests solely on his 1935 novel, They Shoot Horses, Don't They? which probably more people know from the fine 1969 film version starring Jane Fonda than from actually having read. McCoy's novel is an ambitious piece of work, and with it he was clearly seeking to extend himself beyond the boundaries of commercial pulp – and yet, the mark of Black Mask and its ten and fifteen cent brethren is everywhere in the book. In They Shoot Horses Don't They?, pulp atmosphere and pulp devices are deployed, but with a deadlier intent than any found in the pages of Dime Detective. Call it pulp repurposed.
In what amounts to a manifesto for the American pulp style, Raymond Chandler famously declared (in his 1944 essay, "The Simple Art of Murder"), that Dashiell Hammett had started the ball rolling because he
gave murder back to the kind of people who commit it for reasons, not just to provide a corpse; and with the means at hand, not with hand-wrought dueling pistols, curare, and tropical fish. He put these people down on paper as they are, and he made them talk and think in the language they customarily use for these purposes.
In other words, Hammett and those who followed him were realists, in both style and substance – at least as compared with proponents of the unbearably artificial (in Chandler's estimation, anyway) English school like Agatha Christie, Dorothy Sayers, and the American S.S. Van Dine, the creator of amateur sleuth Philo Vance, dismissed by Chandler as "the most asinine character in detective fiction."
If the American pulp style praised by Chandler consists of realistic characters with realistic motives using realistic means to commit crimes in contemporary urban settings, then They Shoot Horses, Don't They? must be considered a prime example of the form, even more so than Chandler's own Philip Marlowe stories, with their stainless hero and romantic patina.
---