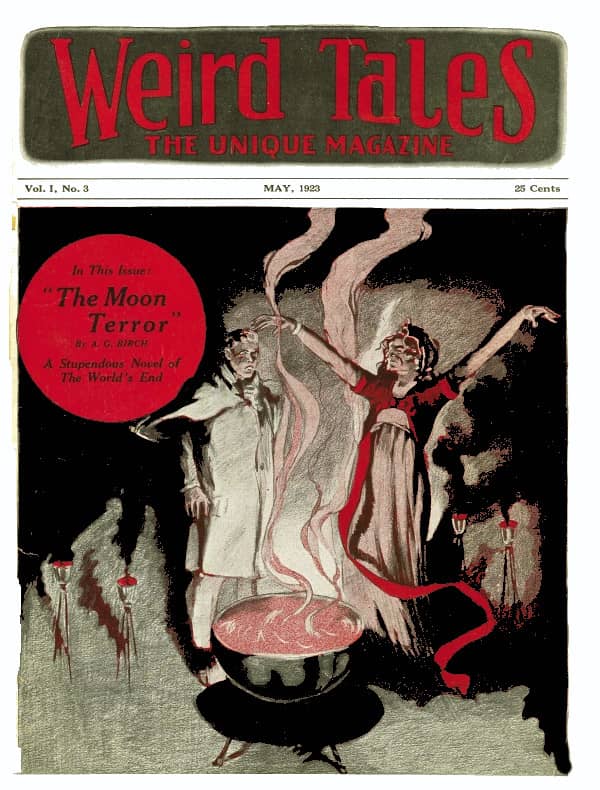 Cover by William Heitman
This time we're considering another early Weird Tales, the third issue, May 1923. This was one of the oversized bed-sheet sized issues and contained 21 stories by 22 authors. Astonishingly, fourteen of these authors were one and done, with no additional published stories in the sf/fan field. Another two have two stories listed at the Internet Speculative Fiction Database.
The two most significant authors in this issue are Vincent Starrett, a long-time newspaper man who produced several out of genre books and a single slim collection of fantasy stories published by Arkham House in 1965. The other is Edward Bulwar-Lytton (yes, of a "dark and stormy night" fame), represented by a reprint that is more of a curiosity than anything else.
The other author worth commenting is Culpeper Chunn (a byline that screams pseudonym), whose real name was Seymour Cunningham Chunn (1889-1927). His two stories in Weird Tales are his only listed genre works, but if you google his name you'll find repeated offers for his book Plotting the Short Story (it's in public domain, so naturally it's currently available in countless editions, even on Amazon) so he must have some kind of track record, somewhere. But that's not why he gets a mention here. The protagonist of "The Whispering Thing," co-authored by Laurie McClintock (who otherwise has left no trace in the written record), is Jules Peret, a French-born ex-policeman and current consulting detective, "a small, effeminate man with delicate features, small hands and feet," given to uttering extravagant oaths. Sound familiar? The first Jules de Granden story appeared in Weird Tales in 1925. I have no explanation for this extraordinary coincidence.
---