Musings from The Busted Flush: John D. MacDonald at Black Gate (so far…)
Musings from The Busted Flush: John D. MacDonald at Black Gate (so far…)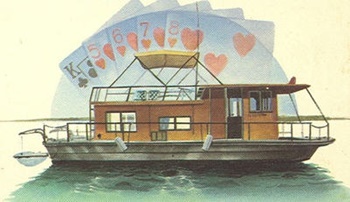 I'm going to write a post on G.M. Ford's Leo Waterman series. Waterman is a Seattle-based PI whose dead father was a Tammany-Hall style politician, and he uses some alcoholic bums as his Baker Street Irregulars. Ford wrote six in the series, took a long break, and returned to Waterman and wrote six more books. As with Robert Goldbsorough's Nero Wolfe continuation novels, the break damaged the series.
While Goldsborough's second run is, simply, not good, the second batch of Watermans are still worth reading. But the series took a decidedly darker tone. I've read five of the second six, and I haven't enjoyed them nearly as much. I haven't been in any rush to close it out.
After finishing book eleven (of twelve) last week, I found out that Ford had passed away in December of 2021. I'd met him once at a Bouchercon, and he was a nice guy; Funny. I'm sorry he's gone. But that confluence of Ford in my life led me to re-read the first book in the series, Who in Hell is Wanda Fuca? And I liked it as much as I did the first time around. What a terrific book! I moved right on to the next, Cast in Stone.
That novel is an homage to one of his favorite writers, John D. MacDonald. And if you read my stuff here, you know that John MacD is my favorite writer, in any genre. I think he's one of the finest writers of the 20th Century. Meanwhile, book three is a tribute to Nero Wolfe (which is my all-time favorite PI series. So, that's up next.
I'm going to do a Waterman essay, covering the first three books, after the re-read. But I wanted to have a John D. MacDonald post, with all my related essays, up here at BG for reference purposes. So, you get this today!
John D. MacDonald – A Writer's Writer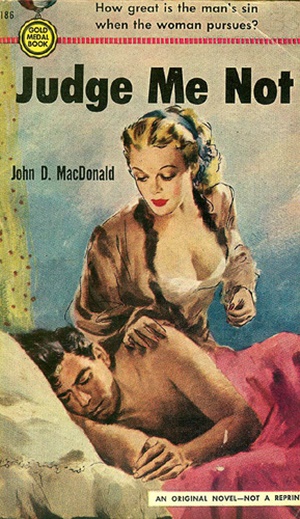 I began writing for Black Gate in March of 2014 with my initial column, The Public Life of Sherlock Holmes (the title is a nod to Vincent Starrett's classic book about the Baker Street detective). It only took two months before I wrote about John MacD.
This is an introductory-type essay, bringing him into my Black Gate page. More would follow.
A Century of John D. MacDonald
To mark the 100th anniversary of his birth, I visited him again. More in-depth, this is a good post if you'd like to learn a bit more about JDM. And if you're already a fan, you should check out all my posts on him!
Judge Me Not – The Selling of a Politician's Self
This link goes to my own blog, which I've left fallow as I'm busy writing weekly here at Black Gate, and work on other projects. The Brass Cupcake is commonly cited as JDM's foray into the hardboiled genre. It is that. But I prefer another one which rarely gets talked about. Judge Me Not is a political potboiler that brings to mind Hammett, for me.
MacDonald was a social commentator, and a satirist. An exceptional one. This book has a terrific look into political compromises. As a lifetime public sector employee with a Masters in Public Administration, I can testify to its veracity. Good book. Not a bad essay!
Birthday Review – Ring Around the Redhead
MacDonald in part made his living as a science fiction writer in the late forties and into the early fifties, with over fifty short stories and two novels. He essentially quit cold turkey in 1952, only writing seven more shorts and one comedic sci-fi novel, in the final thirty-four years of his life.
Here's a look at one of his stories, which was adapted for a 1985 episode of Tales from the Darkside, starring John Heard.
MacDonald intentionally resisted external pressures to create a series character. He finally relented and gave us the enduring Travis McGee. In December of 1946 and January of 1947, he wrote two stories about a rich playboy named Park Falkner.
I was going to write an essay about these two stories. Steve Scott hosts the best John D. MacDonald blog that will ever exist. The Trap of Solid Gold is a treasure chest. Steve's two posts on the Falkner stories were better than anything I could hope to write on my best day. So, with his permission, I combined them into this terrific piece.
Spillane & John D. MacDonald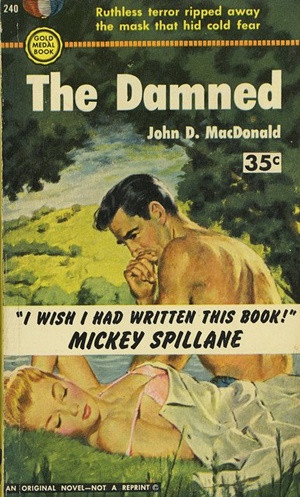 This is an interesting essay I wrote (yes, I'm humble, I know) about how Mickey Spillane's endorsement appeared on the cover of JDM's novel, The Damned. It's one of MacDonald's earliest, and Spillane was selling millions of hardboiled paperbacks. If you like either author, this is a neat little read.
Bill Crider on The Brass Cupcake
Bill Crider was a prolific mystery author, huge John D. MacDonald fan, and one of the nicest folks I've ever met. He is very much missed. He wrote a review of The Brass Cupcake, and his daughter kindly let me include it in my A (Black) Gat in the Hand series. So, here it is.
I wanted to write an essay on one of his short stories, and I picked this one, from the collection, The End of the Tiger, and Other Stories. He drew on his experience working for the OSS in the Far East. That was January 2020; I'm due to write something about him again…
John Leslie's Key West Private Eye
For a John D. MacDonald fan (especially one of Travis McGee), Randy Wayne White is the natural 'similar read.' His Doc Ford series is absolutely the successor to McGee. White, who was/is a professional fishing guide, very much carried on the McGee tradition. I'm pretty far behind (there are over 20 novels), but I give it two thumbs up.
The one I most often cite next is John Leslie's four book Key West series. Gideon Lowry is a low-key private eye who prefers spending his time playing the piano. The series (which I wrote about here at Black Gate) is more laconic than a typical MacDonald novel, but it's got that Florida feel. I've read through it three times, and I very much enjoy it.
Others that JDM Fans Might Enjoy
Michael Stone wrote a series about a bail bondsman in Denver, Colorado. I really like it, and Streeter has some of that McGee as a battered knight, tilting at windmills, feel. And James Lee Burke's books about Cajun ex-cop Dave Robicheaux remind me of MacDonald. Similar types of novelists, with keen insights into the human condition.
---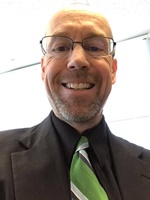 Bob Byrne's 'A (Black) Gat in the Hand' made its Black Gate debut in 2018 and has returned every summer since.

His 'The Public Life of Sherlock Holmes' column ran every Monday morning at Black Gate from March, 2014 through March, 2017. And he irregularly posts on Rex Stout's gargantuan detective in 'Nero Wolfe's Brownstone.' He is a member of the Praed Street Irregulars, founded www.SolarPons.com (the only website dedicated to the 'Sherlock Holmes of Praed Street') and blogs about Holmes and other mystery matters at Almost Holmes.
He organized Black Gate's award-nominated 'Discovering Robert E. Howard' series, as well as the award-winning 'Hither Came Conan' series.
He has contributed stories to The MX Book of New Sherlock Holmes Stories – Parts III, IV, V, VI and XXI.
He has written introductions for Steeger Books, and appeared in several magazines, including Black Mask, Sherlock Holmes Mystery Magazine, The Strand Magazine, and Sherlock Magazine.