What I've Been Reading Lately: January 2020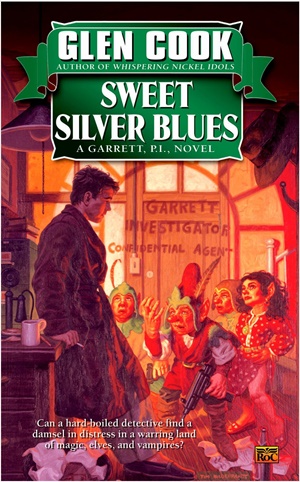 "Say, Bob, it's been an ENTIRE month since you told us what you've been reading lately. The suspense is keeping me up at night." OK – so nobody said that to me. I'll tell you some of the stuff I've taken off of the shelves lately, anyways.
GLEN COOK – SWEET SILVER BLUES
I've already written about Glen Cook's terrific hardboiled, fantasy PI series featuring Garrett. It combines Raymond Chandler, Nero Wolfe, and Terry Pratchett in a terrific fashion. I have a hard time imagining a better series. I've talked to a couple fellow Black Gaters about a round-robin look at several books in the series: So many ideas, so little time.
I'm working on this essay on Sunday evening, mere hours ahead of deadline, because I spent a couple hours yesterday re-reading book one, Sweet Silver Blues, instead of sitting at the keyboard and writing. I like it quite a bit, but it's in book two, Bitter Gold Hearts, that the series really settles in. I've read most of the series at least twice before over the years. A few of my friends didn't care for 2013's Wicked Bronze Ambition, the last (but hopefully not final) book. It's definitely not one of my favorites, but it's still Garrett, and I hope there will be at least one more.
This is one of my favorite series' in both the fantasy and private eye genres. HIGHLY recommended. And I'm also a huge fan of Cook's The Black Company, which is light years away in tone and style. He's simply a very good writer. Black Gate buddy Fletcher Vredenburgh did a fantastic walk-through of the entire series last year.
JOHN D MACDONALD
John MacD has been my favorite author for about three decades now. I enjoy his standalones, his short stories, and his Travis McGee books. I've written about him several times, and if all I did was write for Black Gate (sadly, I need to pay my bills and other such nonsense), you'd be reading a LOT about him here.
Earlier this month, after holding off for over twenty-five years, I finally watched the 1970 adaptation of Darker ThanAmber, with Rod Taylor as Travis McGee. Then, I went and re-read the book over the next couple of days. Taylor grew on me as the movie progressed, and they followed the book fairly faithfully. The final fight scene between McGee and Terry was really something to see.
I think this is a better version of a McGee novel than the 1983 film starring Sam Elliot (why in the world would you transplant McGee to California?!).