Musings from The Busted Flush: John D. MacDonald at Black Gate (so far…)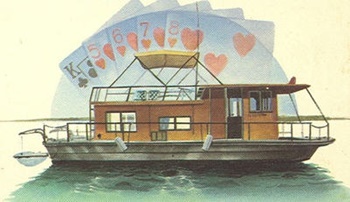 I'm going to write a post on G.M. Ford's Leo Waterman series. Waterman is a Seattle-based PI whose dead father was a Tammany-Hall style politician, and he uses some alcoholic bums as his Baker Street Irregulars. Ford wrote six in the series, took a long break, and returned to Waterman and wrote six more books. As with Robert Goldbsorough's Nero Wolfe continuation novels, the break damaged the series.
While Goldsborough's second run is, simply, not good, the second batch of Watermans are still worth reading. But the series took a decidedly darker tone. I've read five of the second six, and I haven't enjoyed them nearly as much. I haven't been in any rush to close it out.
After finishing book eleven (of twelve) last week, I found out that Ford had passed away in December of 2021. I'd met him once at a Bouchercon, and he was a nice guy; Funny. I'm sorry he's gone. But that confluence of Ford in my life led me to re-read the first book in the series, Who in Hell is Wanda Fuca? And I liked it as much as I did the first time around. What a terrific book! I moved right on to the next, Cast in Stone.
That novel is an homage to one of his favorite writers, John D. MacDonald. And if you read my stuff here, you know that John MacD is my favorite writer, in any genre. I think he's one of the finest writers of the 20th Century. Meanwhile, book three is a tribute to Nero Wolfe (which is my all-time favorite PI series. So, that's up next.