What I've Been Reading Lately: January 2020
What I've Been Reading Lately: January 2020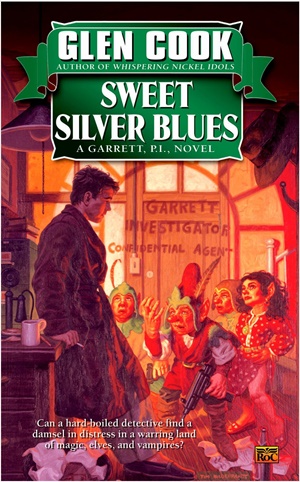 "Say, Bob, it's been an ENTIRE month since you told us what you've been reading lately. The suspense is keeping me up at night." OK – so nobody said that to me. I'll tell you some of the stuff I've taken off of the shelves lately, anyways.
GLEN COOK – SWEET SILVER BLUES
I've already written about Glen Cook's terrific hardboiled, fantasy PI series featuring Garrett. It combines Raymond Chandler, Nero Wolfe, and Terry Pratchett in a terrific fashion. I have a hard time imagining a better series. I've talked to a couple fellow Black Gaters about a round-robin look at several books in the series: So many ideas, so little time.
I'm working on this essay on Sunday evening, mere hours ahead of deadline, because I spent a couple hours yesterday re-reading book one, Sweet Silver Blues, instead of sitting at the keyboard and writing. I like it quite a bit, but it's in book two, Bitter Gold Hearts, that the series really settles in. I've read most of the series at least twice before over the years. A few of my friends didn't care for 2013's Wicked Bronze Ambition, the last (but hopefully not final) book. It's definitely not one of my favorites, but it's still Garrett, and I hope there will be at least one more.
This is one of my favorite series' in both the fantasy and private eye genres. HIGHLY recommended. And I'm also a huge fan of Cook's The Black Company, which is light years away in tone and style. He's simply a very good writer. Black Gate buddy Fletcher Vredenburgh did a fantastic walk-through of the entire series last year.
JOHN D MACDONALD
John MacD has been my favorite author for about three decades now. I enjoy his standalones, his short stories, and his Travis McGee books. I've written about him several times, and if all I did was write for Black Gate (sadly, I need to pay my bills and other such nonsense), you'd be reading a LOT about him here.
Earlier this month, after holding off for over twenty-five years, I finally watched the 1970 adaptation of Darker ThanAmber, with Rod Taylor as Travis McGee. Then, I went and re-read the book over the next couple of days. Taylor grew on me as the movie progressed, and they followed the book fairly faithfully. The final fight scene between McGee and Terry was really something to see.
I think this is a better version of a McGee novel than the 1983 film starring Sam Elliot (why in the world would you transplant McGee to California?!).
I randomly grabbed One Fearful Yellow Eye after finishing Darker than Amber and quickly read that one. McGee is a 'salvage consultant. He lives on a houseboat in Ft. Lauderdale, and he takes his retirement in chunks. When someone has a problem that can't be legally resolved, he offers to 'fix it for them,' for whatever half of the recovery value would be. Then he 'retires' for a while, until he has to take on another job. In Yellow Eye, he spends most of the story in wintery, bitterly cold Chicago, which is certainly feels different than the usual sun-drenched adventures. The book was written in 1966 (one year before I was born) and it still works for me.
I also jumped around in some of his short story collections and read "Deadly Damsel," "State Police Report," and "Death for Sale" from More Good Old Stuff; "Murder for Money" and "Death Writes the Answer" from The Good Old Stuff; and "Hangover," "The Trap of Solid Gold," and "Fast, Loose Money" (which I wrote about here) from End of the Tiger and Other Stories. MacDonald learned his trade by writing for the pulps, and the slicks, and he was a very good short story writer.
DASHIELL HAMMETT
Frederick Nebel and Norbert Davis are half of my Hardboiled Mt. Rushmore. But I absolutely think that Hammett was the best ever in the field. And I've re-read the Continental Op stories more than once. The Giant Collection of the Continental Op is available on Kindle Unlimited, and I downloaded it and read a few stories, including "The Girl with the Silver Eyes" and "Who Killed Bob Teal."
I've read an awful lot of hardboiled authors, and I like some who deserve to be better remembered today, like Davis, Raoul Whitfield and Richard Sale, but I don't think anybody wrote it better than Hammett. I love The Dain Curse, and The Maltese Falcon, and The Glass Key is pretty good, but you really should check out the San Francisco detective, the op.
ROBERT R. MCCAMMON – THE HUNTER FROM THE WOODS
I'm a huge fan of Robert R. McCammon – I wrote this praise of his superb opening to Boy's Life. I read The Wolf's Hour (a WW II werewolf novel) at least twenty-five years ago and liked it.
A couple years ago, Michael Gallatin returned in a short story collection titled The Hunter From the Woods. So, I grabbed the audio version and listened during my work commute. And "The Great White Way" and "The Sea Chase" let me down right out of the gate. Full of profanity, sex, and brutality, it didn't even feel like McCammon wrote these stories. They weren't like anything else I'd read by him.  I'm listening to the rest of the stories, but I don't see myself coming back to this collection. It's the first McCammon I've been disappointed in.
HOWARD ANDREW JONES – BONES OF THE OLD ONES
I mentioned in the December reading update, I had listened to The Desert of Souls, the first Dabir and Asim novel from Black Gater (and much more) Howard Andrew Jones. And I had re-read The Waters of Eternity, the short story collection featuring the duo: that's another future topic when I get some of that elusive thing called 'time.' Audible had a 50% off just about everything sale in December and I took advantage. Which let me listen to the boys' second novel, Bones of the Old Ones.
It's another rousing adventure, though it reminded me more of Conan's adventures in the frozen climes of northern Hyboria, than a sword and sandals epic. Regardless, it was a good read, though, I think in large part because of the climate change, I preferred the first novel. Howard is busy putting out his epic fantasy trilogy, The Ring Sworn, but I hold out hope we'll hear more about Dabir and Asim.
NERO WOLFE
I'm never too far away from Nero Wolfe, whether reading, listening to audio books and radio shows, or watching television series'. I need to watch the two movies from the thirties… I've listened to countless hours of Michael Prichard's unabridged readings of the Wolfe books. He is absolutely fantastic. I've bought many on CD, but they are getting harder to find, and almost impossible at a reasonable price. So, I used my monthly Audible.com credit on And Four To Go – the holiday-themed four-story collection. It's as enjoyable as Prichard's other performances. My favorite audio book adaptations.
MISC
Here and there, I've been reading though Conan the Barbarian: The Original Marvel Years Omnibus Vol 2 (already read Vol 1), along with the relevant essays from Roy Thomas' two-volume Barbarian Life. If I can get the keyboard singing, that's going to be the topic for my main 2020 Black Gate series. (I'm not sure if Editor O'Neill has really noticed I can still get through the firewall, but I just keep posting every Monday morning. Steve Silver, who I share a sawhorse-plank desk in the dungeon…that is, cellar…err…basement…I mean, Journalist's Suite, hasn't ratted me out yet)
Every so often, I read a Gales and McGill short story by Frderick Nebel. Aviation stories were a pulp staple and Nebel wrote a bunch of them, before making his mark in Black Mask. I've got the two-volume collection from Steeger Books, with all the stories, and I plan on an essay about the series. Some day…
I guess that's about enough for one month. I'm always reading at home, or listening to audio books during my work commute (had a very short discussion with Sherlock Holmes author Stuart Douglas, who disapproves of that practice for a couple reasons). I'm not going to stop anytime soon. And while I would much rather read than listen, audio books let me get to some things I simply never would have time for. Or, revisit an old favorite – something that usually makes me smile.
And because I'll plug him at the drop of a hat – anybody's hat – other John D. MacDonald posts I've written here at Black Gate:
John D. MacDonald – A Writer's Writer
A Century of John D. MacDonald
Judge Me Not – The Selling of a Politician's Self
Birthday Review – Ring Around the Redhead
Steve Scott on Park Falkner
Spillane & John D. MacDonald
Bill Crider on The Brass Cupcake
Back Deck Pulp #2
Back Deck Pulp #3
---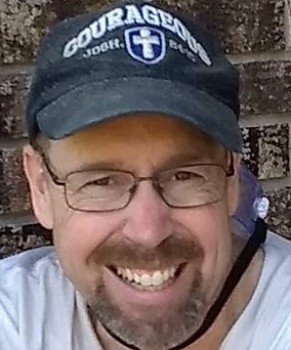 Bob Byrne's 'A (Black) Gat in the Hand' was a regular Monday morning hardboiled pulp column from May through December, 2018 and again from August through December, 2019. 
His 'The Public Life of Sherlock Holmes' column ran every Monday morning at Black Gate  from March, 2014 through March, 2017 (still making an occasional return appearance!).
He organized 'Hither Came Conan,' as well as Black Gate's award-nominated 'Discovering Robert E. Howard' series.
He is a member of the Praed Street Irregulars, founded www.SolarPons.com (the only website dedicated to the 'Sherlock Holmes of Praed Street') and blogs about Holmes and other mystery matters at Almost Holmes.
He has contributed stories to The MX Book of New Sherlock Holmes Stories – Parts III, IV,  V and VI. Rumor is that submissions are down and he's returning to the series in 2020.