By Crom: Roy Thomas & Conan the Barbarian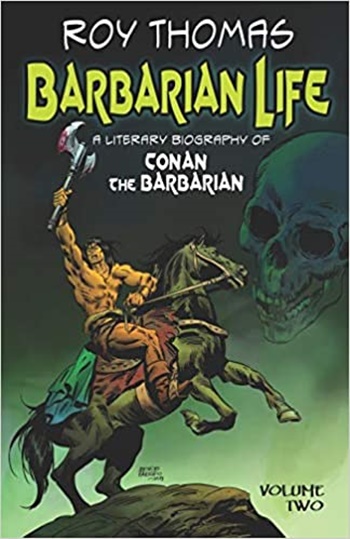 One Black Gate series which I have started, but is still for somewhere down the line, is a look at the first dozen-or-so issues of Roy Thomas' Conan the Barbarian comic. And even before running that series, I'll write one for the second dozen-ish, so I can tie together the various overlaps. This was prompted by a combination of the over-sized Marvel hardback Omnibuses, and Roy Thomas' TERRIFIC (now) three-volume memoir about the series from Pulp Hero Press.
I never read the series, growing up. I bought some of the Dark Horse collections, which I liked. And when Marvel reacquired the rights and put out that first door-stopper compendium, I bought it. And I liked it enough to get the next three. I was buying them in conjunction with Roy Thomas' Barbarian Life. The first Thomas volume covered the genesis of the comic, and the first fifty-one issues – which happened to be the same ones included in the first Omnibus.
Thomas helmed the series for 115 issues – which is how many are covered by the first four Omnibuses (both series' talk about other issues as well). So, Thomas' three books complement the Omnibuses perfectly. I read a story, and then I read Thomas' insights. Along with the relevant commentary in the Omnibus itself. It's a real Conan treat!
Thomas would write do other color Conans for Marvel. And he would also contribute to Dark Horse while they had the rights. But it's that first run, when he was Stan Lee's right hand, and he made Conan a best-selling property for Marvel, which fans revere.