By Crom: Roy Thomas & Conan the Barbarian
By Crom: Roy Thomas & Conan the Barbarian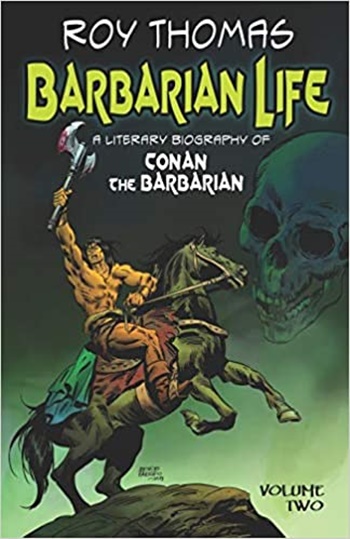 One Black Gate series which I have started, but is still for somewhere down the line, is a look at the first dozen-or-so issues of Roy Thomas' Conan the Barbarian comic. And even before running that series, I'll write one for the second dozen-ish, so I can tie together the various overlaps. This was prompted by a combination of the over-sized Marvel hardback Omnibuses, and Roy Thomas' TERRIFIC (now) three-volume memoir about the series from Pulp Hero Press.
I never read the series, growing up. I bought some of the Dark Horse collections, which I liked. And when Marvel reacquired the rights and put out that first door-stopper compendium, I bought it. And I liked it enough to get the next three. I was buying them in conjunction with Roy Thomas' Barbarian Life. The first Thomas volume covered the genesis of the comic, and the first fifty-one issues – which happened to be the same ones included in the first Omnibus.
Thomas helmed the series for 115 issues – which is how many are covered by the first four Omnibuses (both series' talk about other issues as well). So, Thomas' three books complement the Omnibuses perfectly. I read a story, and then I read Thomas' insights. Along with the relevant commentary in the Omnibus itself. It's a real Conan treat!
Thomas would write do other color Conans for Marvel. And he would also contribute to Dark Horse while they had the rights. But it's that first run, when he was Stan Lee's right hand, and he made Conan a best-selling property for Marvel, which fans revere.
At the same time, Thomas was running the black-and-white The Savage Sword of Conan, which was more risque, and told a more in-depth story (LOTS of words). It's a very different experience than Conan the Barbarian, and Marvel has been collecting those in Omnibuses as well.
Conan the Barbarian ran for 275 issues, from 1970 to 1993. That's pretty amazing, as when it debuted, Conan was not the well-known figure he is today.
Here's an excerpt from the first part of the planned Black Gate series:
An awful lot of people were introduced to Robert E. Howard's Conan (best known as 'The Barbarian') through L. Sprague de Camp's paperback series first from Lancer, and then, Ace. They featured those fantastic Frank Frazetta covers that are still popular today.

And in the early eighties, Arnold Schwarzenegger starred in two popular Conan movies that set the standard for fantasy movies until Peter Jackson's amazing Lord of the Rings trilogy. And the sword-swinging former governor of California is the image of Conan many people still have today.

In between those two 'sources,' came Marvel Comics' Conan the Barbarian, with Roy Thomas in charge for the first 115 issues of a much longer run.

De Camp is justly criticized for rewriting Howard's prose: Robert E. Howard did not need to be 'edited.'

He has taken somewhat less justified abuse for the Conan pastiches he wrote – by himself, and with Lin Carter, and Byron Nyborg. While they certainly can be criticized, in general; they deserve to be more fairly assessed than they are, I feel. I like most of them.

While Director John Milius did incorporate some elements from Howard's original stories, Schwarzenegger's Conan is a far cry from the original creation. Thomas co-wrote a screenplay for the second Conan movie, but Milius didn't use it. It forms the basis of The Horn of Azoth comic book, from Marvel.

And Roy Thomas and Barry Smith certainly created their own version in the comics. But Thomas liked Howard's writing and included much of it. Even though it didn't feature a superhero, Marvel's comic was one of the most popular of the seventies and eighties; unlikely as that seemed. As is the case with de Camp's paperbacks and Schwarzenegger's movies, the Conan comic book was how many people discovered the sword-swinging barbarian. And its importance in the history of Conan cannot be minimized.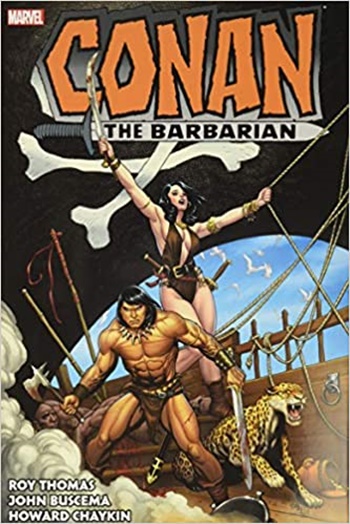 I've got a couple of big things in the works for here at Black Gate, but I'm excited to get to this Marvel Conan the Barbarian (CtB) series. Is the comic canonical – no. But Thomas really draws on the source material. And not just the original Conan stories. I've already written a 1,500-word essay on The Grim Grey God, which is one of my favorite REH historicals. And it was adapted for Marvel issue number three. It's terrific! Thomas also (with some effort and wrangling) got to use some of de Camp's stories as well.
I've read a LOT of Sherlock Holmes stories which have NOTHING to do with the original character. They're complete bastardizations of Arthur Conan Doyle's creations. I've had several Holmes stories published, and I try very hard to write the character Doyle created.
Thomas' Conan is recognizable as Howard's Conan. No, not exactly the same. But he didn't just slap the Conan name on a barbarian and draw whatever the heck he wanted to.
BTW – the series will talk about how it was almost Lin Carter's Throngor, not Conan, that was going to be the hero of the strip. Circumstances barely conspired to result in it being Conan!
Each Omnibus has an introduction from Thomas, talking about the various issues. The comics themselves are in glorious color. I've seen some criticism of the quality of the reproduction. I think it's fine. Easy to read with good lighting (my eyes are getting old – like me). The text is clear. Colors are distinctive. Seeing that splash page, and the color, full-size, is terrific!
There are a bunch of extras at the end of each book, including some artwork, essays by Thomas, and other miscellany. I believe that each volume has been about 800 pages of Conan goodness.
Thomas had written an extensive history of his Conan Marvel experiences for Spanish publication. That work was translated into English, revised, and expanded: and that makes up the three volumes of Barbarian Life. He shares his memories in each volume. Comments on the story, inker, problems, things he liked about them – just great stuff for a fan of the series. A ton of info.
So, the first four, with Thomas' three-book series, gives you a detailed look at the first 115 issues; with additional topics covered. It's no surprise Thomas talks a fair amount about his other Conan series, the black-and-white Savage Sword of Conan. And the Omnibuses even include an issue or two.
The Omnibuses are $125 when they come out, but they drop below $100 relatively quickly. The first three are sold out on Amazon. Volumes 4 through 6 are still available new. I haven't gotten Volume 5, as it marks the beginning of the post-Thomas Era.
I really enjoy Thomas' three books. They are a treat to read. And obviously, being able to read the issue he's talking about makes it a better experience. I recommend his books, and the accompanying Omnibuses. I have paperbacks of Thomas' books, for research purposes. But I also have the first two as e-books, and I love the color covers in them. They look great on my Kindle Fire.
Now, if I could get around to writing that series for Black Gate…
---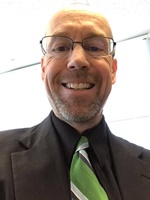 Bob Byrne's 'A (Black) Gat in the Hand' made it's Black Gate debut in the summer of 2018 and will be back yet again in 2022.

His 'The Public Life of Sherlock Holmes' column ran every Monday morning at Black Gate from March, 2014 through March, 2017. And he irregularly posts on Rex Stout's gargantuan detective in 'Nero Wolfe's Brownstone.' He is a member of the Praed Street Irregulars, founded www.SolarPons.com (the only website dedicated to the 'Sherlock Holmes of Praed Street') and blogs about Holmes and other mystery matters at Almost Holmes.

He organized Black Gate's award-nominated 'Discovering Robert E. Howard' series, as well as the award-winning 'Hither Came Conan' series.
He has contributed stories to The MX Book of New Sherlock Holmes Stories – Parts III, IV, V, VI and XXI.
He has written introductions for Steeger Books, and appeared in several magazines, including Black Mask, Sherlock Holmes Mystery Magazine, The Strand Magazine, and Sherlock Magazine.