A (Black) Gat in the Hand: Thrilling Adventures from Robert E. Howard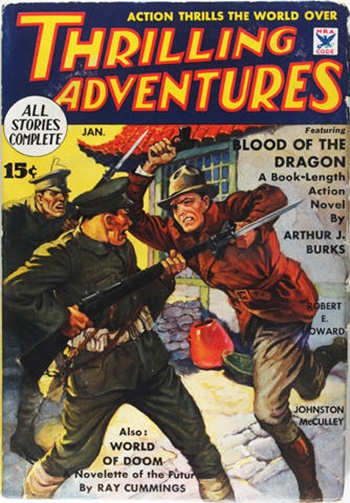 "You're the second guy I've met within hours who seems to think a gat in the hand means a world by the tail." – Phillip Marlowe in Raymond Chandler's The Big Sleep
(Gat — Prohibition Era term for a gun. Shortened version of Gatling Gun)
Two weeks ago, we followed Robert E. Howard out of our usual mean streets, and into the Shudder Pulps. Two-Gun Bob was our tour guide again last week, as we wandered into Spicy Adventures territory. Howard is a great guide through the pulps, and this week, Kirby O'Donnell takes us to the Adventure Pulps.
Robert E. Howard sold his first story in 1925, with "Spear and Fang" appearing in the July issue of Weird Tales. One of Howard's first characters, written as a young teen, was a Texas gunslinger who roamed the wilds of Afghanistan and neighboring areas. Francis Xavier Gordon, who would be better known as El Borak (The Swift) was Howard's attempt to get into the higher paying, prestigious pulps, like Argosy, and Adventure.
Unfortunately, that turned out to be an unassailable market for Howard, and he did not get his first adventure story published until late 1934. At the peak of his writing skill, he would, sadly, be dead in less than two years. And it wasn't a more developed El Borak that got Howard into the market. It was a very similar, less complex character named Kirby O'Donnell.
My REH friend Dave Hardy has written two excellent articles on El Borak and Howard's gunslingers of the Near East. The definitive essay on the topic is in the Del Rey El Borak and other Adventures collection. And you can find the other here at Black Gate, in our Discovering Robert E. Howard series.