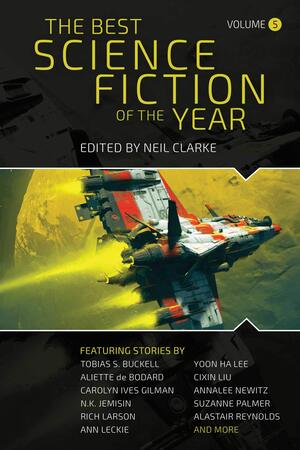 The 2020 pandemic has thrown a wrench into publishing schedules this year, and no mistake. Seems like less than half the books I was looking forward to this summer appeared at all. So I'm relieved to see that this year's class of Year's Best anthologies — edited by Rich Horton, Jonathan Strahan, Paula Guran, John Joseph Adams, and others — are still in the pipeline. A little delayed maybe, but none the worse for wear.
Jonathan's volume arrived on Sept 8; next on the docket is Neil Clarke's The Best Science Fiction of the Year: Volume Five, which will be published by Night Shade Press late next month. It contains fiction by N.K. Jemisin, Cixin Liu, Tobias S. Buckell, Gwyneth Jones, Dominica Phetteplace, Alastair Reynolds, Vandana Singh, Ann Leckie, Annalee Newitz, Alec Nevala-Lee, Aliette de Bodard, Carolyn Ives Gilman, Yoon Ha Lee, Indrapramit Das, A.T. Greenblatt, and many others. Here's the description.
From Hugo Award-Winning Editor Neil Clarke, the Best Science Fiction Stories of the Year Collected in a Single Paperback Volume

Keeping up-to-date with the most buzzworthy and cutting-edge science fiction requires sifting through countless magazines, e-zines, websites, blogs, original anthologies, single-author collections, and more — a task that can be accomplished by only the most determined and voracious readers. For everyone else, Night Shade Books is proud to present the latest volume of The Best Science Fiction of the Year, a yearly anthology compiled by Hugo and World Fantasy Award–winning editor Neil Clarke, collecting the finest that the genre has to offer, from the biggest names in the field to the most exciting new writers.

The best science fiction scrutinizes our culture and politics, examines the limits of the human condition, and zooms across galaxies at faster-than-light speeds, moving from the very near future to the far-flung worlds of tomorrow in the space of a single sentence. Clarke, publisher and editor-in-chief of the acclaimed and award-winning magazine Clarkesworld, has selected the short science fiction (and only science fiction) best representing the previous year's writing, showcasing the talent, variety, and awesome "sensawunda" that the genre has to offer.
Here's the complete Table of Contents.
---