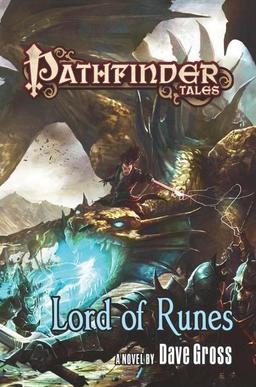 I'll admit, I was surprised to read the announcement from Tor and Paizo back in February, that Tor would become the publisher for the popular Pathfinder Tales line of novels. But it certainly makes business sense — Tor is the biggest publisher in the genre, and has unprecedented distribution and marketing muscle, and this allows Paizo to focus on the creative side of things.
The books have shifted to a new format (trade paperback), and will be available for the Kindle for the first time, but nothing else appears to have changed. The line remains in the capable hands of its longtime editor, James L. Sutter.
The first title under the new arrangement, Lord of Runes by Dave Gross, arrives next week. Here's a snippet from the press release:
Since its launch in 2008, the Pathfinder Roleplaying Game has topped RPG sales charts for several years running, and has grown to become one of the most important and best-loved tabletop RPGs in the world. In 2010, the Pathfinder Tales novel line was launched by the game's publisher, Paizo, and has included more than 20 exciting fantasy novels by Tim Pratt, Michael A. Stackpole, Ed Greenwood, James L. Sutter, Howard Andrew Jones, Liane Merciel, and others. Since then, Pathfinder has been translated into five languages, has released a widely popular card game, and has inspired computer games, comic books, audio drama, gaming figurines, and toys.
---