3 New Titles at Once: Rogue Blades Entertainment's Ambitious New Agenda
3 New Titles at Once: Rogue Blades Entertainment's Ambitious New Agenda
A few days back, Black Gate guru John O'Neill wrote perhaps one of the best articles to appear here during 2018. Then he invited me to comment further in my own post on behalf of Rogue Blades Entertainment's latest titles. So let's get to it!
One point I wish to make from the onset — all three of 2018's open calls for submissions are for first-ofs for RBE. We have always intended to be the publisher of everything heroic action adventure (fiction and nonfiction), and we began with our first love — fantasy. Since we started up our presses with extreme, sword- and sorcery-slinging short story heroics, we often are considered a Sword-and-Sorcery publisher.
I love that, and utterly embrace the genre, but RBE is more than that, so I don't want anyone confused as to our identity or aim. We publish heroics and deliver intense action adventure. Our byline "Putting the HERO back into HEROICS" isn't just a cool soundbite — it's what we do.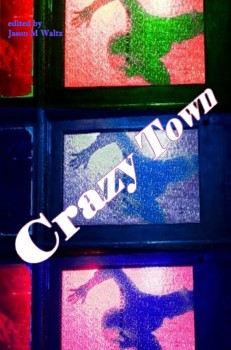 Crazy Town: Fantastical Crime Noir (Submission Guidelines)
This is a dark one, folks. No getting around its grime and dirt. Not only is this our first crime title, it is our first noir theme, our first urban-specific title, our first use of photography for the cover, and it is going to be our darkest anthology yet, so the first title I won't recommend for youngsters.
It might seem like it could stretch the boundaries of what is heroic, but there's a sliver of the good stuff to be found threaded in every tale. You may not find protagonists you'll want to bring home to mother or even grab a drink with, but you would definitely want most of these characters at your back in a dark alley. Most. And maybe not too close to your backside…
It was a struggle to find quality noir tales when we first opened this title, but we are certainly receiving some fine tales of city crazies now. In fact, we're drawing near to closing this one. I've accepted some longer tales to-date, so now I am specifically seeking tales under 6,000 words to round this baby out.
This will be the longest of 2018's three titles, but if you're interested in appearing in it, I wouldn't delay. If you have a nice, tight hardboiled plot in mind, I suggest holding your muse hostage till the staccato of your  fingers tapping across the keys sounds like lead bullets slamming through the dark night.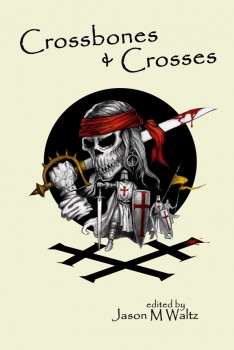 Crossbones & Crosses: Swashbuckling Historical (Submission Guidelines)
C&C brings another couple of firsts: our first non-fantastical fiction title, our first historical, and our first logo-like cover. This is what it looks like — a title filled with adventure on the high seas and hot sands. Corsairs and crusaders, pirates and paladins galore!
We've landed some pretty dandy tales thus far, and this one is shaping up into a fine gathering of strong adventure tales. In fact, the pirates half is full, so if you've set your aim on this title, hone those crusader blades and rub those crosses for luck.
Remember, this anthology has no fantasy aspects. Keep it straight-up action adventure (like Robert Louis Stevenson's… well, like Robert Louis Stevenson!), and we will be excited to read your story. Excitement is the key here, and grand adventure. I'm not looking for exacting historical accuracy, just don't put us into a fantasy world or bring fantasy into our world.
The secret to getting into this Holy Grail? Don't hesitate to send us some great tales of the religious knights' orders. I'm also looking for the just-right one or two more stories combining our two deadly protagonists, so if you've the chops, I'd love to see how you pull it off.
Somebody Kill the Prince! (Submission Guidelines)
All this talk about firsts, and we're still not finished! This will be RBE's first classical romantic fairy tale anthology. What?! Yes, I did say classical fairy tale romance. It's also our first homage and currently (but hopefully not much longer) our first title without a cover yet. This anthology is also gaining another first: that of the most difficult RBE open call to fill ever.
It's true: we have yet to select our first story for this book. There have been a very few close ones, but nothing yet has appeared that delivers the three key ingredients let alone any of the special features found in the target of our homage, The Princess Bride by William Goldman. This theme is all about the diabolical machinations of some royalty figure defeated by good ol' Boy/Girl Scout good-guy/gal-ism! Each story requires all three of those components, but winning stories will also display some variation of the well-known and appreciated features found in both the book and movie versions of The Princess Bride: authorial asides, rhyming, inconceivable conceits, memorable characters, unique creations, and most importantly, true love and loyalty. Give us all or some of that, and we'll be delighted — truly!
This anthology is for the entire family and I want it to put a smile on every readers' face. Write us all the mostly 'good parts' of fun heroic family entertainment within theme, and I am certain it will be the beginning of a beautiful friendship! Continuing with our homage we've decided this anthology will only hold as many stories as foes Fezzik says he can take when Inigo asks, "How many could you handle?" before they storm the castle in their defeat of Prince Humperdink's diabolical machinations: ten.
---
I am excited to publish all three of these milestone titles, as I hope is evident. RBE may be small, but we have large dreams and a long list of future anthologies. Whether any of these three snagged your interest, please keep attention on our open submissions and new title releases at RBE's website Rogue Blades Presents. Follow our news page at RBE's Gathering and support our authors and artists. RBE may have a small catalogue thus far, but we've been delighted to work with a vast number of talented and wonderful people, and these new titles are adding many more names to that list.