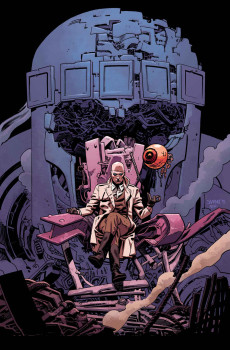 For my my interview with Marvel Comics Assistant Editor Xander Jarowey, one of the covers I enjoyed including in the post was Magneto #1. Magneto is one of Marvel's most iconic super-villains, having influenced the Marvel Universe in various ways since his appearance in X-Men #1 in 1963.
He started off as an older villain who, from the beginning, served as moral foil to Charles Xavier in the debate about the place of mutants. His arguments in the early days were never deep, and his power faded with various defeats, until by the excellent Savage Land story arc of X-Men #59-63, he was using mechanical devices to simulate his powers, and then in Defenders #16, he was reduced to infancy by one of his creations.
Then, Chris Claremont got a hold of him. In X-Men #104, the new X-Men faced a young, rejuvenated and more powerful Magneto, and he's downright terrifying in Uncanny #112 (one of my favorites). Claremont revealed Magneto's full literary power in Uncanny X-Men #150, when he put Magneto's past squarely in the Nazi concentration camps of World War II as a victim of racism and persecution.
---