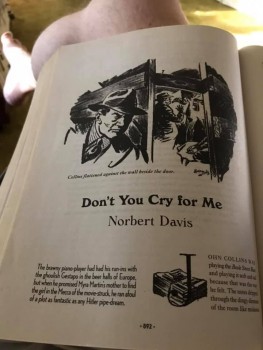 "You're the second guy I've met within hours who seems to think a gat in the hand means a world by the tail." – Phillip Marlowe in Raymond Chandler's The Big Sleep
(Gat — Prohibition Era term for a gun. Shortened version of Gatling Gun)
On my Hardboiled Mount Rushmore, it's Dashiell Hammett, Frederick Nebel, and then Norbert Davis. The fourth spot is a bit fluid, though the Jo Gar series often has Raoul Whitfield in that fourth spot. But today, we're going to look at a Davis short story.
Davis was in law school at Stanford when he wrote his first story and sent it to Joe 'Cap' Shaw, the legendary editor of Black Mask. It was accepted, and by the time he graduated law school, he was successfully writing for the pulps. In fact, he was doing so well, he never sat for the bar, and spent the rest of his life as a writer, moving from the pulps to the higher-paying slicks. Sadly, took his own life at only the age of 40.
I've already written an essay on his Ben Shaley stories, which constituted two of the five Davis tales Shaw printed in Black Mask under his watch. After Shaw left, Davis appeared in Black Mask eight more times. I'm working on what I hope will be THE definitive essay on his Max Latin stories. I absolutely love that five-story series. They're fantastic.
Between May 1942 and May 1943, Black Mask ran three stories featuring John Collins. Collins was a piano player who had done some investigation work on the side in Europe before World War II. "Don't You Cry for Me" was the first of the three stories.
Picking Iron (trivia) – In May, 1942, Give the Devil His Due" ran in Dime Detective.
Of course, America was drawn into World War II on December 7, 1941.The story blurb for this one reads, "The brawny piano-player had had his run-ins with the ghoulish Gestapo in the beer halls of Europe, but when he promised Myra Martin's mother to find the girl in the Mecca of the movie-struck, he ran foul of a plot as fantastic as any Hitler pipe-dream." Pulp magazines used bombast long before Donald Trump did.
"John Collins was playing the Beale Street Blues and playing it soft and sad because that was the way he felt. The notes dripped through the dimness of the room like molasses and provided an appropriate accompaniment to his thoughts. He had a hangover."
---