In the first installment, I explored Volume 1 of the SAVAGE SWORD OF CONAN Dark Horse reprints of the classic Marvel Comics black-and-white magazine.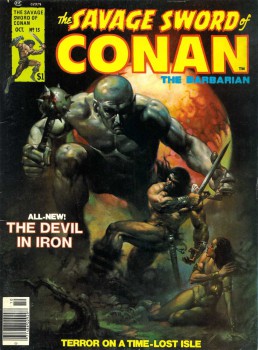 Volume 2 begins with SAVAGE SWORD OF CONAN #11 from 1976. A terrific issue written by Roy Thomas–who wrote most of the stories in the magazine its first few years–with art from John Buscema and Yong Montano. Buscema/Montano paring is an interesting one, and the results are every bit as lush and detailed as Alfredo Alcala's inks in Volume One.
It's too bad Montano only did this one issue of SS because he brought Buscema's superb pencils to life as well as Alcala, yet with a decidedly different style that was no less immersive. This adaptation of Howard's "The Abode of the Damned" isn't your typical tale of the Cimmerian, as Conan is either off-screen or in disguise as "Shirkuh" for half the issue. It's a brutal excursion into the violent lives of desert tribesmen, as seen through the eyes of the intrepid maiden Mellani. Seeking vengeance for her slain brother leads her right into captivity where Cimmerian-in-disguise is her only hope of surviving. Yong Montano didn't turn into a regular Buscema inker like Alcala and later DeZuniga and Chan did, but on SS #11 he did a bang-up job creating that Buscema/Alcala level of artistic detail, while offering a fresh texture in his mastery of light and shadow.
In SAVAGE SWORD #12, reigning artistic champions John Buscema and Alfredo Alcala return to help Roy Thomas adapt Howard's "The Slave Princess" into a Conan tale called "The Haunters of Castle Crimson." The lush black ink work is the high standard of the magazine's early years. Alcala's hyper-detailed panels took Buscema's masterful pencils to a whole new level of artistic integrity. Following their bravura performances in SS #2, 4, and 7, Buscema/Alcala bring more lighting-in-bottle greatness to these pages–and it's their high-end work that highlights this entire second volume, beginning with SS#12.
---