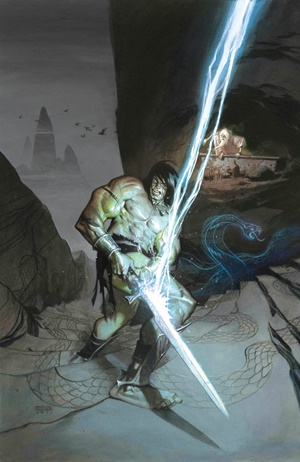 Bobby Derie wrote a great essay on the first Conan story, "The Phoenix on the Sword," for this Hither Came Conan series. Certainly, better than anything I could ever come up with. But I still wanted to do a post on this tale. Because:
A –I wanted to contribute more than just what is likely going to be a bottom-rung essay on my assignment (fans of "Rogues in the House" – sorry, you drew the short straw); and
B – I'm pretty sure "Phoenix" was the first Conan story I read. Now, it might have been "The Thing in the Crypt," in the first Lancer/Ace collection, which I had bought and then stuck on a shelf for at least a decade or two. But I didn't remember that story when I started going through the Ace books, AFTER exploring Conan via the Del Rey trilogy. So, I think it was "Phoenix."
So, because I'm a wordy typer, what started out as just one-third of a post on the first three essays in our series, grew into a solo show.
The Phoenix on the Sword
It is well known that "The Phoenix on the Sword," the first story of Conan the Cimmerian, was a rewrite of a previously unsold tale of an earlier Howard character, Kull, an exile from Atlantis.
Howard sold three Kull stories to Weird Tales, appearing in the August and September issues of 1929, and finally, in November of 1930. Howard also wrote nine more tales about the character, which were not published until after his death. So, only 25% of his Kull stories sold. Not exactly a money-maker.
However, "By This Axe I Rule!", which had failed to sell to Argosy and Adventure, was dusted off to feature a less philosophical barbarian.
---