"You're the second guy I've met within hours who seems to think a gat in the hand means a world by the tail." – Phillip Marlowe in Raymond Chandler's The Big Sleep
(Gat — Prohibition Era term for a gun. Shortened version of Gatling Gun)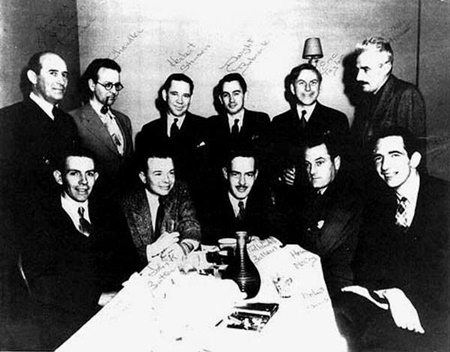 This is a pretty famous photograph in hardboiled/pulp lore. It's of the attendees of the 1936 West Coast Black Mask Writers dinner. And it's the only known meeting of Raymond Chandler and Dashiell Hammett. But there was a lot more writing talent present!
From back left: Raymond Moffat, Raymond Chandler, Herbert Stinson, Dwight Babcock, Eric Taylor, and Dashiell Hammett.
From front left: Arthur Barnes, John K. Butler, W.T. Ballard, Horace McCoy, and Norbert Davis.
This post is going to focus on the man who was primarily responsible for making this gathering happen.
Dwight Babcock sent his first very first story to Underworld Magazine. They promptly lost it! He retitled it "At the Bottom of Every Mess," and sent it to Black Mask, figuring he'd get a nice rejection letter. Instead, he got an acceptance letter and a $100 check. When most pulps were paying a quarter to a half cent a word, Babcock got a penny and a quarter cent per word for his first effort!
---