Exploring Complex Human Themes by Blowing $%#! Up: Teenage Space Mercenary by M. Harold Page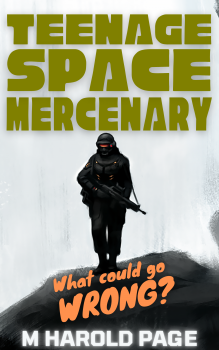 That is a slight oversimplification of M. Harold Page's mission as a fiction writer. Let's get the whole thing: "The exploration of complex human themes through the medium of interpersonal violence and blowing $%#! up in space." If you threw "and magical worlds" on the end, you'd have a pretty good starting description of what most of us Black Gate readers look for in a book.

That may sound a bit flippant, but in fact Page can be deeply thoughtful and historically informed about interpersonal violence. I confess, I'm biased in his favor. Page and I have corresponded off and on over the years, often through comment threads on BG. I've reviewed a couple of his books, historicals with a light sprinkling of fantasy elements, both of them great fun.

So when I saw the announcement that he had a new book available for preorder, I had to see it. Now you can find it here.
Which brings us to the cover copy:
Jason is a NetShooter champion. Now he must do it for real.

The teen coding nerd escapes hi-tech slavery only to end up on a gloomy jungle moon guarding an archaeological expedition, literally light years in the wrong direction from the comfortable new life he planned.