Another Shelfie (#3): I Never get your limits, Byrne. There are Unexplored Possibilities…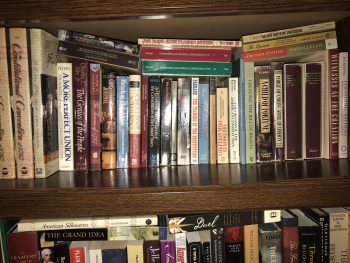 I've done two posts here with Sherlock Holmes shelfies. If you missed those (shame on you!), I've been posting shelfies, with comments on some of the books, over in a bookshelf subreddit. With over 2,000 physical books, I've got a lot of shelves. The two shelfies I've done BG posts on, were Sherlock Holmes shelfies. No surprise there.
I have a Poly Sci undergrad, and I'm interested in some different areas of history. One that I have been interested in since my college days is the Constitutional Convention of 1787. My library is pretty impressive for just 'some guy.'
So, I did a shelfie of my books on the Convention. Directly below that shelf is one with mostly-related books from that Founders Era. Together, there's some pretty good stuff on the topic. So, here are my two shelfies, with a fair amount of commentary on most of the books.
I LOVE reading about the Constitutional Convention of 1787, and would spend time with these shelves if I wasn't caught up in reading so much other stuff. I try to read/re-read something in this area every several years, at least.
THE CONSTITUTIONAL CONVENTION OF 1787
I read Catherine Drinker Bowen's Miracle in Philadelphia as a Poly Sci undergrad. It was one of those books that sets you on a path for the rest of your life (The Iliad is another). I have amassed quite the library for the American Constitutional Convention of 1787.
The two-set encyclopedia on the left is a terrific resource, which is also an online reference.
The Men Behind the Nation is a cool coffee-table book on the Founding Fathers.