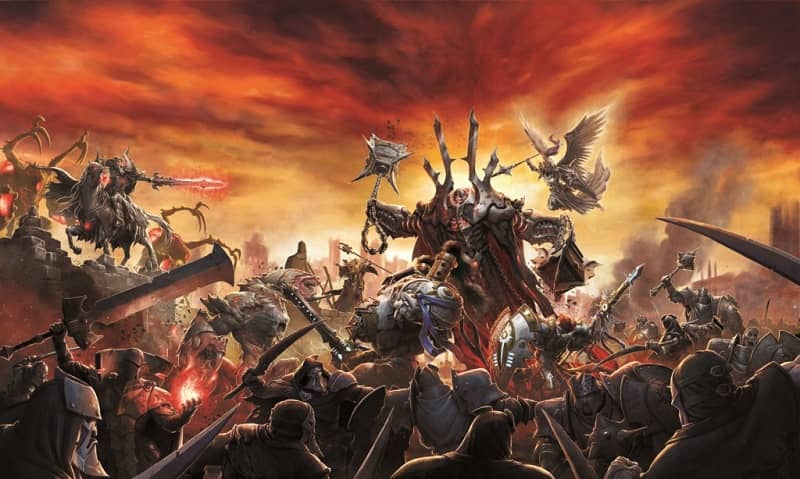 For twenty years, the folks at Privateer Press have been creating games, primarily set in their Iron Kingdoms steampunk fantasy setting. They began with a series of RPG volumes, including an award-winning trilogy of adventures from 2001. These adventures, later collected into The Witchfire Trilogy, was built on the D20 System from Dungeons and Dragons 3E.
Then Privateer Press really came into their own with the introduction of the Warmachine miniature wargame, focusing on armies that control massive metallic warjacks, one of the iconic creatures from their Iron Kingdoms setting.
It was Warmachine that got me into their world, in about 2005. I like heroes, so I went with Cygnar, the faction that is most stereotypically the classical honorable kingdom of knights and warriors. For those who aren't inclined toward heroism, there was the religious fanatic Protectorate of Menoth and the undead Cryx. And for those in the middle, there was Khador, thematically based on Russia and known for having the most massive, hulking warjacks in the game. And missiles. Lots of missiles. This miniature line expanded, through Hordes, into battles with savage monstrous warbeasts, fully compatible with Warmachine. The Hordes included the blighted Legion, the druidic Circle of Orboros and their werecreatures, the Trollbloods and their giant troll cousins, and the sadistic Skorne.
It was actually my reviews of Privateer Press – both their wargame line and the RPG supplements – that first landed me in the pages of Black Gate, back in Spring of 2007 in Black Gate 10, when Black Gate actually had physical pages.
---