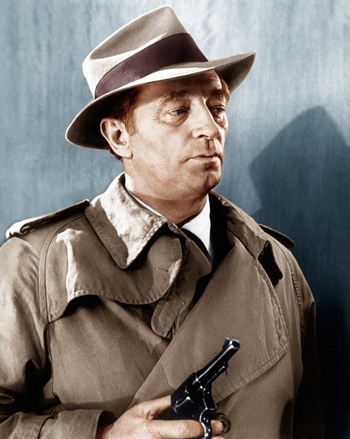 "You're the second guy I've met within hours who seems to think a gat in the hand means a world by the tail." – Phillip Marlowe in Raymond Chandler's The Big Sleep
(Gat — Prohibition Era termsp for a gun. Shortened version of Gatling Gun)
I got in a bit of a Philip Marlowe mood when I wrote that A (Black) Gat in the Hand post on Powers Boothe's excellent HBO series a few months ago. Now, I normally did pretty deep when I pick a subject for a Black Gate post. Which is why more than one never actually gets written. Yet, anyways. I'm going to try a different tack and write less in-depth on several different Marlowe projects. We'll see how that goes.
Robert Mitchum's Farewell My Lovely.
In 1975, two years after Eliot Gould's The Long Goodbye (which I do NOT like), Mitchum was an older, world-weary Philip Marlowe. In 1978, he followed it up with The Big Sleep. It was a mess and his first movie as Marlowe is definitely the better of the two.
I've not been much of a fan of his Marlowe . It's a combination of his age, and him seeming too stiff. Kinda like watching Charlton Heston play Sherlock Holmes in Crucifer of Blood (which isn't actually too bad, overall). Re-watching Farewell My Lovely on WatchTCM, I did like him a bit better this time. I think his voice-over narration is the strength of his performance.
Charlotte Rampling is Velma/Mrs. Grayle. She played Irene Adler opposite Roger Moore in Sherlock Holmes in New York. And she was a regular for season two of Broadchurch a couple years ago. Velma's inner nature really comes through in the showdown on the boat.
Jack O'Halloran plays Moose Malloy. Now, I have a hard time picturing anybody being Moose Malloy better than Mike Mazurki was in 1944's Murder My Sweet. But O'Halloran is pretty darn good. He went on to be Emil Muzz, the goon in the Tom Hanks/Dan Akroyd Dragnet (which I love). He also played villain Non in Christopher Reeve's first two Superman movies.
---