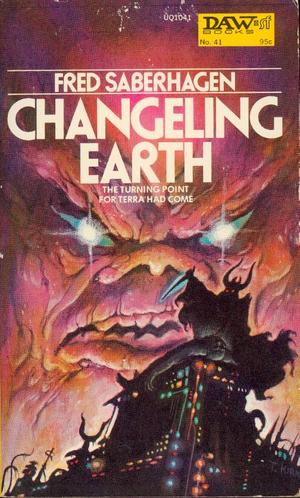 And so we come to the end of the Empire of the East, Fred Saberhagen's sword & science trilogy. Originally titled Changeling Earth (1973), Ardneh's World (1988), provides the answers to mysteries raised in the previous two books, The Broken Lands and The Black Mountains, as well as an explosive conclusion. When it's done, great powers have been broken and the world has been changed again.
The last book ended with the destruction of one of the Empire's great commanders, Som the Dead, and of one of the great demons at its command, Zapranoth. The armies of the Free Folk of the West, now under the command of Prince Duncan of Islandia, are marching on the Empire. In the East, the utterly bad Emperor John Omninor is himself leading his legions onto the field of battle for a final confrontation.
Moving behind and through the characters is the mysterious and powerful Ardneh. No one knows who or what Ardneh is. He speaks to the commanders and wizards of the West telepathically. To the emperor and his minions, he remains an elusive enemy who must be dealt with by any means necessary if the West is to be defeated, its army crushed, and its people enslaved.
Following an unsuccessful attempt to trick Ardneh into revealing himself, Omninor dispatches a force under his his High Constable, Abner, to find his enemy. Magical divination and electronic tracking has told the emperor that Ardneh resides in a mountain far to the north of civilization.
Simultaneously, farm boy hero Rolf and ex-imperial Chup have been tasked with tracking down a mystic stone and bringing it to Ardneh. Because Rolf has a strange, innate affinity for technology, Ardneh has chosen him as his special connection with the West.
At length and not unexpectedly, the two parties meet, an old villain reappears, and violence ensues. Eventually, Rolf and a new companion, Catherine, are split from Chup and the rest of the company.
So much of Ardneh's World is exposition, but, oh, what exposition it is. When Rolf and Catherine finally meet Ardneh, his pre-catastrophe origins and how magic came into existence are unveiled. Saberhagen's big idea is pure pulp insanity. Part of what makes Empire of the East original is its ostensibly realistic take on magic, but there's absolutely none of that here. In order to prevent Earth's destruction in the face of a nuclear war, untested new technological safeguards were put in place in America. When the war finally came, those precautions proved invaluable. In the wake of the mostly-averted war, the deepest nature of reality was changed. Ardneh, an intelligent, self-aware being is a result of the change.
---