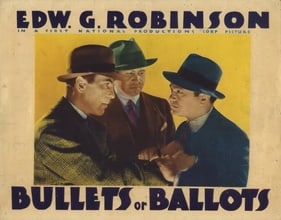 "You're the second guy I've met within hours who seems to think a gat in the hand means a world by the tail." – Phillip Marlowe in Raymond Chandler's The Big Sleep
(Gat — Prohibition Era term for a gun. Shortened version of Gatling Gun)
Humphrey Bogart worked his way up the ladder at Warner Brothers, frequently playing a bad guy who went up against James Cagney or Edward G. Robinson, who were big stars and a part of Warner's 'Murderer's Row.' I count seven times Bogie was pitted against one or the other, in a supporting actor role. Bogart was the star the eighth time, in Key Largo. It comes as no surprise that Bogart inevitably lost, up to that last time.
Bogart had failed twice in Hollywood before The Petrified Forest gave him the traction to stick on the west coast. He was so grateful to star Leslie Howard, who insisted that Bogart reprise his stage role as Duke Mantee, that Bogie named his daughter after Leslie. Bogart's first film after that one is my favorite of his gangster flicks, Bullets or Ballots. It's a typical thirties gangster film from Warners, which is a good thing.
Picking Lead (trivia) – The Petrified Forest was a smash on Broadway, and Warners bought the rights. Howard was the star and signed on to do the film. Warners wanted to use Robinson for the role of Mantee. Howard was determined the part be played by Bogart, saying he wouldn't do the movie otherwise. Warners blinked and Bogart returned to the west coast, receiving strong reviews.
Picking Lead – Howard was killed in 1942 when the Luftwaffe shot down the Dutch commercial airliner he was flying on. His son, Ronald, also became an actor and starred in a British Sherlock Holmes television series. He played a younger Holmes and it's an under-appreciated performance: in part because of poor scripts and low production values.
Edward G. Robinson plays Johnny Blake, a pipe-smoking cop finishing his career out-of-favor with the current leadership. He's from the two-fisted school, and makes bad guys tip their hat to him. When one refuses to do so, Blake punches him out. When the thug takes a swing at him, he throws him through a glass door and has him arrested for destruction of property.
---