First Impressions: Tim Kirk's 1975 Tolkien Calendar
First Impressions: Tim Kirk's 1975 Tolkien Calendar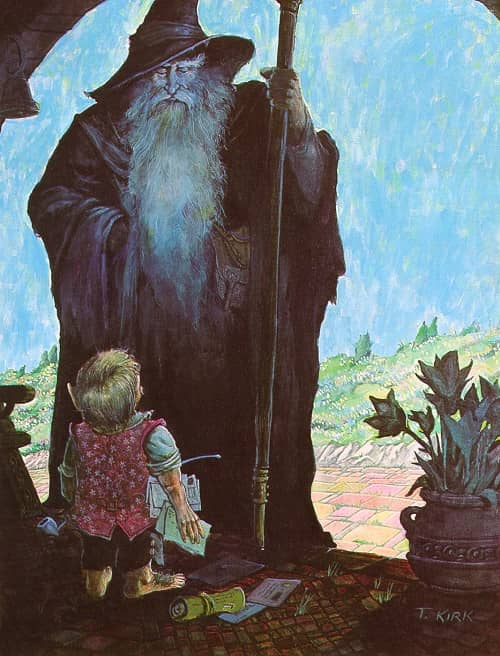 Gandalf and Bilbo
How does the old saying go? "You never get a second chance to make a first impression." It's often true that the first encounter has an ineradicable effect, whether the meeting is with a person, a work of art, or a world. It's certainly true in my case; I had my first and, in some ways, most decisive encounter with Middle-earth before I ever read a word of The Lord of the Rings. My first view of that magical place came through the paintings of Tim Kirk, in the 1975 J.R.R. Tolkien Calendar, and that gorgeous, pastel-colored vision of the Shire and its environs is the one that has stayed with me. Almost half a century later, Kirk's interpretation still lies at the bottom of all my imaginings of Tolkien's world.
There had been two Tolkien calendars before Kirk's. The 1973 and 1974 editions used Tolkien's own illustrations, some of the same ones that Ballantine (which also published the calendars) used on the covers of the "authorized" paperback editions of the novels, the ones that were carried around like books of Holy Writ in high schools and colleges during those years when fantasy felt like a secret and the news of what it was and what it could do had yet to spread very far.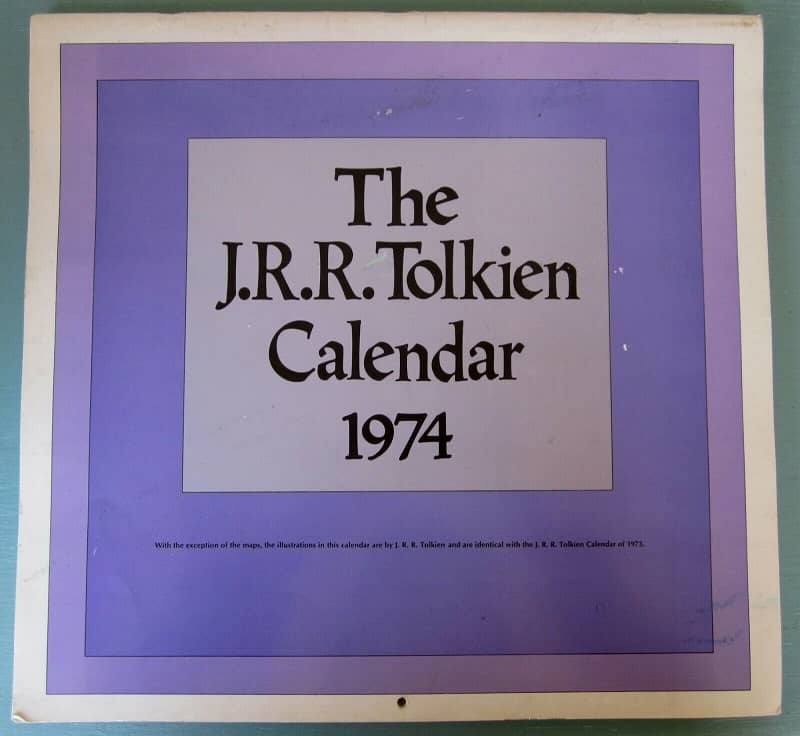 The 1974 Calendar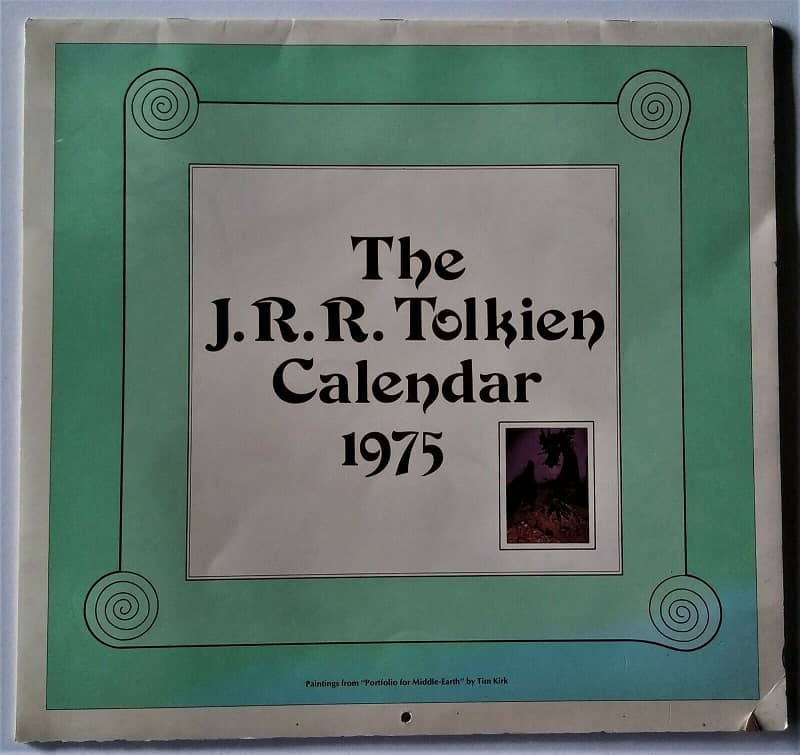 The 1975 Calendar
The plain, indeed austere, covers of the first three calendars tell you how early in the game it was. I'm especially charmed by the shy, almost hesitant statement on the back of the 1975 one: "We hope to find other artists who are inspired to do their own conceptions of Middle-earth so that we shall be able to offer Calendars for future years." That note of commercial uncertainty comes from a distant world, almost as far away as Bree or Buckland, a place where the possibility of freedom from being sold something twenty-four hours a day still existed.
Tim Kirk
They needn't have worried; the marketing nexus sometimes known as Mordor would conquer all, and very quickly. The 1976, 77 and 78 calendars featured illustrations by the Brothers Hildebrandt, which I liked too, though not quite as much as Kirk's; it always seemed to me that the Hildebrandts were auditioning for an anticipated Disney animated movie that thankfully never came about. The calendars have continued to the present day and have showcased the work of some of fantasy's top artists, including Darrell Sweet (1982), Ted Naismith (1988), Michael Kaluta (1994), John Howe (1995), and Alan Lee (2019).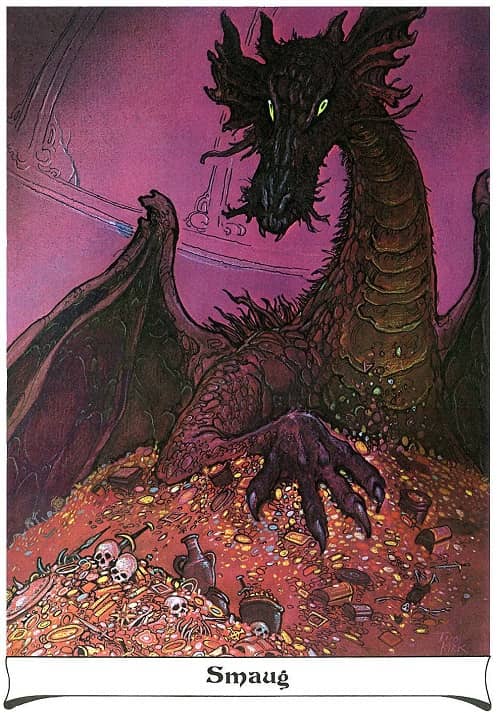 January – Smaug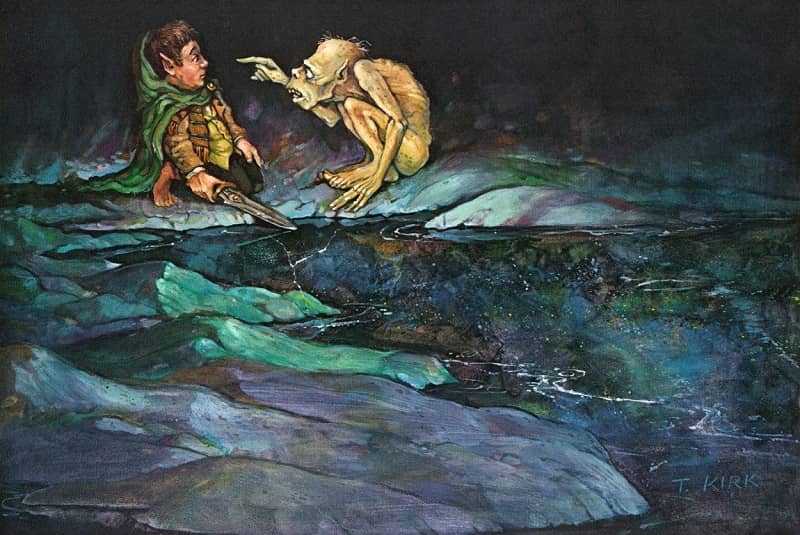 February — The Riddle Game
The 1975 calendar didn't begin as a commercial enterprise but as an academic one; Tim Kirk earned a degree in illustration, and for his Master's thesis he painted a number of scenes from The Hobbit and The Lord of the Rings, many of which were eventually used for the 1975 calendar. Kirk was a well-known presence in the world of fantastic literature even then; in the early and mid-70's he won five Hugo Awards for Best Fan Artist, and anyone who bought DAW fantasy paperbacks in those years saw plenty of his work, especially in Lin Carter books and in the countless Kregen Burroughs pastiches that Alan Burt Akers (Kenneth Bulmer) wrote.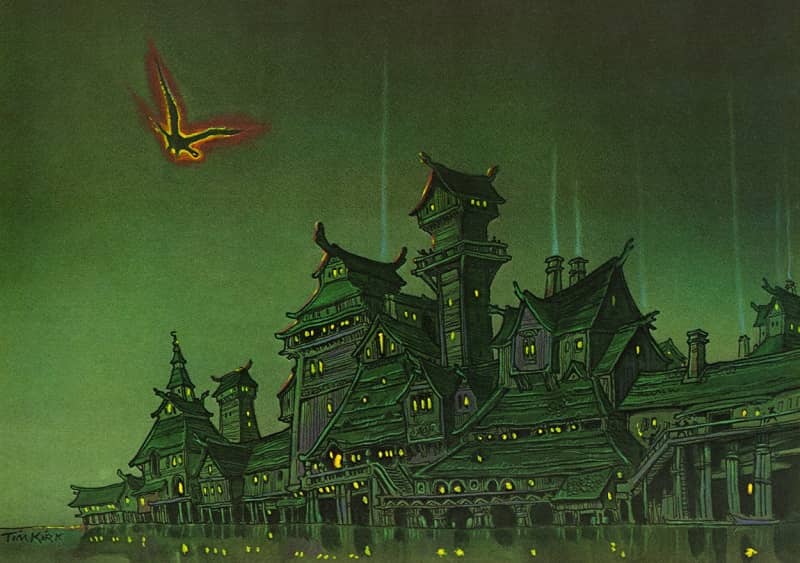 March — Fire and Water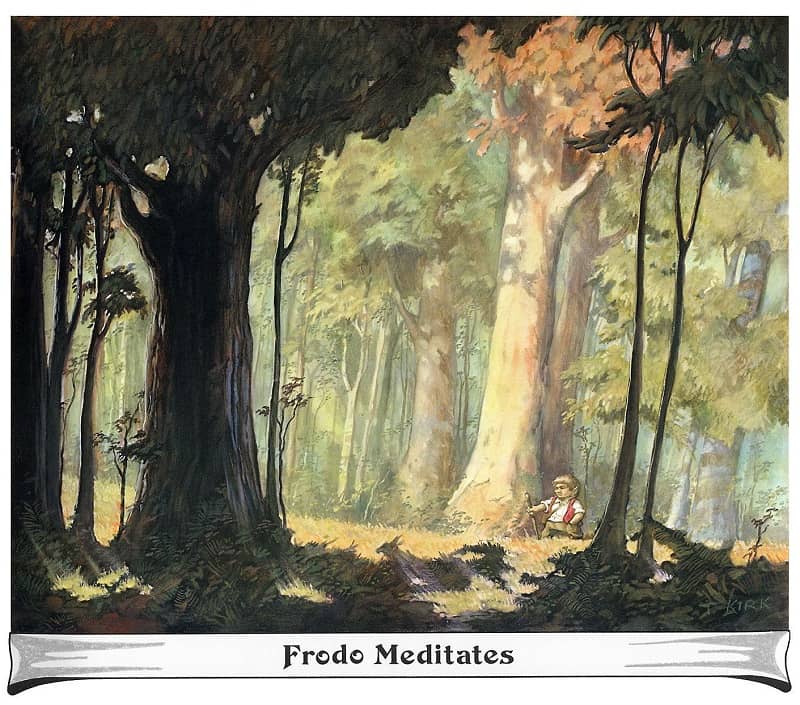 April — Frodo Meditates
I first saw the thirteen pictures from Kirk's calendar (the thirteenth is a double size centerfold painting of Bilbo and Gandalf) when it came out in 1975, displayed on the walls of a math classroom at my high school. I didn't even have a class in Room 57, but the teacher opened it up at lunch and snack times and after school as a place for oddballs – wargamers, political junkies, theater arts people, science fiction and fantasy readers – to congregate. (One day he saw me reading a Doc Savage paperback and told me that I shouldn't be wasting my time on that stuff; I should be reading Conan. Thanks, Mr. Prime!)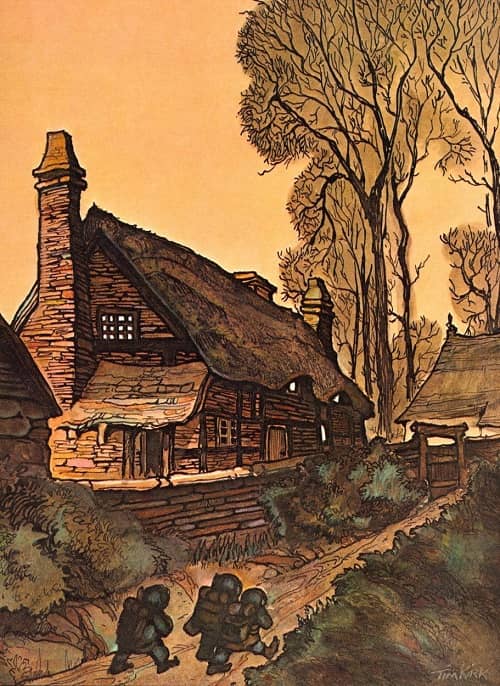 May — Maggot's Farm
I was instantly captivated by Kirk's paintings. My favorite then and now is "Smaug." That smoldering, violet-tinged rendering of the fathomlessly evil, endlessly devious, insatiably avaricious dragon became definitive for me, as have many of the calendar's other images.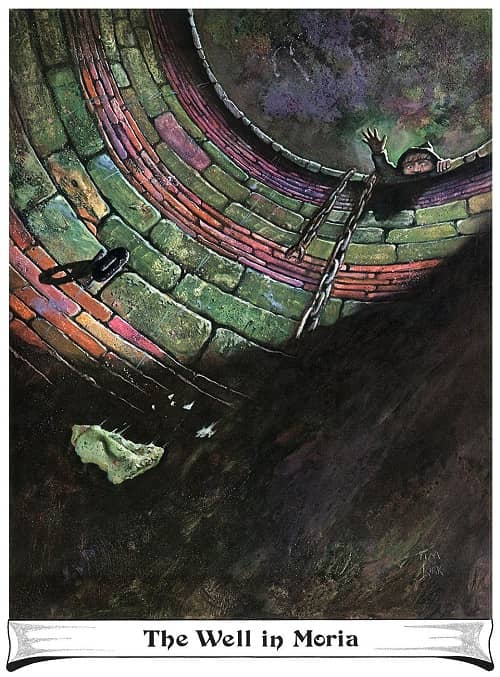 June — The Well in Moria
I think it's significant that none of Kirk's pictures are, strictly speaking, action scenes, with the exception of "Fire and Water," and even that painting depicts the instant before Smaug descends on Lake-Town, and "The Road to Minas Tirith" and "Two Orcs" show Sauron's minions doing nothing more than marching. Kirk seemed most interested in Middle-earth as a place in its own right, not just as a venue for sieges or swordplay (and I think that's how Tolkien himself felt about it). Maybe that's why these pictures kindled a deep desire in me to see and know this place myself.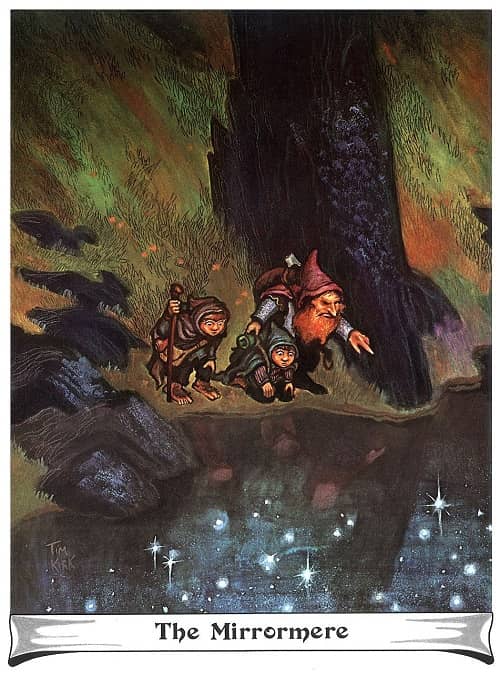 July — The Mirrormere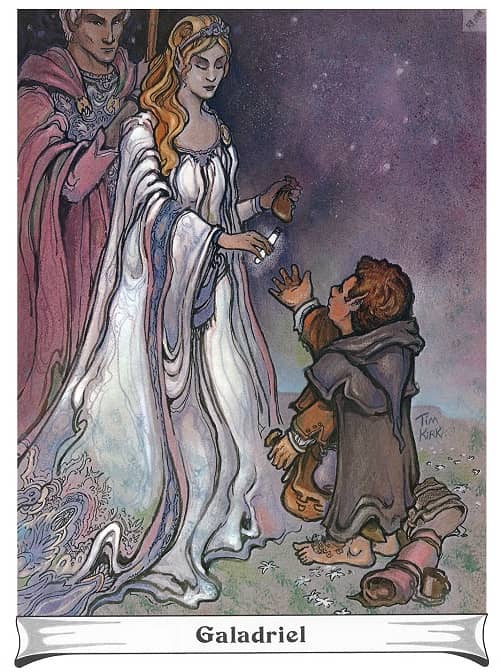 August — Galadriel
There are as many Middle-earths as there are readers; Tolkien's great work touches all of us in a different, individual place, and yet we all feel familiar enough with it to share a common love and a communicable understanding. As for visualizations, I suppose that Tolkien's own lovely illustrations are the only "authoritative" ones; I also think that doesn't much matter.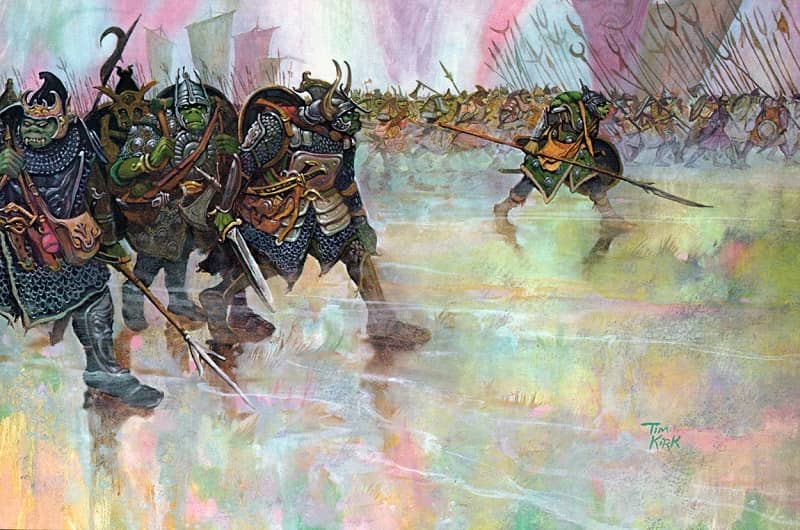 September — The Road to Minas Tirith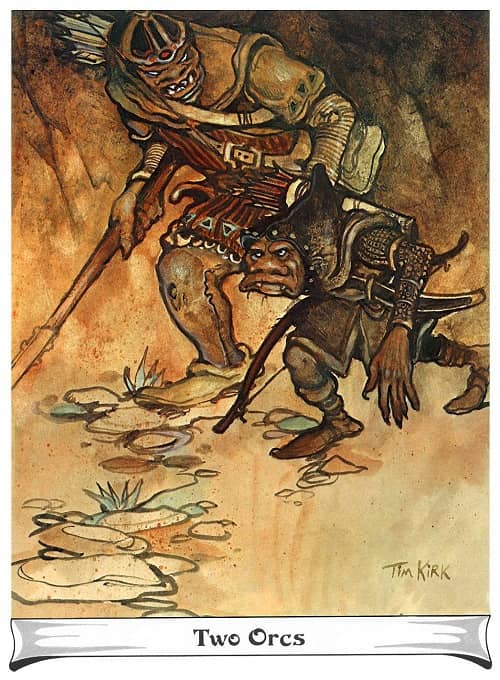 October — Two Orcs
These days, Alan Lee's bleached images are probably the default picture of Middle-earth for most people, through his book illustrations and especially through his work on the Peter Jackson films, and that's fine. His stark landscapes have great integrity; they make visible the place in Alan Lee that Tolkien's world has touched, and are probably especially resonant for those who first encounter Middle-earth through them.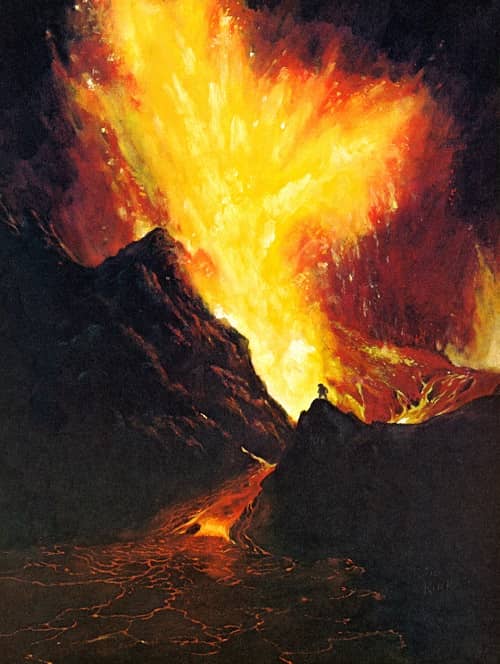 November — The Cracks of Doom
For me, though, the Middle-earth that I carry in my heart will always have the soft contours and gentle colors that Tim Kirk put on his Master's thesis canvasses. I don't know what grade his judges gave him, but he certainly gets an A from me.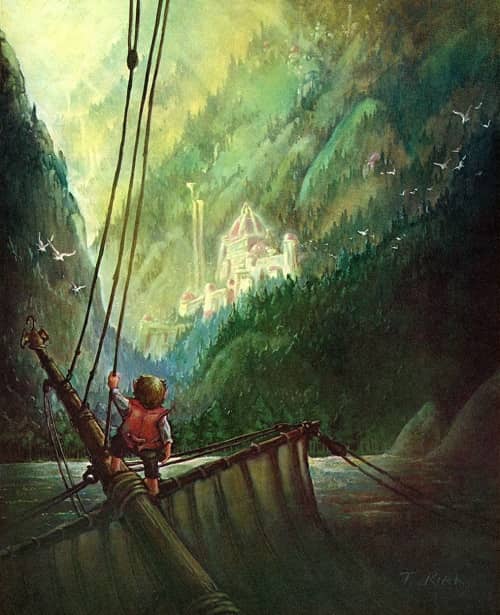 December — The Last Shore
---
Thomas Parker is a native Southern Californian and a lifelong science fiction, fantasy, and mystery fan. When not corrupting the next generation as a fourth grade teacher, he collects Roger Corman movies, Silver Age comic books, Ace doubles, and despairing looks from his wife. His last article for us was Rod Serling's Night Gallery: The Art of Darkness.