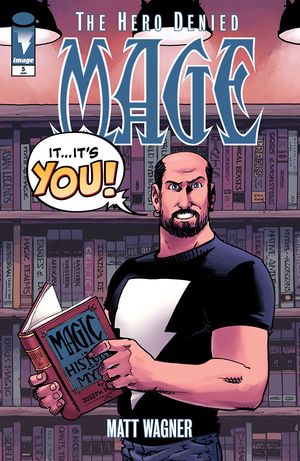 Yeah, Kevin, it's me. There was a two-month break between issues 4 and 5, but it wasn't due to any sort of publishing mishap. Rather, Matt Wagner built these month-gaps into the series schedule from the beginning in order to give himself enough time to finish everything without any unexpected delays. He takes advantage of this gap by jumping the story ahead by thirteen months. Obviously, spoilers and fan theories ahead.
It opens with a five-page flashback set some time shortly after the end of the first series (Hero Discovered). Kevin Matchstick is tromping through a sewer with a full head of hair; a magic baseball bat; and the first World Mage, Mirth. We get hints of things to come (high top shoes, four star hotels, the departure of Mirth) and a nice splash page of an Ellen Trechend.
We then flash to the present. Kevin is trying to explain to his son that his life is filled with tragedy and serious mythic underpinnings. But Hugo just wants to hear stories about his dad fighting monsters. Meanwhile, Kevin's wife is apparently a realtor now (even though she was a teacher four issues ago), looking pretty sharp in her red business suit. They also own a purple cat named Chloe. And they're staying in a house that they can afford because … I seriously don't know.
We're on issue #5 and I still have no idea what Kevin Matchstick is supposed to have been doing for the last ten years. Has he seriously just been living off a magic ATM card while he's been avoiding fighting monsters?
Anyway, he's walking Hugo to a school bus, asking if he likes the neighborhood, then takes a detour to an ATM to grab some money and bitch at the absent mage. And it looks like he's been lying low since his battle with the hell-queen last issue. Which means, I guess, that he left his family to protect them, fought a monster, figured out that abandoning his family in times of trouble was dumb, then returned home.
---