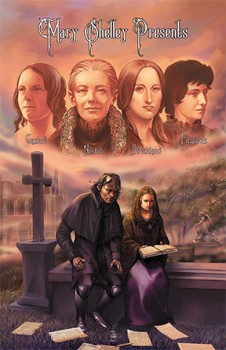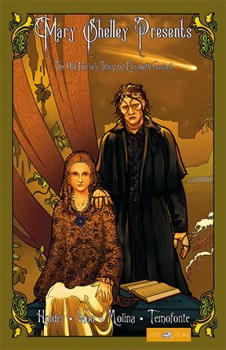 Everyone's heard of Frankenstein, and most people also know its author, Mary Shelley, but on the 200th anniversary of that novel's publication, Kymera Press is doing something very, very cool. Mary Shelley Presents is a graphic novel series about other Victorian women horror writers. These women were famous in their own day, but their legacies have faded over time. Now, with the help of Kickstarter, Kymera press seeks to assemble the multiple stories of this series into one trade paperback that they will then bring to life — okay, okay… I'll hold off on any other Frankenstein metaphors…
Instead, let me introduce Debbie Daughetee, owner of Kymera Press, and have her tell the story of this book in her own words. Then head on over to Kickstarter to support the trade paperback edition!
Emily Mah: Mary Shelly is a beloved matriarch of horror and this book looks so gorgeous. Can you give us some background on how it came to be?
Debbie Daughetee: Nancy Holder and I have been wanting to work together for a long time. So when the 200th anniversary of Mary Shelley's novel Frankenstein loomed, I talked to Nancy about doing something to celebrate it. Neither of us wanted to revisit Frankenstein as it's been done to death in comics. Finally, we had the thought to have Mary Shelley and her creature introduce horror stories written by Victorian Women.
Mary Shelley and her mother, Mary Wollstonecraft Godwin, did much for women's rights and for women writers. It was a natural fit with Kymera Press' mission statement of supporting women in comics. These Victorian women were as famous in their time as Charles Dickens and Bram Stoker, and yet most people haven't heard of them. Resurrecting their voices is a fun and interesting adventure for us.
---