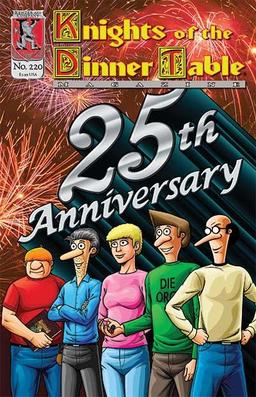 Actually, issue #220 of Knights of the Dinner Table has been on sale for a couple months now, and I missed it. I just found out it was the 25th Anniversary issue, and now I'm doubly embarrassed.
Twenty-five years ago, Jolly Blackburn created the Knights of the Dinner Table comic to fill an unexpected one-page hole at the back of his gaming magazine Shadis. Today, the Knights of the Dinner Table headline one of the longest-running independent comics in history, and they also feature in board games, card games, t-shirts, and even an independently produce live-action series.
But the heart of the KoDT publishing empire remains the monthly comic, dedicated to the misadventures of a group of misfit gamers from Muncie, Indiana. It is written and drawn by my friend Jolly R. Blackburn, with editorial assistance by his talented wife Barbara. Black Gate readers may remember the KoDT spin-off The Java Joint, which appeared in the back of every issue of BG (and was eventually collected in a single volume in 2012).
In addition to Jolly's hilarious comic strips, Knights of the Dinner Table Magazine is packed with gaming columns of all kinds, keeping you informed on the latest and greatest in the industry. KoDT 220 has no less than 11 full-length strips, plus some short "One-Two Punches."
Here's the complete Table of Contents.
---