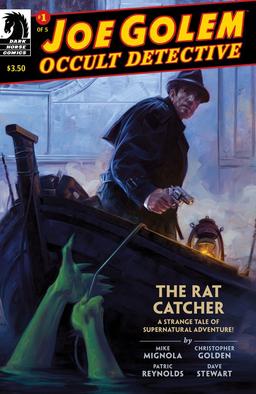 I've been e-interviewing different comics creators (indie comics guys Mirror Comics and graphic novelist-turned-TV producer Jay Odjick) as well as comic book editors (Xander Jarowey, Heather Antos, Jake Thomas, and Daniel Ketchum, all from Marvel Comics).
This time out, I wanted to chat with Christopher Golden, a best-selling author and one half of the writing team (along with Mike Mignola) on the 5-issue series Joe Golem: Occult Detective, from Dark Horse. Issue #1 comes out in November, but Dark Horse was kind enough to share an advanced view with Black Gate for this interview

Click on any of the artwork in this article for bigger versions.
---
Hey Christopher. Thanks for the chance to chat. I read a review copy of Joe Golem, Occult Detective, and really enjoyed it. I hadn't seen the world of the Drowning City before, but it was compelling.
Glad you dug it. Mike and I spent a lot of time crafting this world, making sure all the weird pieces fit, so I'm really looking forward to seeing what readers think.
---