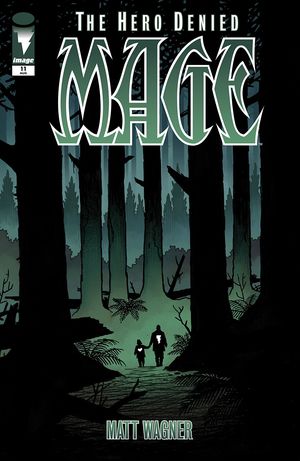 So a lot of The Hero Denied seems to concern the dual identities that parents need to maintain, but which far too many don't. And yeah, like so much of the series that's gone before, we're going to start by talking about fairies and magic, but we'll soon find that we're talking about our actual lives. If I seemed down on this third part of the Mage series early on, it's because Kevin Matchstick seemed to be setting up a false choice between fatherhood or adventure. He didn't have a job, didn't seem to do a hell of a lot with his kids beyond picking them up from school, and basically spent a lot of his time wandering around aimlessly. His wife would nag about his going off on adventures when he should be attending parent-teacher conferences. His kids were little more than vulnerable targets for monsters whom he would eventually resent.
But with the kidnapping of Magda and Hugo, the dual identities of father and hero have finally come together. Kevin's finally seeing that he's raised a couple of amazing kids. We even get a glimmer this issue of the wonderful, horrible truth that most parents eventually realize: his children will one day be able to look out for themselves and won't need him any longer. And rather than treating his wife like a damsel in distress, Kevin is confident that Magda will be able to take care of herself and their son. Basically, Kevin's gone from seeing his family as targets to seeing them as allies. Powerful allies. His roles of hero and father aren't meant to be a choice, but rather complement one another.
So this issue opens with Magda sending her purple flying cat familiar, Cleo, off into the vertigo chamber that lies outside their penthouse prison. The familiar is charged with finding an exit. While that's going on, Magda shows Hugo all of the magic items that she's managed to cobble together. The scene is very reminiscent of Q showing off gadgets to 007. There are exploding light bulbs, a hairdryer gun, invisibility hats, and spider-walking sneakers. I'm sure it's significant that Magda paints lightning bolts on the sneakers, signaling that Hugo is taking on an aspect of his father.
---