This series explores the Savage Sword of Conan collections from Dark Horse reprinting Marvel Comics' premiere black-and-white fantasy mag from the 1970s. Click to read previous installments: Volume 1 / Volume 2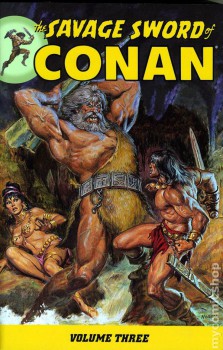 The third collected volume of Savage Sword of Conan includes issues #25 – 36 but begins with a short Barry Windsor-Smith piece that first ran in Savage Tales #2 a few years earlier. BWS adapts a Robert E. Howard poem called "Cimmeria" in a gorgeous 5-page feature. His black-and-white work is every bit as lush as his color work on the Conan the Barbarian comic (for which he is most well-known). The artists who did the black-and-white comic magazines of the 60s and 70s knew that drawing for a colorless publication demanded more from both pencilers and inkers. Especially inkers.
Savage Sword #25 was the last issue of 1977, hitting the stands while the original Star Wars movie mania was reaching its peak, and spiking sales of the Marvel Comics Star Wars title brought the company a new influx of capital. Roy Thomas had built an excellent Sword and Sorcery magazine during the turblent mid-70s, when publishers had to cut the number of pages in their comics and constantly raise their prices. This issue is another super job by Thomas, who faithfully adapts Howard's "The Jewels of Gwahlur." DC legend Dick Giordano steps in to illustrate this issue — seemingly from out of nowhere — and it's obvious that Giordano is reaching for a Neal Adams-style Conan tale.
Adams had drawn a couple of landmark Conan tales by this time (in Savage Tales #4 and Savage Sword #14), and he left his unique imprint behind as usual — setting standards for other artists to follow. Giordano does a solid job on SS#25, but unless you're an old-school fan of his work it comes off as Neal-Adams-Lite: a stiffer, less consistent version of the Neal Adams Conan from "Shadows in Zamboula." Maybe if Giordano had stuck around he would have time to find his mojo on this book, but this feels like a filler issue. It has moments of greatness — certain panels and effects — but the consistency that marks John Buscema's ongoing Savage Sword work is noticeably absent. The next issue solved this problem and started a new era of Conan greatness, thanks to the arrival of inker extraordinaire Tony DeZuniga.
---