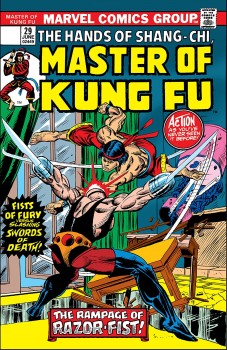 Master of Kung Fu #29 was the beginning of the much-promised new direction the series would take. Having carefully established warring factions of the Si-Fan with loyalties divided between Fu Manchu or Fah lo Suee, writer Doug Moench and artist Paul Gulacy now set aside this key storyline they had developed and expanded since replacing Steve Englehart and Jim Starlin on the book and took Shang-Chi in a decidedly different direction, albeit one that would guarantee the series' longevity.
While Moench had taken pains to ensure a greater fidelity to Sax Rohmer's work, he would still deviate from it at key points. Part of this was in shaving twenty-some years off the back continuity inherited from Rohmer to make elderly characters like Sir Denis Nayland Smith and Dr. Petrie a bit more viable in the 1970s than they would be as men who should have been in their nineties. More importanly, Moench chooses to make Petrie an MI5 agent the same as Smith rather than simply Sir Denis' lifelong friend and amanuensis.
Shang-Chi is summoned to Sir Denis' New York estate where Black Jack Tarr and Clive Reston have already gathered along with Dr. Petrie. Smith offers Shang-Chi a place among his operatives in taking down heroin dealer Carlton Velcro. Reston is the key man in the operation as he has taken the identity of Mr. Blue, the New York connection in Velcro's heroin pipeline. Reston's personality has been softened to make the character more mature and more of a team player with Tarr, Smith, and Petrie.
Shang-Chi is torn between his pacifist philosophy and his trust in Sir Denis as a good man who desires to eradicate evil from the world. A visit to a Manhattan rehab clinic is enough to convince Shang-Chi that stopping the powerful heroin dealer is justification enough to use violence against the greater social ill. Of course, this Machiavellian decision is one that will bring Shang-Chi much grief. It is to Moench's credit that the reader immediately understands that choosing to be a hero brings Shang-Chi closer to the the philosophy his father has embraced – a philosophy Shang-Chi has sworn to reject. Choosing Sir Denis as a father figure illustrates that Shang-Chi, like the traditional reader of Rohmer's Fu Manchu series,  fails to perceive just how much of a mirror image Sir Denis is to his venerable foe.
---