Goth Chick News: Three Cheers for a New Dracula Comic
Goth Chick News: Three Cheers for a New Dracula Comic

Universal Monsters: Dracula #1 (Image Comics, October 25, 2023).
Cover A: Martin Simmonds, Cover B: Joshua Middleton
I've written in the past about how my Goth Chick origins can be traced back to clandestine viewings of classic monster movies on the local cable access channel with my Dad. Though these events were infrequent, they made an indelible impression, forever making me equate Boris Karloff, Bela Lugosi and Lon Chaney among others, with warm fuzzy feelings. But in between these midnight events, sitting at a distance from the television that would have sent my Mom into fits, I had to get my monster fix in other hideable ways.
And this meant comics.
Living in proximity to six boy cousins, all but one being older than me, I had a near limitless source of contraband, which at nine years old consisted primarily of Warren's Creepy, Marvel's Strange Tales, and DC's House of Mystery. Easily hidden between mattress and box springs, and able to be read by flashlight in the closet, horror comics fed my obsession with monsters and the supernatural – even as they sometimes scared the snot out of me for nights on end.
To this day I'm a sucker for a good horror comic.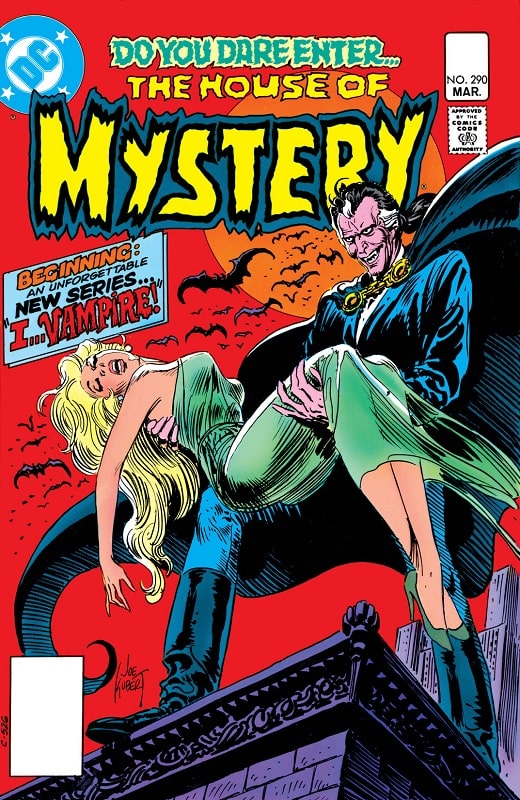 House of Mystery #290 (December 22, 1980). Cover by Joe Kubert
So, it is with no small bit of excitement that I report that Universal Products & Experiences in partnership with Skybound Entertainment is releasing Universal Monsters: Dracula. This release will be a brand new four-issue, limited series comic book from the best-selling, Eisner Award nominated team of James Tynion IV (W0rldtr33, Something is Killing the Children) and Martin Simmonds (Swan Songs).
Skybound Entertainment was founded by Robert Kirkman, creator and executive producer of The Walking Dead, and has had a relationship with Universal since 2015 resulting in films (such as the recently released Renfield) and video games. Though comics might not seem like the natural next step, I'm kind of excited at the prospect.
In Skybound's press release on the project, Alex Antone, Editorial Director at Skybound said,
It's been an absolute thrill to watch the powerhouse duo behind The Department of Truth breathe new life into this legendary story. Perfect for both new fans and horror aficionados alike – the Universal Monsters are as timeless as ever!
James Tynion IV went on to say,
A few times in my life I've had the pleasure of writing about one of the great pop culture icons, but there is something singular about Dracula that made this opportunity too good to pass up. The challenge in front of Martin and I is to take the bloody heart of the Universal Pictures classic and find a bold new way to bring the character to life. It's been one of the most exciting creative challenges of my life, and I am phenomenally excited for you to see the horrors we have in store for you.
Martin Simmonds then rounded out the excitement with,
Dracula has always been a horror favorite of mine, so to get the chance to work on an exciting new interpretation of this character alongside my Department of Truth co-creator, James Tynion IV, was one I couldn't pass up. I'm so excited for readers to experience our version of Universal's classic monster–and I hope you enjoy the direction we take the story.
From what we know, issue number one will focus on Dr. John Seward and his delusional new asylum patient, R.M. Renfield who rants about the demonic entity living in the ruined abbey nearby. As the skeptical doctor attempts to rationalize Renfield's tales, Dracula sets his sights on the lovely Lucy. Expect all the characters from the original book and film to make an appearance in the four installments, including Mina, Jonathan, Van Helsing and others.
Assuming this series will be as awesome as expected, I was glad to know that more limited runs are planned which will focus on the other iconic monsters from the Universal vaults. Better these stories be retold in comics, than those horrible reboots Universal planned to saddle us with a while back. Plus it will hold us over until 2025 when Universal's new Epic Universe theme park opens, which will include a "Dark Universe" land dedicated to all the classic monsters (insert fangirl squee here).
Universal Monsters: Dracula #1 will be available at comic book shops and digital platforms including Amazon Kindle, Apple Books, comiXology, and Google Play on October 25.