Goth Chick News: Nicolas Cage as Dracula? Yes, Please
Goth Chick News: Nicolas Cage as Dracula? Yes, Please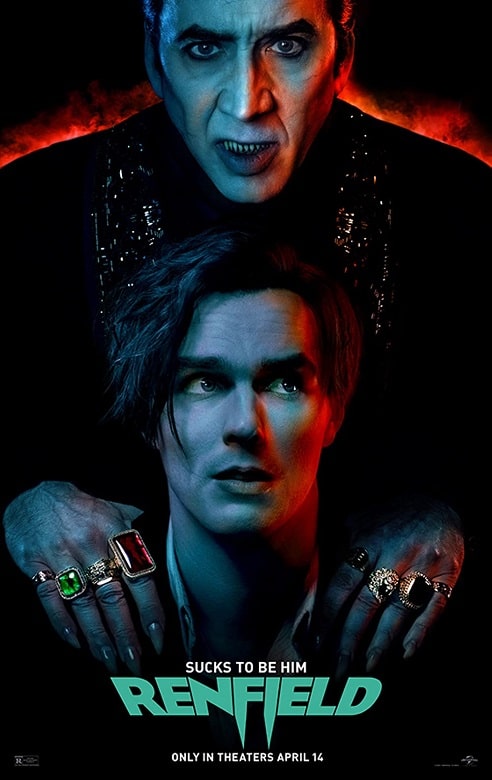 I recently enjoyed one of my periodic, cathartic rants about the state of vampires on film in the past couple of decades. Having had it with the very liberal license the entertainment industry has taken with my favorite classic monster, I was happy to share that Hollywood was finally going to give us a seriously violent throw-back version in the form of The Last Voyage of the Demeter. However, though I took exception to vampires being depicted as angsty, flannel-wearing mopes who despised their own blood-sucking nature, I never mentioned believing that vampires should not have a sense of humor.
I mean, if you had to hang around watching humans for roughly 590 years, you'd have to be able to laugh at stuff, right?
If you think about it, Dracula must appreciate the irony of his situation. Certainly director Chris McKay (The Tomorrow War, The LEGO Batman Movie) screenwriter Ryan Ridley (Ghosted, Rick & Morty), and comic book writer Robert Kirkman (The Walking Dead, Invincible) gave it a lot of thought, which is why you should mark your calendars for April 14th.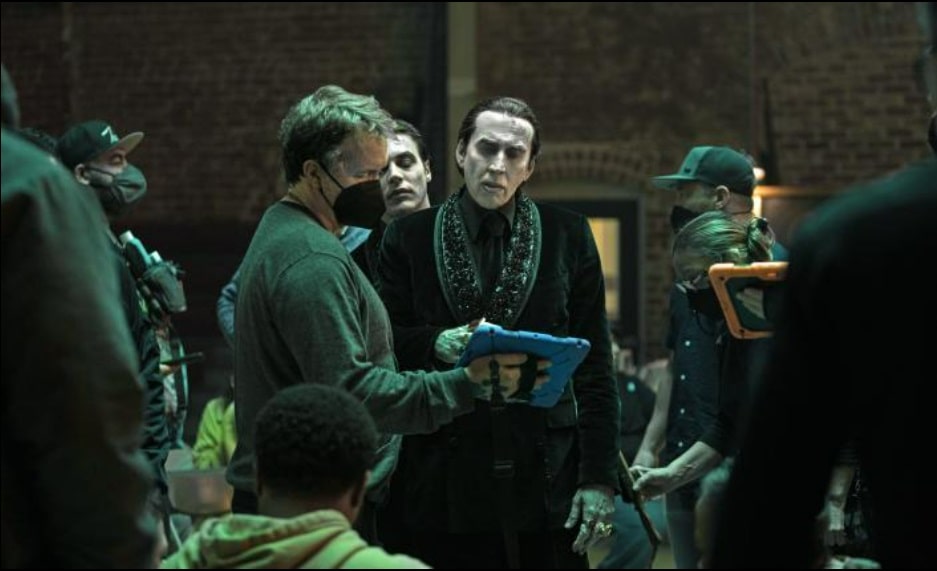 Cage filming in New Orleans in 2022
The upcoming movie Renfield, tells the classic vampire story from the perspective of the tortured aide to history's most narcissistic boss, Dracula (played by Oscar winner Nicolas Cage). For a bit of background, R. M. Renfield is a character who appears in Bram Stoker's 1897 Gothic horror novel. He is Count Dracula's deranged, fanatically devoted servant and familiar, helping him in his plan to turn Mina Harker into a vampire in return for a continuous supply of insects to consume and the promise of immortality. Throughout the novel, Renfield resides in an asylum, before Dracula disposes of him permanently, sans the promised eternal life.
In this modern take, Renfield, played by Nicholas Hoult (Mad Max: Fury Road, X-Men) clearly survived and has spent the roughly 130 intervening years fetching his master's prey and doing his every bidding, no matter how debased. But now, after over a century of servitude, Renfield is ready to see if there's a life outside the shadow of The Prince of Darkness. If only he can figure out how to end his codependency.  
So how did we get here? 
According to Deadline Hollywood, in July 2014, Universal Pictures announced classic horror film properties, including the character of Count Dracula, would become part of a unified "Dark Universe." After the negative reception of Dracula Untold (2014), its connections to the Dark Universe series were downplayed, and The Mummy (2017) starring Tom Cruise was re-positioned as the first film in the series. As I've reported every chance I get, this movie was a complete dumpster fire, resulting in Universal's decision to shift its focus on individual storytelling and move away from the shared universe concept.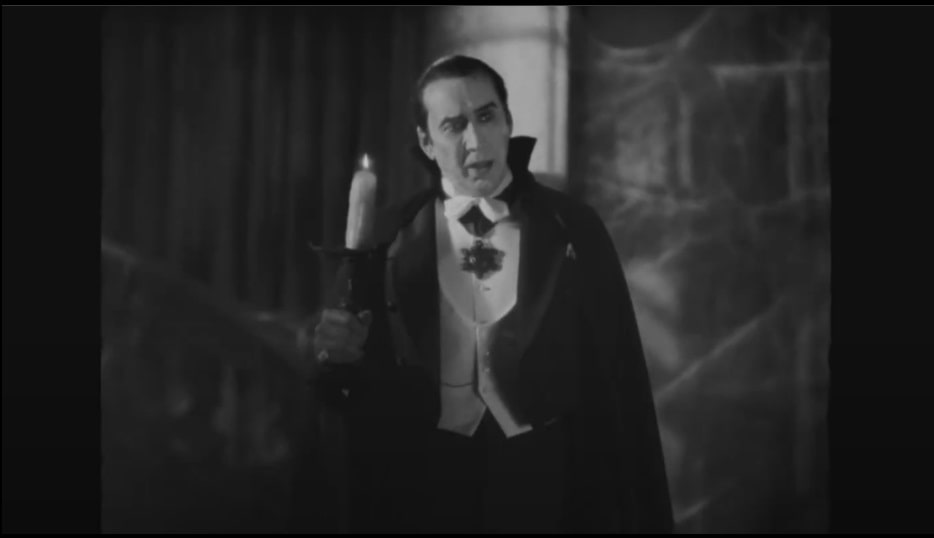 Nicolas Cage as Dracula
Following the success of Taika Waititi's mockumentary film What We Do in the Shadows (2014) and the subsequent commissioning of a TV series which began development in late 2017, Kirkman pitched a comedic approach to the story of Count Dracula, which focused on the character of Renfield. Universal liked the idea (an on-purpose joke of a vampire film instead of Cruise's unintentional one) and hired Ridley to create a screenplay based on the concept. McKay was hired because he reportedly gave a successful pitch combining the story's mix of humor and action, "something the studio was looking to have more of."
McKay revealed in a recent interview with Collider that he considers the film a direct sequel to Tod Browning's 1931 masterpiece, Dracula. "I kept telling marketing that that's what we should say, that this is the only direct sequel. I guess you could argue 'Dracula's Daughter' is a sequel… But to me, this is the only real direct sequel with the Dracula and the Renfield of that movie. So yeah, I wish they'd use that in the marketing. I think that would've been a funny way of positioning this movie. The longest time between the original movie and the sequel, beating Psycho, or whatever. I guess Avatar maybe now, since it feels like a long time since the first one."
Nicolas Cage has long made it known that the three roles he dreamed about playing when he went to Hollywood in 1980 were Captain Nemo, Superman and Dracula. According to IMDB, even with a long history of turning down big movies if they doesn't center on his character, Cage agreed to play the supporting role of Dracula in Renfield, as it was a lifelong dream, plus Cage apparently loved the comedy parts in the script. For their part, producers are sure to have known that casting Cage was bound to create buzz, given the way the internet obsesses over his every move. Pretty much all the scuttle about Renfield pre-release has focused on Cage, and when the trailer was released, the chatter about Cage's wild Dracula performance only became louder. 
Check out the red-band trailer for Renfield…
During an interview with Total Film Magazine Cage stated,
I also kind of always knew I had to (play Dracula) at some point. I went back to Christopher Lee, in terms of his manner of speaking, but that was really only a starting point. I knew Christopher. I did a small scene with him in Season of the Witch, and I liked him very much. We had a lot of nice conversations, and he reminded me quite a bit of my father, August. So, from then on, my dad sort of became the main inspiration for me.
It also seems Cage's eccentricities make him perfect for his role as well. Prior to his well-publicized financial difficulties in 2009, Cage bought up several storied properties around New Orleans. Among these was the infamously haunted LaLaurie Mansion, which I've written about several times here, most recently in 2021.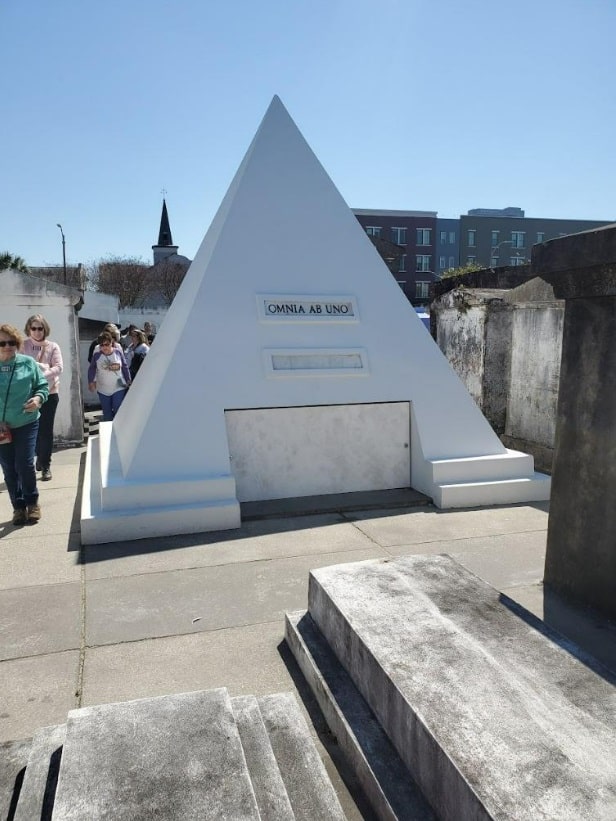 My own photo of Cage's tomb in 2019
Cage also purchased a 9-foot pyramid tomb in the city's beloved St. Louis Cemetery No. 1, home to the grave of another of New Orleans' supernatural heavies, Marie Laveau. There is no name on the tomb yet, but it is emblazoned with the Latin maxim, "Omnia Ab Uno," which translates to "Everything From One." Cage has chosen to remain silent about his reasoning for the flamboyant edifice. Some speculate it's an homage to the National Treasure movie franchise, though given that many cemeteries host pyramid grave markers, it may have simply been a stylistic choice.
Having seen it for myself I can say that Cage isn't currently sleeping in it or anything, even though I've heard he got so into character during filming Renfield that he wouldn't break it even when off camera. What I can tell you is that I haven't been this excited to see a movie in a very long time.
Renfield hits theaters on April 14th.