Galaxy Science Fiction, January 1955: A Retro-Review
Galaxy Science Fiction, January 1955: A Retro-Review

Galaxy Science Fiction, January 1955. Cover by Ed Emshwiller
It's been a while since my last Galaxy review, but the best things come to those who wait. This one is for the January, 1955 issue. The cover is by Ed Emshwiller and is titled "Scene: Milady's Boudoir." It's an eye-catching visual of a futuristic bedroom with devices that could replace services from a salon, and the artwork contains interesting colors and shapes for the furniture and electronics. But I'm not really here to get into the artwork, of course, so let's move on to the fiction.
"The Tunnel Under the World" by Frederik Pohl — Guy Burckhardt wakes up on June 15th, screaming from a dream. In the dream, he felt an explosion that killed him. He continues through his day as best he can. And the next morning awakes on June 15th again, and once again awakes in terror from a nightmare of dying in an explosion. The horrors of the nightmare are alarming, but the deeper issue is the recurring date.
[Click the images for galaxy-sized versions.]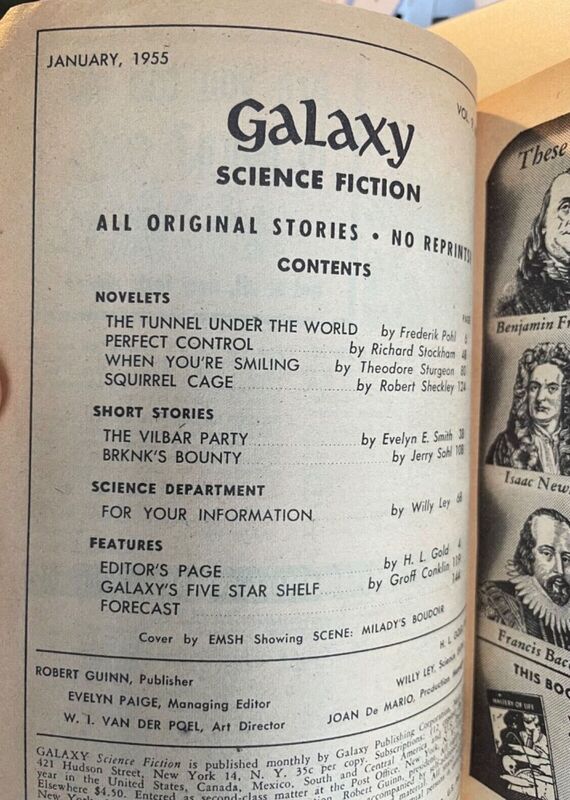 Contents of the January 1955 issue of Galaxy
Burckhardt finds that each morning resets his world, though it doesn't necessarily reset him. For example, when he falls asleep on a boat one night, he awakens in the same place. And despite his best efforts, he's unable to remain awake until morning to see whatever — or whoever — is resetting the world around him.
Pohl sets up a good mystery with supporting characters. And while the overall premise seems like a potential origin for Groundhog Day or Edge of Tomorrow, this story is distinct in its own enjoyable way.
"The Vilbar Party" by Evelyn E. Smith — Professor Narli Gzann has been chosen for an exchange program between Saturn and Earth — an extraordinary opportunity to be the first to live on a foreign planet. He expects it to be lonely, of course, but Narli prefers solitude. Instead, he becomes popular, due to not only being from Saturn but to his close resemblance to a teddy bear.
This story is one of the whimsical types that Horace Gold (the editor) slides between more dramatic or thrilling stories, probably to break the reader's tension or to give them a breather. Smith's tale is lighthearted and fun but not necessarily memorable.
"Perfect Control" by Richard Stockham — the six crew members of the Alpha are returning from a seventy-five year mission, towed through the solar system because they've lost propulsion. It wasn't the mission they intended, but a meteor destroyed their rockets before they could reach another solar system. Their only option was to drift back to Earth slowly.
The years rolled by, and with nothing else to do, each person focused on areas of interest. The dietician spent time discovering the perfect human diet. The astrogator turned to poetry. Another turned his attention to ship design, eventually designing a ship he believes could explore the entire galaxy. Everyone but the captain found something to focus on, and he simply kept the ship pointing towards Earth as it limped along.
Now that they've returned, the captain requests that the ship be repaired so he and the crew can resume the original mission to explore another solar system. If their demands aren't met, he and the other crew members will flood the ship with carbon monoxide, killing themselves.
There's a good somberness to the story and interesting character choices that I enjoyed. Stockham had multiple publications during the 1950s, mostly in If Magazine.

The Stars are the Styx by Theodore Sturgeon, containing "When You're Smiling"
(Bluejay Books reprint edition, March 1984). Cover by Rowena Morrill
"When You're Smiling" by Theodore Sturgeon — The unnamed protagonist is at a bar when he runs into Henry, a man he believes he can push around as he does other people. The protagonist thinks he's more than human in his ability to avoid anger and empathy while antagonizing or coercing others into following his will. But Henry has plans of his own.
As is to be expected with Sturgeon, the voice of the first-person narration is strong. He's not a likeable character, which can be especially challenging to pull off as an author. There's also a shift that occurs towards the end that I won't spoil, but it takes the story in an unexpected direction that works really well.
"When You're Smiling" has been collected many times, including in Best SF Two (1958), The Stars Are the Styx (1979) and Bright Segment (2002).
"Brknk's Bounty" by Jerry Sohl — Larry's life as a newspaper writer comes to an end soon after Trlk comes into his life. The Sybillian only makes himself visible to the writer, and when Larry gets into an argument with him in front of his boss, he's promptly fired. Trlk attempts to help Larry in other ways, but Larry's life doesn't improve until the day when other Sybillians appear.
This a fairly short, humorous tale. Sohl was a prolific author of short stories, novels, and screenplays. He was also a writer on The Twilight Zone, The Outer Limits, and Star Trek, among other television shows.
"Squirrel Cage" by Robert Sheckley — The AAA Ace Interplanetary Decontamination Service takes on a new case. A Seerian's farmland is overrun with slegs, which are a type of rodent. Disposing of them seems simple enough, other than the fact that slegs are invisible.
Like other Sheckley stories involving AAA Ace, there's a balance of mystery, humor, and science fiction that comes together in an unexpected yet satisfying conclusion.
---
Matthew Wuertz's project to review every issue of Galaxy magazine in order of publication began with the January 1950 issue. See all his reviews here.