The Complete Version of John C. Hocking's Conan: Black Starlight is Now Available
The Complete Version of John C. Hocking's Conan: Black Starlight is Now Available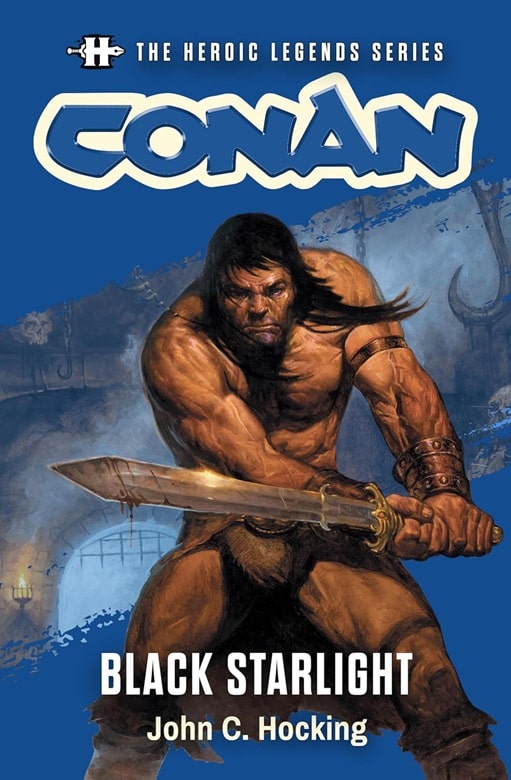 Conan: Black Starlight (Titan Books, October 17, 2023)
The name John C. Hocking is well known to long-time Black Gate readers. He published several terrific stories in the print version of the magazine, including two tales in his Brand the Viking series, and the opening stories in his popular Archivist series, "A River Through Darkness and Light" and "Vestments of Pestilence," which was continued in Skelos and Weirdbook. He's also launched a brand new series, the King's Blade tales, in Tales From the Magician's Skull, edited by Howard Andrew Jones.
I was delighted to see that John had been commissioned to write a serialized novella for Marvel's high-profile relaunch of Conan The Barbarian in 2019. Conan: Black Starlight was published in installments in the first twelve issues of the comic, and now the entire story has been collected by Titan in a single handsome volume.
[Click the images for Conan-worthy versions.]

Marvel's Conan The Barbarian (2019) serialized "Black Starlight" across the first twelve issues
I asked John for some additional detail on how the novella fit in with the Savage Tales Short Fiction line and his own Conan tales, and he was generous enough to reply in detail.
I wrote a novella about Robert E. Howard's Conan that was serialized over the course of a year's worth of Marvel's Conan the Barbarian comic back in 2019. Up until today nobody could read the whole thing unless they had all 12 of those issues.

But now my novella, Black Starlight, has landed in e-book form…

This is the latest in a new chain of Robert E. Howard pastiche, fresh monthly short fiction featuring a variety of REH's characters. It follows last month's release of Conan – Lord of the Mount by Stephen Graham Jones and precedes the November 28th release of Jonathan Maberry's Solomon Kane: The Hound of God. (I honestly can't help but look forward to a Solomon Kane story by the current editor of Weird Tales.)
Jonathan Maberry's Solomon Kane: The Hound of God will be available in Kindle format on November 28, 2023.

Conan and the Emerald Lotus by John C. Hocking (Tor 1995 and 1999). Covers by Ciruelo Cabral and Ken Kelly
Black Starlight follows the events of John's highly regarded 1995 novel, Conan and the Emerald Lotus.
Here's John again.
Black Starlight is a stand-alone adventure, but the action follows the events of my novel, Conan and the Emerald Lotus. I did my best to load the novella up with as much old school Weird Tales flavor as possible. You have your creepy supernatural horror, Lovecraftian elements both quiet and in-your-face, a diabolical villain who gives the Cimmerian a notably hard time, brutal battle action, and plenty of nods to REH's original tales.

I'm writing this surrounded by shelves packed with paperback books, so it's my hope that Black Starlight eventually finds its way into an old-fashioned printed book, but I'm very pleased to see it finally available as a complete story in a format that might reach a wider audience.

If you check it out, I'd be honored if you took the time to tell me what you thought of it.
Our previous coverage of John C. Hocking includes:
John C. Hocking's Conan Pastiches Emerald Lotus and "Black Starlight" by Seth Lindberg
Beautiful Plagues: An Interview with John C. Hocking by Seth Lindberg
Hither Came Conan: John C. Hocking on "The Scarlet Citadel" by Bob Byrne
The Sorcerers Guild Interviews John C. Hocking and John O'Neill
John's long-anticipated next Conan book, Conan in the City of the Dead, will be published by Titan Books on June 18, 2024.
In the meantime, you can enjoy the Kindle version of Black Starlight for just $1.99 here.