The Mystery of Alan Burt Akers, Author of The Dray Prescot Series
The Mystery of Alan Burt Akers, Author of The Dray Prescot Series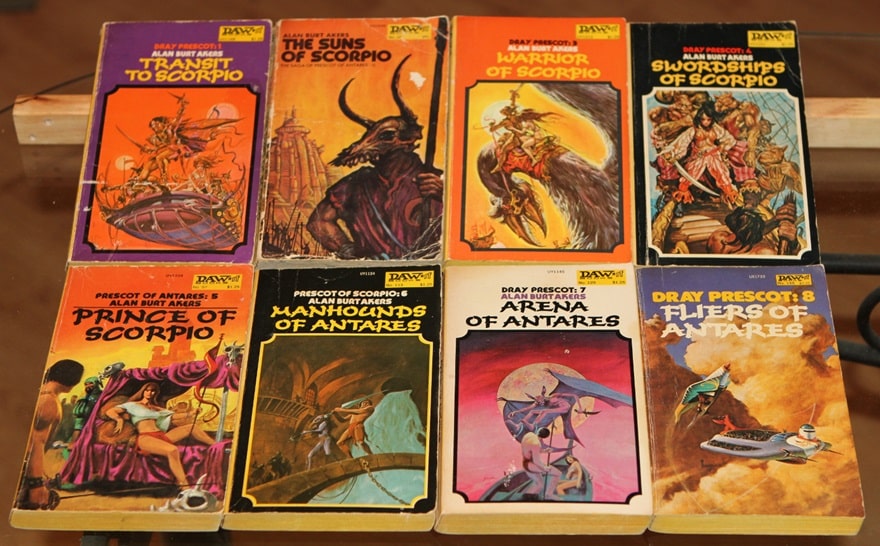 The first eight Dray Prescot books (DAW Books, 1972-1975).
Covers by Josh Kirby, Tim Kirk, Jack Gaughan, and Richard Hescox
As I started collecting and reading the Dray Prescot series of Sword & Planet novels, I tried to find out more about the author: Alan Burt Akers. The early books, published by DAW books starting in 1973, had no description or details of Akers, although they had ample details on Dray Prescot, who supposedly had recorded his adventures on tapes, which Akers then transcribed.
At the time I was sure Alan Burt Akers was a real person. It was many years before I learned the truth. Akers was a pseudonym for Henry Kenneth Bulmer (1921-2005). I don't know why he chose that particular pseudonym, although I noted that it included all three parts of the name, and I was sure this was an homage to Edgar Rice Burroughs and Otis Adelbert Kline.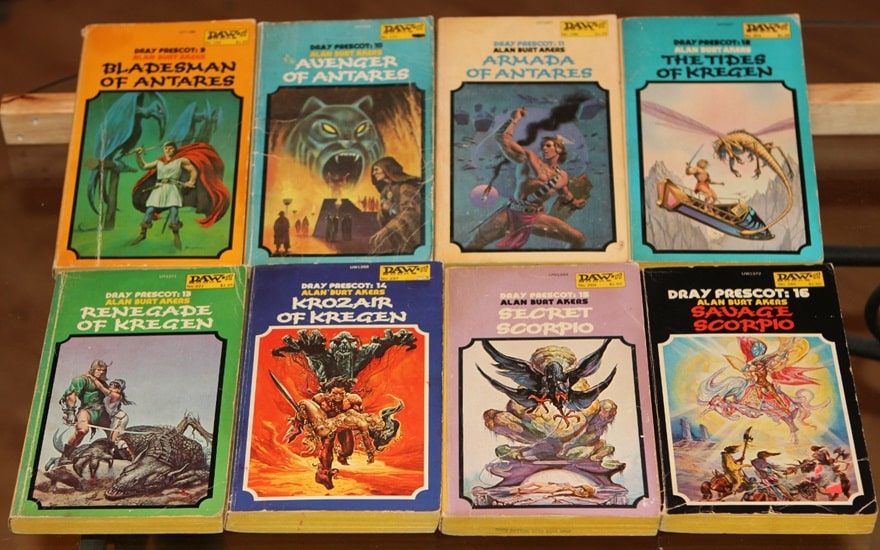 Dray Prescot, volumes 9 – 16 (DAW Books, 1975-1978). Covers by Jack Gaughan, Michael Whelan, and Josh Kirby.
When I did discover the Bulmer/Akers connection, I found that I also had quite a few other books by Ken (Not Henry) under other pseudonyms such as Manning Norvil, Neil Langholm, and Andrew Quiller. In fact, Ken wrote over one hundred and sixty novels, as well as numerous short stories. And when I realized that I liked all the ones I'd read, I took my first steps in collecting as much of Bulmer's work as possible, even outside the Prescot series.
The Prescot series made up the biggest chunk of Ken's productivity and I understand he had a fond place in his heart for the series. (He had, of course, been a fan of ERB, particularly the John Carter series.)
There are fifty-two volumes in the Prescot series, divided into "cycles" of three to six books each, each of which has its own name. (The first cycle is "The Delian Cycle," after the character of Delia, who became Prescot's love interest.)

Three Dray Prescot omnibus collections from Bladud Books: The Havilfar Cycle I
(containing volumes 6-8, 2007), The Vallian Cycle (volumes 15-18, 2009), and The Lohvian
Cycle I (volumes 38-40, 2011). Covers by Richard Hescox, Josh Kirby, and Ken W. Kelly
Unfortunately, DAW books only published thirty-seven Prescot books and one novella. Ken continued writing the books, though, and the rest were published first in German by a publisher called Heyne Verlag.
All these books were written in English, of course, and translated to German. I don't read German but surely the original manuscripts were available. I began communicating with other Prescot fans about this and interest was high in making these books available to English speaking audiences.
Eventually the post-37 books began to appear as electronic books from Mushroom Ebooks (a labor of love). Finally, Bladud Books started bringing these works out in print in hardcover compendium volumes containing three novels each. By now, all fifty-two have been published and I own them all, although I still have nine of the last volumes to read, which is a nice thought for retirement. (More to come.)
---
Charles Gramlich administers The Swords & Planet League group at Facebook, where this post first appeared. His last article for Black Gate was One of the Best Swordfights in Fantasy: Dray Prescot 20: A Sword for Kregen.