New Treasures: Our Share of Night by Mariana Enriquez
New Treasures: Our Share of Night by Mariana Enriquez

Our Share of Night (Hogarth, February 7, 2023)
I first heard of Mariana Enriquez in Adam Nevill's 2022 Black Gate article, Five Great International Horror Collections, in which he celebrates "a sense of encountering original, innately weird creative visions for the first time" in the work of Luigi Musolino, Anders Fager, Attila Veres, and two collections from Enriquez, Things We Lost in the Fire and The Dangers of Smoking in Bed. Here's the paragraph that grabbed my attention.
Argentinian Mariana Enriquez has been celebrated the world over, and I can see why from the quality of her writing. But I am surprised because her work is weird, not at all mainstream. How often does that kind of success come to a writer of quality weird? Almost never (because how many traditional publishers ever get excited about it?). I am heartened that it is possible. "Adela's House" from Things We Lost in the Fire became an immediate favourite. Disturbing, sensory, unpredictable stories.
Enriquez's fourth novel, her first to be translated into English, Our Share of Night, was published in hardcover by Hogarth this year, and I think the time is finally right for me to jump on board this train.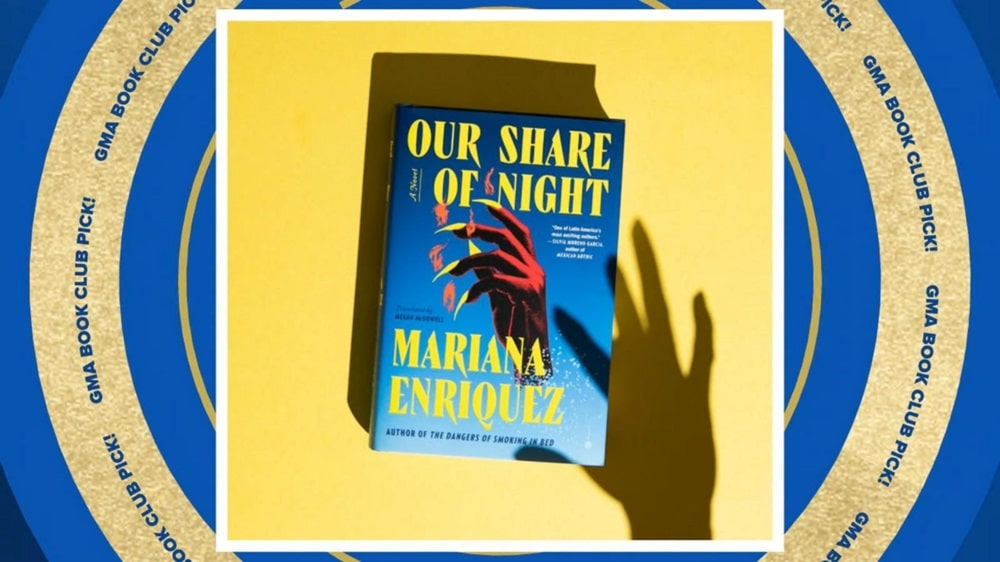 Our Share of Night was the Good Morning America Buzz Pick in February
Danielle Trussoni's lengthy review at The New York Times doesn't skimp on the superlatives, calling it "startlingly brilliant… an enchanting, shattering, once-in-a-lifetime reading experience."
Our Share of Night, by Mariana Enriquez, is a bewitching brew of mystery, myth, wealthy occultists and mediums who can summon "the Darkness."

Mariana Enriquez's startlingly brilliant new novel [is] epic in scope — it is 600 pages long… the narrative explores the founding families of the Cult of the Shadow, also known as the Order, an international secret society of wealthy occultists seeking to preserve consciousness after death. The hunt for immortality leads them to do the unthinkable.

Three families "of blood" — the Bradfords, the Reyeses and the Mathers — dominate the tale, in particular one of the heirs of the Order, Rosario Reyes Bradford, along with her partner Juan and their son Gaspar. Juan and Gaspar have divine gifts the Order covets: They are mediums with an ability to summon "the Darkness," described variously as a mouth feeding on human life and a shape-shifting presence that enshrouds like a shadow, ripping away limbs and swallowing people whole… But Juan, despite a congenital heart disorder, has survived exposure to the Darkness, and is desperate to protect his son from the Order. Their interdependence — Juan's need to protect Gaspar and Gaspar's growing need to understand his powers — forms the bright, hot center of the novel, a big bang that begets scintillating peripheral constellations in an ever-expanding universe of lore, myth, migrations, massacres, demonology, the sadistic torture of "destroyed children," sigils and signs, biographies of dead mediums and the sacrifice of initiates. The novel moves from 1980s Argentina to 1960s London, then back to Argentina in the 1990s. It expresses the horrors of Argentina's disappeared, and the struggle to survive in the shadow of such a void….

Our Share of Night is a mouthpiece for human darkness… It is an enchanting, shattering, once-in-a-lifetime reading experience.
For my money though, Elizabeth Gonzalez James at the Los Angles Review of Books has the most intriguing take.
Our Share of Night is an ambitious horror epic that begins in 1981 with Juan Peterson, a recent widower, and his six-year-old son Gaspar, traveling to visit his late wife Rosario's family at their mansion in the Misiones province of Argentina near the border with Paraguay. Juan is a deeply troubled and contradictory man — he is at once utterly devoted to his grief-stricken son, and yet is gruff, secretive, and physically abusive to him. Juan suffers from an incurable heart condition that could kill him at any minute, and he bears this as well as a darker burden: he works as a medium for Rosario's family's cult, the Order, a millionaire class of worshippers devoted to a supernatural evil presence called the Darkness. Though young, Gaspar has seemingly inherited much from his father: he is, like Juan, able to see ghosts; he is morose and withdrawn; and Juan intuits that his child is a natural medium as well. Juan's in-laws intuit this too, and they are desperate to get hold of the boy….

All this occurs under the shadow of Argentina's ongoing Dirty War, a seven-year campaign of torture and murder waged by a brutal military dictatorship, resulting in the disappearance of up to 30,000 people. Father and son are hunted and haunted, figuratively and literally, and the book chronicles Juan's race to protect his child from his in-laws, as well as exploring the history of Juan and Rosario and the colossal destruction wrought by her family and their ilk upon the people of Argentina…

Beneath the luxurious homes owned by the Bradfords lies a system of secret tunnels, and under the dictatorship, they are only too happy to allow the government to use the tunnels for prisons and torture chambers in exchange for the right to sacrifice the prisoners (and their families) to the Darkness. Torture and dismemberment are overseen by Rosario's mother, Mercedes, a balding, lipless villain — her lips and teeth were taken by Juan in an unforgettable scene — whose sadism knows no bounds….

When the Darkness is summoned, scribes are present to take down anything it dictates, though Juan repeatedly throws doubt on whether it is actually speaking, or whether the scribes are only frenzied by the experience and are imagining what it says. "Sometimes it speaks and there's no way to find meaning in what it says," Rosario explains. "There is no arguing with faith, though. And it's impossible to disbelieve when the Darkness comes. So, we trust, and we go on." The Darkness doesn't offer a system of faith so much as it offers a justification for cruelty, and an open mouth into which enemies may be thrown…

Unsettling and tragic, poignant and true, Our Share of Night is a masterwork from a writer with an unflinching gaze. If you can manage to hold that gaze with her, you will be richly rewarded.
Our Share of Night was published in Spanish as Nuestra Parte de Noche in 2019, and published in English by Hogarth on February 7, 2023. It is 588 pages, priced at $28.99 in hardcover and $12.99 in digtal formats. The cover was designed by Donna Cheng.
See all our recent New Treasures here.