Future Treasures: The Queen of Days by Greta Kelly
Future Treasures: The Queen of Days by Greta Kelly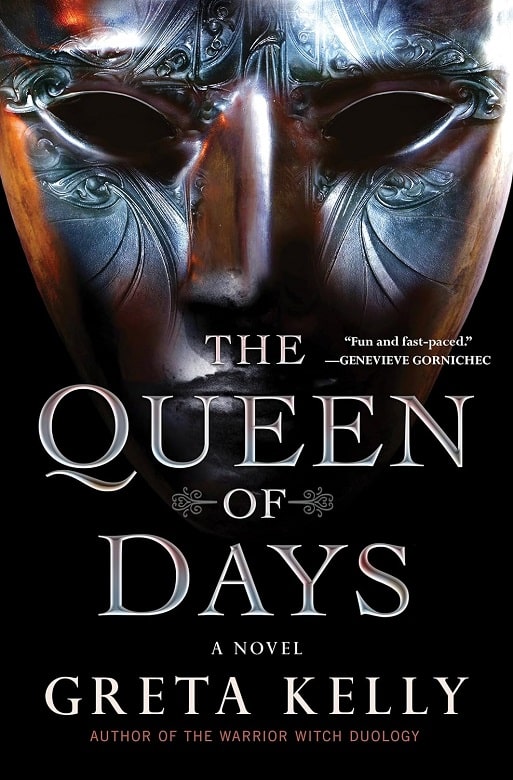 The Queen of Days (Harper Voyager, October 24, 2023). Cover design by Richard L. Aquan
Greta Kelly is the author of the Warrior Witch duology (The Frozen Crown and The Seventh Queen, both from Harper Voyager). I'm hearing a lot of pre-release buzz about her latest, The Queen of Days, a fantasy heist tale released in hardcover in two weeks.
The Queen of Days is the tale of a lovable band of thieves hired to steal a statue during a religious celebration. Like all tales of great heists, this one goes very wrong — in this case, accidentally ripping open a portal that allows warring gods into the world, threatening the entire city.
Publishers Weekly calls it "A high-stakes heist in a secondary world populated by gods, demigods, and plenty of wily rogues," and Library Journal says it's packed full of ""Incredible worldbuilding [and] fast-paced action… a fantasy heist novel filled with interesting characters, a vivid world, and protagonists trying to find their way through."
Here's an excerpt from that Library Journal review.
Balthazar has lost his parents to the governor and will do anything to protect his sister and the family of thieves he has put together — plus sticking it to the governor wouldn't hurt. Enlisted by his quirky benefactor to steal a statue during a celebration for the god Karanis seems easy, even with the mysterious, masked Queen of Days brought into his group. But when the celebration turns deadly, opening a door to allow the gods into the world, Bal and his friends find that it is more than their money at stake… Incredible worldbuilding takes Bal across realities, fast-paced action makes the story move quickly, and alternating viewpoints between Bal and Tassiel ground the plot in its landscape.
I'm very much in the mood for a good heist novel, and this one checks all the right boxes. I received an advance copy last week, and I plan to settle into my big green chair this weekend with a warm blanket, a warm hot chocolate, and The Queen of Days to keep me company.
The Queen of Days will be published by Harper Voyager on October 24. It is 374 pages in hardcover, priced at $30 in hardcover and $14,99 in digital formats. The cover is by Richard L. Aquan. Read an excerpt at Tor.com.
See all our recent coverage of the best upcoming science fiction and fantasy here.