I Loved This Book: Being Michael Swanwick, by Alvaro Zinos-Amaro
I Loved This Book: Being Michael Swanwick, by Alvaro Zinos-Amaro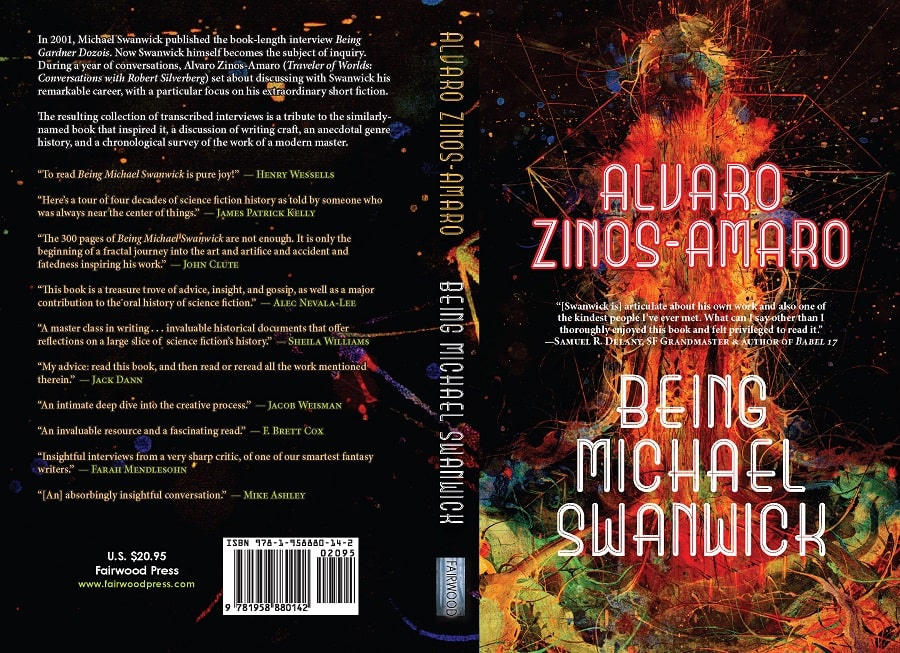 Being Michael Swanwick (Fairwood Press, November 21, 2023)
Back in 2001 Michael Swanwick published a collection of interviews with his close friend, sometime mentor and collaborator, and fellow Philadelphian Gardner Dozois, called Being Gardner Dozois. That book focused on Dozois's short fiction. And now Alvaro Zinos-Amaro, an accomplished writer of short SF himself, and a Hugo nominee for his 2016 collection of conversations with Robert Silverberg, Traveler of Worlds, has now published Being Michael Swanwick, a collection of interviews with Swanwick. This book covers essentially all of Swanwick's short stories — which is pretty remarkable as he is quite prolific.
The book is organized chronologically, in five-year chunks, beginning in 1980, when Swanwick's first stories, "Ginungagap" and "The Feast of Saint Janis," appeared. I remember the excitement at the time about the Special Science Fiction Issue of the prestigious literary magazine TriQuarterly, and the surprise that a brand-new writer had a story ("Ginnungagap") in it, amidst heavyweights like Le Guin, Wolfe, Delany, and Disch. Obviously the judgment of the editors has been vindicated — Swanwick would perhaps blush to read this, but his fiction fully stands with those great writers, and he is also clearly a writer of considerable literary merit, but also a writer who loves SF and Fantasy and inhabits the genre world enthusiastically.
[Click images to embiggen.]

TriQuarterly 49, containing Michael Swanwick's first story "Ginungagap."
Edited by Elliott Anderson, Jonathan Brent, David G. Hartwell, and
Robert Onopa (Northwestern University Press, 1980). Cover artist unknown
I won't replicate the book's story-by-story journey of course. But it is fascinating. Zinos-Amaro is deeply familiar with Swanwick's work, and his readings and questions are extremely perceptive. And Swanwick's recollections of the genesis of his stories are fascinating. His methodology of composition — he considers himself an "intuitive" rather than "analytic" writer — is interesting.
I was struck by his habit of attempting to populate his stories with real world images, sometimes by visiting a setting. His stories often, it seems, take years to finish — he has dozens of stories he's started that he may or may not return to in the future, and he seems sometimes to begin a story with a plan that doesn't quite work out until some later inspiration strikes. And I should add that "intuitive" as Swanwick's method may be, he can be quite analytic in retrospective discussion.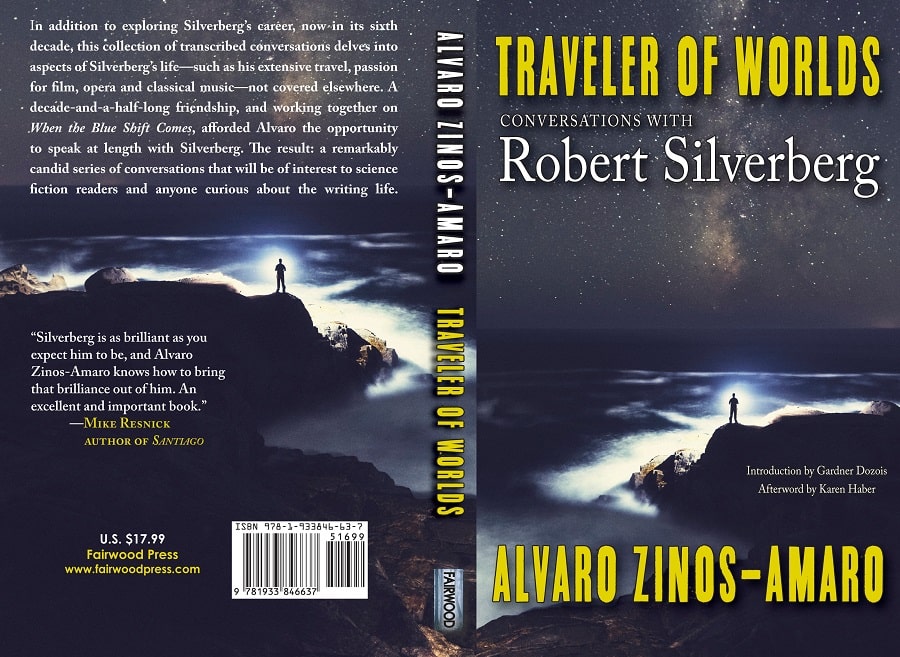 Traveler of Worlds: Conversations with Robert Silverberg
(Fairwood Press, August 16, 2016). Cover design by Patrick Swenson
He is known for a number of series of "flash fictions," and there is a section discussing these. He has also collaborated with several writers, and the way that process worked is also discussed. The book is explicitly about his short fiction, but we do see the genesis of a few of his novels that were based on short fiction.
Swanwick inveighs against the term "fixup," often considered a derogatory term, and he allows only that his first novel (In the Drift) could be called a fixup. In the other cases he knew he had a novel, even if it lent itself to separate publication of some of the episodes. (I admit I'd have delighted in a chapter going through each of his novels, as well.) Two long series of linked stories get separate treatment: Darger and Surplus, and the Mongolian Wizard.

In the Drfit (Ace Science Fiction Special, February 1985). Cover by Ron Lieberman
The way books of interviews, or conversations, work best, in my opinion, is if they read like conversations — if you can hear the voices of the participants. Perhaps because I've had the opportunity to speak with both Michael Swanwick and Alvaro Zinos-Amaro on multiple occasions, I was able to "listen" to them "speak" in their voices as I read the book, and I found this delightful. The chronological organization worked well too, giving a sort of shape to the story of Swanwick's career (and a certain amount of personal autobiography, too).
I loved this book. I say that as someone who has read a huge portion of Michael Swanwick's fiction, to be sure. Throughout it I was telling myself things like "I need to reread that story!" or "Hmmm, that's fascinating — I hadn't thought of it that way." I am not sure it will appeal to people who've never read much Swanwick, but that's OK. (Though I think it might — there's a lot of off the cuff writing advice here, and interesting anecdotes, and just good writing.)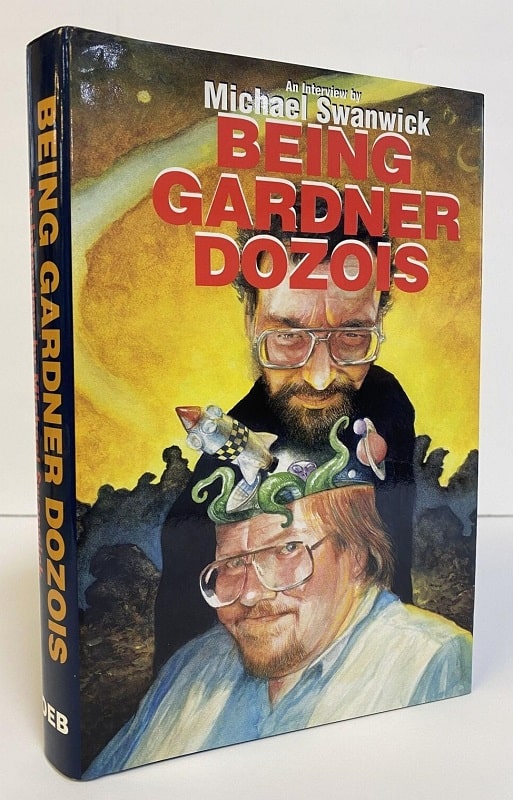 Being Gardner Dozois (Old Earth Books, October 1, 2001). Cover art by Omar Rayyan.
I remember what Gardner Dozois told Swanwick when he published Being Gardner Dozois:
You realize that you have just pulled off one of those completely useless but impressive accomplishments, like making a replica of the Titanic out of marzipan, or building the Eiffel Tower life-sized out of old used Q-tips.
That's not really fair to either that book, or to this one — but it is fair to say it's rather a niche project. But where would we be if we couldn't have niches in which those of us who want to can find books like these?
---
Rich Horton's last article for us was a review of Murder on Usher's Planet by Atanielle Annyn Noël. His website is Strange at Ecbatan. Rich has written over 200 articles for Black Gate, see them all here.