Vintage Treasures: In the Drift by Michael Swanwick
Vintage Treasures: In the Drift by Michael Swanwick
Ace Special edition of In the Drift (1985). Cover by Ron Lieberman
In the Drift was Michael Swanwick's debut novel. It came in third for the Locus Award for Best First Novel, and was warmly reviewed by the usual sites, including Analog, Locus, and the New York Daily News.
It's a science fantasy novel that imagines what might have happened if the 1979 partial meltdown of Reactor Number 2 at Three Mile Island, New York — a PR nightmare that almost single-handedly brought America's brief infatuation with atomic power to an end — had instead been a full-blown nuclear disaster, contaminating the surrounding geography for hundreds of years and precipitating an era of mutants and monsters.
Now, that already sounds like something I'd be interested in. But what drew me to In the Drift — sucked me in like a nuclear-powered vacuum cleaner — was a casual read of the very first page. It's a gorgeously rendered visualization of a postapocalyptic dark age, filled with vampires and mutants, laser guns, and an Italian Market. Seriously. Check it out below.
[Click the images for monster-sized versions.]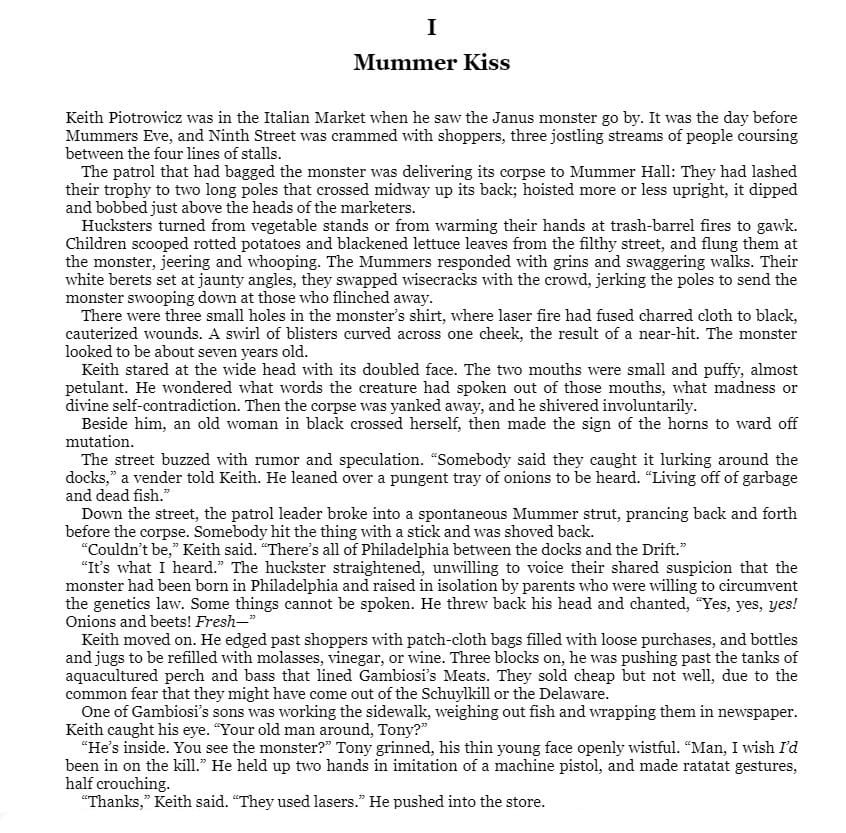 Is that awesome or what? I told you.
In the Drift was an expansion of Swanwick's 1981 novelette "Mummer Kiss," a Nebula nominee, from Universe 11. It also included the Nebula-nominated novella "Marrow Death,' from the mid-December 1984 issue of Isaac Asimov's Science Fiction Magazine, which I guess almost makes this a fix-up novel? Hard to tell, but maybe.
It was part of the legendary Ace Science Fiction Special (second series) edited by Terry Car. which included first novels by Kim Stanley Robinson, Lucius Shepard, Jack McDevitt, Richard Kadrey, Gregory Feeley — and William Gibson's Neuromancer.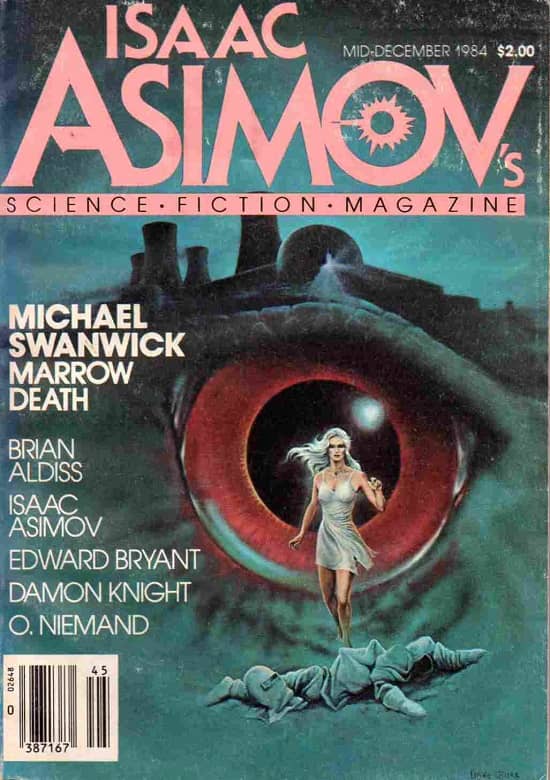 Isaac Asimov's Science Fiction Magazine, Mid-December 1984. Cover by Linda Burr
In the Drift is a postapocalyptic tale of vampires and mutants that the Baltimore Evening Sun called "A powerful and affecting novel… Chilling, believable and uncomfortably close to home." It was reprinted in the UK by Legend/Century (1989) and Dover Publications in the US (2017), and Open Road Media issued an ebook edition in 2016. I rather liked the Open Media book description, which I found much more evocative that the short blurb on the back of the Ace paperback. Here it is.
It's been one hundred years since Three Mile Island went into full meltdown, filling the atmosphere with a radioactive poison that would contaminate the skies for hundreds of generations. Since then, the area around the island — now known as the Drift — has been a wasteland of disease and deformity, madness and monsters. It's been one hundred years since humanity knew what order and hope were.

The Drift has a law unto itself — one of vampires and mutants and outcasts left to struggle for daily survival. Within its bounds, the simplest act — even asking the wrong questions — can mean death. Or worse.

Praised by George R. R. Martin as "a potent new myth from the reality of radioactive waste," In the Drift is an inventive and unsettling look at the lives of those who are left to deal with the fallout of a nuclear disaster — a towering work of postapocalyptic fiction that provokes conversation and consideration even as it produces nightmares.
Ace Science Fiction Classic edition (1987)
Our recent coverage of Michael Swanwick includes:
The Iron Dragon's Daughter (1993)
Chasing the Phoenix (2015)
Not So Much Said the Cat (2016)
Michael Swanwick's "The Night of the Salamander" Live at Tor.com (2015)
In the Drift was published by Ace Books in February 1985. It is 195 pages, priced at $2.95 in paperback. The cover was by Ron Lieberman.
See all our recent Vintage Treasures here.