A Strange Song of Unknown Places: The Dream-Quest of Unknown Kadath by H.P. Lovecraft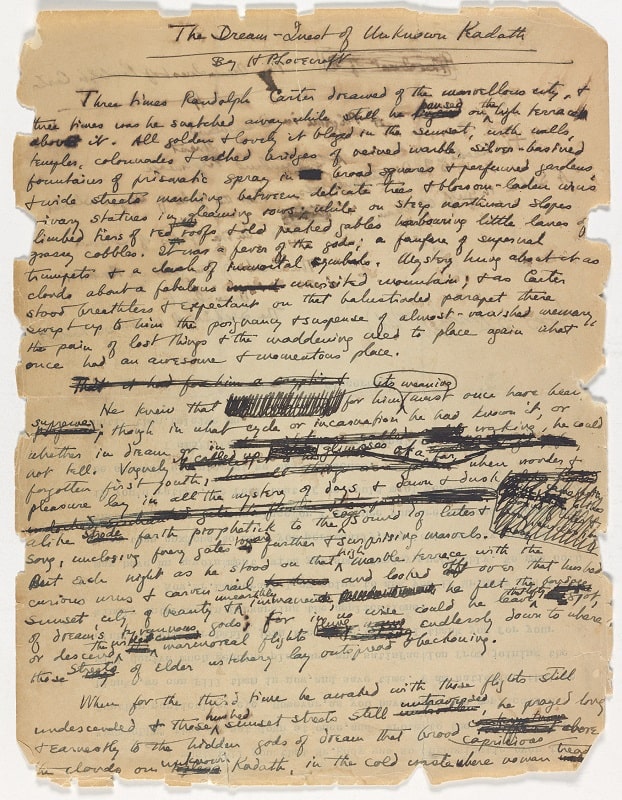 HPL's original manuscript
Three times Randolph Carter dreamed of the marvelous city, and three times was he snatched away while still he paused on the high terrace above it. All golden and lovely it blazed in the sunset, with walls, temples, colonnades and arched bridges of veined marble, silver-basined fountains of prismatic spray in broad squares and perfumed gardens, and wide streets marching between delicate trees and blossom-laden urns and ivory statues in gleaming rows; while on steep northward slopes climbed tiers of red roofs and old peaked gables harbouring little lanes of grassy cobbles. It was a fever of the gods, a fanfare of supernal trumpets and a clash of immortal cymbals. Mystery hung about it as clouds about a fabulous unvisited mountain; and as Carter stood breathless and expectant on that balustraded parapet there swept up to him the poignancy and suspense of almost-vanished memory, the pain of lost things and the maddening need to place again what once had been an awesome and momentous place.
HP Lovecraft (1890-1937) was a man who seems to have never been fully comfortable in the world. His racism, most unpleasantly, but also, his old-fashioned affectations and his adamant refusal to bend his artistic desires to the least sort of commercial demands, all these, I believe, indicate a severe unease with the way the world was (he even turned down the editorship of Weird Tales because he refused to move to Chicago "on aesthetic grounds.") The old America, peopled by the heirs of the original colonial families, had been washed away on a tide of industrialization and immigration. It was decadent and in decline and he would not be a part of it.
From his earliest days, Lovecraft was plagued by strange dreams and nightmares. Many of these would serve as the basis of stories later in life. A tragic family life — his father died in an asylum of late-stage syphilis and his family slowly slipped into poverty — and an innate nervous disposition probably had much to do with his attitudes. At the heart of the horror stories for which he's most famous is the belief that mankind is insignificant and powerless in the face of a vast and uncaring Universe. While I don't think he was mentally ill or anything, I do believe he longed for some intangible, more fantastic and better world.
Not finding one at hand, he created one in a series of related tales that culminated with The Dream-Quest of Unknown Kadath in 1927 (though it wouldn't be published until 1943). Typically referred to as his Dream Cycle, Lovecraft was greatly influenced in writing these tales by Lord Dunsany's lush stories. The stories are filled with dense descriptive passages, surreal imagery, and the illogical logic of dreams.