A Tale of Wonder: The Last Unicorn by Peter Beagle
When Molly Grue yells at the unicorn, it expresses a little how I felt on reading Peter Beagle's The Last Unicorn (1968) this past month for the very first time: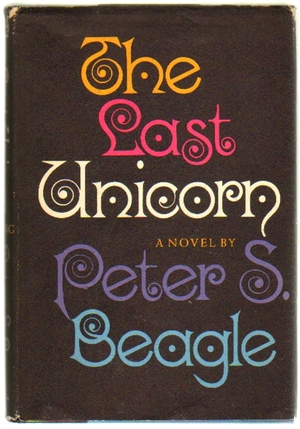 But Molly pushed him aside and went up to the unicorn, scolding her as though she were a strayed milk cow. "Where have you been?" Before the whiteness and the shining horn, Molly shrank to a shrilling beetle, but this time it was the unicorn's old dark eyes that looked down.

"I am here now," she said at last.

Molly laughed with her lips flat. "And what good is it to me that you're here now? Where were you twenty years ago, ten years ago? How dare you, how dare you come to me now, when I am this?" With a flap of her hand she summed herself up: barren face, desert eyes, and yellowing heart. "I wish you had never come, why do you come now?" The tears began to slide down the sides of her nose.
Of course, what Molly learns is that she needn't have waited for wonder and transcendence to find her, but should instead have sought them. Taking her lesson to heart for myself, I felt betrayed and angry for only a moment before yielding to chagrin that I hadn't sooner sought this perfectly-cut gem of a story. The book sat on a shelf for twenty years, gathering dust and losing to the sun the richness of color of its wonderful Gervasio Gallardo artwork.
If The Last Unicorn was a lesser book, I could offhandedly describe it as an illustration of the universal need to undertake a quest, to find wonder — whether from beauty or love or something more ineffable. But Beagle has given us so much more. He's tucked treasures inside prose that echoes with the sounds of hidden woodland glens and that is painted in the colors of lost and recovered dreams; he's elucidated the value that can be gleaned from loss, sacrifice, regret. And further, he's told a story about stories, and how they don't reflect reality, except when they do. He's played with the various elements of fantasy — the quest, the wizard, the princess, etc. — in a way that loves them as much as it punctures them.