By Crom! New Robert E. Howard Pastiches Coming in 2018!
By Crom! New Robert E. Howard Pastiches Coming in 2018!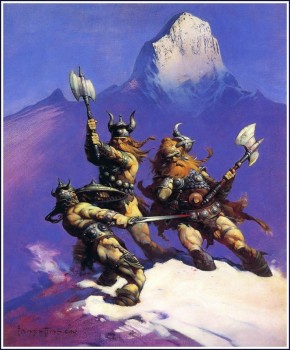 Of course, you saw yesterday's Black Gate post on Heroic Signatures, the new digital/gaming partnership, which includes the rights to about two dozen Robert E. Howard characters and stories. With the recent releases of Modiphius' Robert E Howard's Conan: Adventures in an Age Undreamed Of RPG, Monolith's Conan board game and Funcom's in-beta Conan: Exiles video game, Conan is a very viable gaming brand these days. And Funcom's Age of Conan MMO (which I play) is still going strong as it approaches the decade mark.
But fans of Conan's creator, such as the contributors and readers of our recent Discovering Robert E. Howard series, are yearning for new pastiches featuring Howard's characters. And not just Conan, but Solomon Kane, El Borak, Breckenridge Elkins and Steve Harrison, to name a few. Aside from some Age of Conan tie-in novels, the Conan pastiche market dried up when Tor finished its series in 2003 with Harry Turtledove's Conan of Venarium.
The Tor novels were a mix of varying quality, as I wrote about here. I quite enjoyed some, such as John Maddox Roberts' Conan the Rogue (an homage to Dashiell Hammett's Red Harvest), Chris Hocking's The Emerald Lotus and Leonard Carpenter's Conan the Raider. But unfortunately, some were just simply bad fantasy books.
So, while we have been treated to quality reprints of Howards' works from Del Rey and the Robert E. Howard Foundation Press, new tales have not been forthcoming. Behold: that is about to change!
In 2018, new pastiches featuring Robert E. Howard characters will be forthcoming!!!!  
Cabinet Group LLC, the REH rights holders and 50% of Heroic Signatures (with Funcom) "have decided to curate a line of carefully picked novels and start a publishing program next year." This will not just be Conan but other Howard works as well.
Black Gate will have a Q&A post with Cabinet Group head Fredrik Malmberg shortly. Updates coming from Cabinet Group with more information.
But to the many fans of Robert E. Howard, this is exciting news. Could we even see a new Steve Harrison tale? Asks the in-house mystery guy who writes Sherlock Holmes stories? (Hint, hint, hint, Cabinet…)
---
Bob Byrne's 'The Public Life of Sherlock Holmes' column ran every Monday morning at Black Gate  from March 10, 2014 through March 20, 2017 (making an occasional return appearance!). He also organized Black Gate's award-nominated 'Discovering Robert E. Howard' series.
He is a member of the Praed Street Irregulars, founded www.SolarPons.com (the only website dedicated to the 'Sherlock Holmes of Praed Street') and blogs about Holmes and other mystery matters at Almost Holmes.
He has contributed stories to The MX Book of New Sherlock Holmes Stories – Parts III, IV,  V and VI and will be in IX if he quits having fun writing Black Gate posts and works on a story!