A (Black) Gat in the Hand: Back Deck Pulp #2
A (Black) Gat in the Hand: Back Deck Pulp #2
"You're the second guy I've met within hours who seems to think a gat in the hand means a world by the tail." – Phillip Marlowe in Raymond Chandlers' The Big Sleep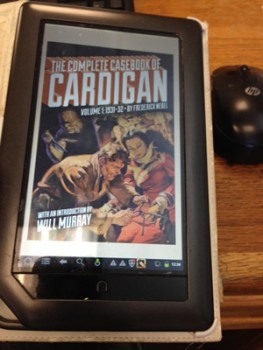 (Gat — Prohibition Era term for a gun. Shortened version of Gatling Gun)
Over on Facebook, I frequently post tidbits related to my research for this column. There's usually a picture included, and all of this happens on my back deck. So, I call it Back Deck Pulp! Well, there's a lot of stuff coming out of Back Deck Pulp. So, last month, I collected a bunch of those FB posts and Back Deck Pulp #1 appeared here at Black Gate. Well, there have been a LOT more of them, so here's Back Deck Pulp #2. I've already got #3 ready to go! Friend me on Facebook and see the posts as they go up. This is a collection of posts over time, so it doesn't necessarily flow perfectly. Live with it…
FREDERICK NEBEL – CARDIGAN
And it's another Office Desk Pulp. Last week, A (Black) Gat in the Hand was about Donahue of the Interstate Agency. That series was written by Frederick Nebel for Black Mask.
Nebel is one of my favorite pulpsters and I'm a huge fan of his Cardigan of the Cosmos Agency stories.
Cardigan appeared 44 times in Dime Detective – more than any other character.
Altus Press has issued the whole series in four volumes. And only $4.99 per ebook! With a great intro by Will Murray. I'll be doing a post on this series. Highly recommended!
HORACE MCCOY
This Saturday's back deck pulpster is Horace McCoy, best known for They Shoot Horses, Don't They?
A WW I pilot, he wrote a series of air adventures featuring Jerry Frost of The Texas Air Rangers. The group, known as Hell's Stepsons, were a Texas Rangers special ops aerial team. And Frost was hard boiled.
ERLE STANLEY GARDNER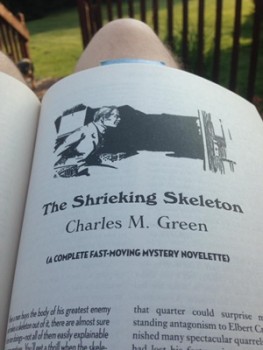 Church last night means Back Deck Pulp on Sunday morning. It's a cool 68 degrees, the birds are chirping and I've got some Cafe Ole coffee from Austin (thanks Chad Larson!).
Best known for his Perry Mason novels (though I prefer Cool and Lam), Earle Stanley Gardner was a prolific pulpster, cranking out over a million words a year for a decade!
Gardner's first Black Mask story (which was initially rejected), from the December, 1923 issue. Note the pseudonym.
Ed Jenkins, The Phantom Crook, appeared in Black Mask over 70 times and Gardner stood with Hammett and Daly as a leading light at the mag. "Come and Get It" appeared in the April, 1927 issue.
For today's Back Deck Pulp, It's another 'Ed Jenkins: The Phantom Crook' tale from Erle Stanley Gardner. I mentioned in a prior BDP that there were over 70 Jenkins stories in Black Mask.
I'm not overly crazy about two of the three stories I've read so far.
No Back Deck Pulp tonight, as it's wet outside and I'm working on a three-story essay about Erle Stanley Gardner's Ed Jenkins, 'The Phantom Crook.' Jenkins featured in 72 Black Mask stories and one short novel in Argosy. If you want a neat book on Gardner and his pulp characters, I highly recommend Jeffrey Marks' Pulp Icons: Erle Stanley Gardner and His Pulp Magazine Characters. It's only $6.99 in paperback, even less as an ebook. A fun read and with info you won't find in Dorothy B. Hughes' useful biography of Gardner (The Case of The Real Perry Mason). I drew on it for the upcoming Jenkins 'A (Black) Gat in the Hand' post.
NORBERT DAVIS – BAIL BOND DODD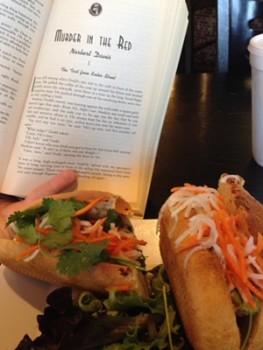 My volunteer office time came to a halt this morning because I was hungry! So I took Back Deck Pulp to Tai's Asian Bistro. Excellent menu. Today it's a tasty Bahn Mi sandwich! And yet again, it's the criminally under-appreciated Norbert Davis. "Murder in the Red" appeared in the April, 1940 Dime Detective and it's the first story about Bail Bond Dodd, who is a PI-like bail bondsman It's a great series and just more proof that Davis was a master pulpster who should be more read today. Altus Press reissued the first four Dodd stories. I can't wait for the rest! You'll be reading about Davis multiple times over at BlackGate.com in A (Black) Gat on the Hand.
Heat index of 94 at 9 PM here at Back Deck Pulp. Two days ago, I did a BDP on Norbert Davis' Bail Bond Dodd. I liked the story so much I'm reading another one, "Who Said I Was Dead?".
You're gonna hear more and more about the talented, under-appreciated Davis here at Back Deck Pulp and over at A (Black) Gat in the Hand. Heck of a pulpster.
NORBERT DAVIS – MAX LATIN
It's cool outside tonight, so Back Deck Pulp lights up the rooted Nook for Norbert Davis' Max Latin. A really fun PI series. You surely read about Davis' Ben Shaley here at A (Black) Gat in the Hand. Latin is coming later. John D. MacDonald (who you know is my favorite author), is a bit of a jerk in his introduction.
JOHN D MACDONALD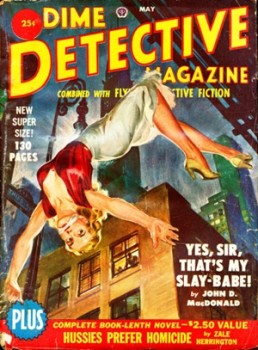 Got in a late Back Deck Pulp. John D MacDonald is my favorite writer. Period. Before he became a king of the paperbacks, he wrote many mystery and sci fi shorts for the pulps, including Black Mask. He was an excellent short story writer. I highly recommend his collections, The Good Old Stuff and More The Good Old Stuff. "Murder in One Syllable" appeared in the May, 1949 Black Mask.
Working on a A (Black) Gat in the Hand piece on Day Keene today. His "The Bloody Tide" appeared in the June, 1950 issue of Dime Detective. JDM's "College-Cut Kill" was also in that issue. Both men had stories in the May, 1950 issue as well. MacDonald had the cover with "Yes Sir, That's my Slay Babe!" Here's said cover (click on it for the full view). MacDonald appeared in Dime Detective in January, May, June, July, August and September in 1950! It looks like "Sling and Slay" garnered MacDonald the January cover, which I've included. Note: Keene was in that issue as well.
If only Back Deck Pulp was my actual job! Post number two in 'A (Black) Gat in the Hand' was on Black Mask star Raoul Whitfield.
I enjoyed his stories about Filipino detective Jo Gar so much, I bought the complete Gar canon from Altus Press. Love the series And it has two fine intros by E. R. Hagemann.
SPRING 2017 BLACK MASK – CARROLL JOHN DALY
It's a bonus weekend Back Deck Pulp session tonight. It's the Spring, 2017 Black Mask from Altus Press.
Reading a never-before published Carroll John Daly story. And look at that name on page 38!

SPRING 2017 BLACK MASK – RICHARD SALE
It's a bonus weeknight Back Deck Pulp. Tonight, it's a Daffy Dilly story from Richard Sale. Originally published in the April 1, 1939 Detective Fiction Weekly, this is the Spring 2017 Black Mask. I've heard of Sale but that's about it. I like this story about newspaper reporter Dilly.
That's Babylon, Iowa…
SPRING 2017 BLACK MASK – CLEVE ADAMS
Tonight's Back Deck Pulp looks at a story from pulpster Cleve F. Adams.
Adams wrote in the style of Chandler and Hammett and has been criticized for the chauvinist, racist tone of some of his stories: especially in novels.
"The Key" is the only Adams story I've read.
D.L. CHAMPION – REX SACKLER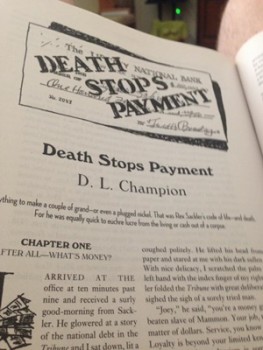 It was so humid out when I mowed, Back Deck Pulp has moved into the family room. D.L. Champion created the Phantom Detective and the legless Inspector Allhoff.
I am thoroughly enjoying his oh-so-cheap detective, Rex Sackler. Champion made his first appearance in Black Mask with "Death Stops Payment" in the July, 1940 issue.
This story was a blast!! ?. I have got to find more Sackler shorts. What fun!
DAY KEENE
It cleared up and cooled off, so here's another Back Deck Pulp.
I've not read a lot if Day Keene. But I very much liked Hard Case Crime's Home is the Sailor, which had a really cool cover as well.
"Sauce for the Gander" is one of his two Black Mask stories. He made his mark with violent, fast- paced paperbacks.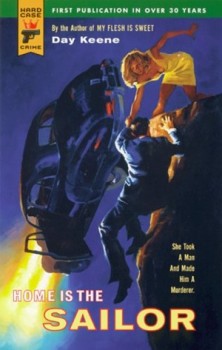 I'll be doing a A (Black) Gat in the Hand post on Keene late this summer
It's Office Deck Pulp today! I mentioned Day Keene and the Hard Case Crime book, Home is the Sailor, last week in a Back Deck Pulp. It's more Keene today, with "The Bloody Tide," from the June, 1950 Dime Detective. A fisherman is framed for murder on his first day out of prison. Keene (real name Gunar Hjerstedt) wrote tense Hardboiled thrillers. I plan on reading a few of his Gold Medal paperbacks. John D MacDonald, who had the cover the previous month, has a novella in this issue. He was back the next month as well. JDM being my favorite writer, of course!
A bit on Keene from the late (and great!) Bill Crider.
Office Desk Pulp switches to paperbacks today. After writing up a couple Day Keene short stories, I decided to reread a classic noir novel. Home is the Sailor was the seventh release from Hard Case Crime and it is an excellent noir, with all the elements. Not for the faint if heart, but if you want tension, a flavor of uncertainty and strong writing, this is such a book. There is a very objectionable act, but there may be more to it than is presented (I'm not done yet).
STEVE HARRISON
We're squeezing in a Back Deck Pulp before the rains return. Robert E. Howard is one of my favorite writers. I think he was fantastic. But I've written a couple of essays critical of his Hardboiled adventure detective stories featuring Steve Harrison. Howard did not like the genre and I think it showed. But in an upcoming A (Black) Gat in the Hand post, I'm gonna look at the stories for what they were: not what they weren't.
Previous entries in the series:
With a (Black) Gat: George Harmon Coxe
With a (Black) Gat: Raoul Whitfield
With a (Black) Gat: Some Hard Boiled Anthologies
With a (Black) Gat: Frederick Nebel's Donahue
A (Black) Gat in the Hand: Thomas Walsh
A (Black) Gat in the Hand: Black Mask – January, 1935
A (Black) Gat in the hand: Norbert Davis' Ben Shaley
A (Black) Gat in the Hand: D.L. Champion's Rex Sackler
A (Black) Gat in the Hand: Dime Detective – August, 1939
A (Black) Gat in the Hand: Back Deck Pulp #1
A (Black) Gat in the Hand: W.T. Ballard's Bill Lennox
A (Black) Gat in the Hand: Day Keene
A (Black) Gat in the Hand: Black Mask – October, 1933
Other hard-boiled related ramblings I've done at Black Gate:
A Century of John D. MacDonald
A Man Called Spade
Asimov's The Caves of Steel
Carroll John Daly & the Birth of Hard Boiled
Cool & Lam are Back!
Erle Stanley Gardner on Mysteries
Gideon Lowry – Key West Private Eye
Glen Cook's Garret – PI
Hard Boiled Holmes (my best pre-Black Gate work. Click on over!)
Hard Case Crime Q&A
John D. MacDonald – A Writer's Writer
Lester Dent's Master Plot Formula
The Maltese Falcon in Film
Michael Stone's Streeter
Richard Diamond – Private Eye
Robert E. Howard Goes Hard boiled (Steve Harrison)
Shovel's Painful Predicament
---
Bob Byrne's A (Black) Gat in the Hand appears weekly every Monday morning at Black Gate.
His 'The Public Life of Sherlock Holmes' column ran every Monday morning at Black Gate  from March 2014 through March 2017 (still making an occasional return appearance!). He also organized Black Gate's award-nominated 'Discovering Robert E. Howard' series.
He is a member of the Praed Street Irregulars, founded www.SolarPons.com (the only website dedicated to the 'Sherlock Holmes of Praed Street') and blogs about Holmes and other mystery matters at Almost Holmes.
He has contributed stories to The MX Book of New Sherlock Holmes Stories – Parts III, IV,  V and VI.
And coming this Fall, look for another Robert E. Howard series with an all star cast!