With a (Black) Gat: George Harmon Coxe
With a (Black) Gat: George Harmon Coxe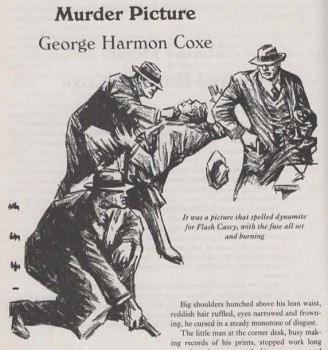 (Gat — Prohibition Era term for a gun. Shortened version of Gatling Gun)
Working from Otto Penzler's massive The Black Lizard Big Book of Pulps, we're going to be exploring some pulp era writers and stories from the twenties through the forties. There will also be many references to its companion book, The Black Lizard Big Book of Black Mask Stories. I really received my education in the hardboiled genre from the Black Lizard/Vintage line. I discovered Chester Himes, Steve Fisher, Paul Cain, Thompson and more.
With first, the advent of small press imprints, then the explosion of digital publishing, pulp-era fiction has undergone a renaissance. Authors from Frederick Nebel to Raoul Whitfield; from Carroll John Daly to Paul Cain (that's 27 letters – we went all the way back around the alphabet – get it?) are accessible again. Out of print and difficult-to-find stories and novels have made their way back to avid readers.
Strangely, George Harmon Coxe, one of the Black Mask boys, has been elusive in this pulp rebirth. He had a half-dozen recurring characters and wrote over sixty novels and his stories were also adapted for movies, television and radio. But it's tough to find even a handful of his works these days, though a few novels have found their way to ebook format.
From 1935 to 1973, Coxe wrote twenty-three novels featuring Kent Murdock. Murdock, a Boston-area crime photographer, is really an evolved (make it, more refined and mature) version of an earlier Coxe creation, (Jack) Flashgun Casey. It's a Casey story that's in The Big Book and our focus today.
The photographer appeared two dozen times in Black Mask from 1934 through 1943. And there were six novels (one of which was previously serialized in Black Mask). But Casey fell by the wayside for the 'cleaned up version' that was Murdock. The Casey story, "Murder Mixup" was included in Joseph 'Cap' Shaw's legendary Hard Boiled Omnibus — though it was one of three stories dropped when the paperback from Pocket Books came out.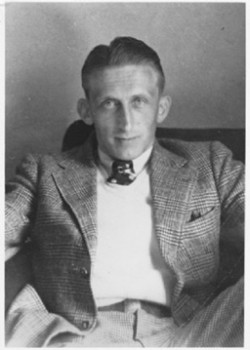 Casey was a tough, hot-tempered crime photographer who never backed down from an encounter in the Boston scene he worked. His World war I service made him handy with a pistol and he kept one, along with a bottle, in his desk. He certainly doesn't seem much different than your typical PI of the time, eh?
This description is from the seventeenth Casey short story, "Fall Guy":
Big, thick through the chest and flat across the stomach, he was a burly figure with a rugged squarish face and craggy jaw… His manner was often blunt, crabby; his dark eyes, without much illusion, were frequently sober. Sometimes he wore a grouch as a protective garment, but when he smiled, he did a good job and seemed, somehow, to reflect a friendliness that was vital and genuine.
Casey's a big, loyal, Irishman dedicated to his work. He's capable of taking care of himself (though he seems to get beat up and facing a gun in every story) but smart enough to know he can't outthink a good professional cop like Lieutenant Logan.
"Murder Picture" was the eighth Casey story, appearing in the January, 1935 issue of Black Mask. Not only did that issue include a MacBride and Kennedy story from Frederick Nebel, but readers also got Raymond Chandler's "Killer in the Rain."
Casey snapped a picture during a raid on a gambling joint and found himself in trouble at the office. The newspaper owner's brother was caught in the picture with a woman who wasn't his wife. So, Casey's editor orders him to destroy the picture and the plates.
Casey is furious and has a copy made. Which turns out to be a good thing as a body was found near the raid site and Lieutenant Logan calls on the photographer.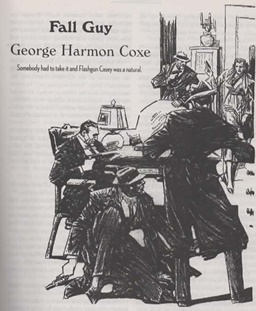 Tom Wade is a young staff photographer who ends up held captive by the bad guys. Casey finds himself trying to rescue Wade while assisting Logan without giving everything away. Casey is on pretty good terms with Logan, which definitely works to his advantage.
Casey beards the villains in their den, hoping to delay them until the cavalry arrives. It doesn't exactly go according to plan and there's gunplay in the street, with a wide cast of characters involved.
The surest way to anger Casey is to mess with his equipment or pictures, which happens fairly often. Two goons toss around his most valued plates in the second novel, Murder for Two. That was a bad move.
With the surfeit of cops and private eyes, it's interesting to get the newspaper photographer perspective, which is even a bit different than the 'tough reporter' angle. Coxe was a good writer and I think he's worth checking out. A couple of the Casey novels are out as affordable ebooks and Murder for Two is free for Kindle unlimited readers (like me). I'm going to check out the Murdock books, which I've never read.
Coxe, who attended Purdue and Cornell (without graduating from either), was a newspaper reporter who later moved into advertising sales. He became a full-time writer in 1933 and wrote over 60 novels and 150 short stories and worked in movies, television and radio. He wrote books featuring private eye Sam Crombie and two more featuring another detective, Max Hale. Jack Fenner, frequently seen in the Murdock books, starred in his own novel in 1975: Coxe's last. The Mystery Writers of America dubbed Coxe a Grand Master in 1964.
"Murder Picture" is included in The Black Lizard Big Book of Pulps. "Fall Guy" is included in the Black Lizard Big Book of Black Mask Stories. Murder for Two is an ebook from Mysterious Press.
This is the first post in the new series, but I've delved into the hardboiled/pulp field a few times before here at Black Gate:
A Century of John D. MacDonald
A Man Called Spade
Asimov's The Caves of Steel
Carroll John Daly & the Birth of Hard Boiled
Cool & Lam are Back!
Erle Stanley Gardner on Mysteries
Gideon Lowry – Key West Private Eye
Glen Cook's Garret – PI
Hard Boiled Holmes (my best pre-Black Gate work. Click on over!)
Hard Case Crime Q&A
John D. MacDonald – A Writer's Writer
Lester Dent's Master Plot Formula
The Maltese Falcon in Film
Michael Stone's Streeter
Richard Diamond – Private Eye
Robert E. Howard Goes Hard boiled (Steve Harrison)
Shovel's Painful Predicament
NOTE — I joined the Black Gate staff after convincing grand poobah John O'Neill that a weekly mystery column, centered on Sherlock Holmes, would fit in well (You want to talk about telling a story!). Once I had settled in, I started writing about fantasy topics, organized a Robert E. Howard series, co-founded an RPG/gaming feature and roamed all over the place.
With a (Black) Gat marks my return to some of the stuff I'm supposed to be writing here at Black Gate. I've been a hard boiled fan for over thirty years and I'm looking forward to sharing some talented authors and some good stories with Black Gate readers. And I REALLY need to write that post on Wade Miller's great Max Thursday series.
---
Bob Byrne's 'The Public Life of Sherlock Holmes' column ran every Monday morning at Black Gate  from March 2014 through March 2017 (still making an occasional return appearance!). He also organized Black Gate's award-nominated 'Discovering Robert E. Howard' series.
He is a member of the Praed Street Irregulars, founded www.SolarPons.com (the only website dedicated to the 'Sherlock Holmes of Praed Street') and blogs about Holmes and other mystery matters at Almost Holmes.
He has contributed stories to The MX Book of New Sherlock Holmes Stories – Parts III, IV,  V and VI.