The Public Life of Sherlock Holmes: Erle Stanley Gardner on Mysteries
The Public Life of Sherlock Holmes: Erle Stanley Gardner on Mysteries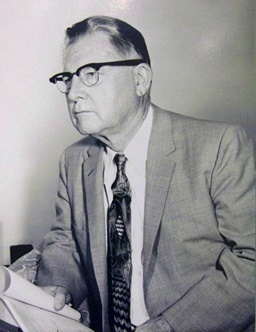 Mystery Grand Master Erle Stanley Gardner, best known for his Perry Mason books, was a prolific letter writer. He was also an emotional letter writer and when he was unhappy about something, he would dash off a no-holds barred missive to his agent, Bob Hardy, or William and Morrow President Thayer Hobson, like the one below. They were the equivalent of today's Facebook rants. A book collecting Gardner's letters would be great reading.
From 1924 through 1926, Gardner sold over three dozen stories to various magazines. That hectic pace continued and in 1933, after a few rewrites, his first Perry Mason book, The Case of the Velvet Claws, came out. He was constantly writing short stories, novels and even nonfiction books for the rest of his life.
But in the thirties, he was having trouble placing stories in the usual magazines and his struggle to break into the higher paying, glossy 'slicks' continued. Some of this was due to the behind-the-scenes work of his former agent.
Bob Hardy had died of cancer and his wife Jane had taken over the company. She and Gardner butted heads until he terminated their relationship. As he feared, she badmouthed him throughout the industry and it hurt his sales.
The letter below was sent to Hobson during this difficult period and contains some interesting thoughts on writing mysteries:
 I'm here to tell you, you can't change the so-called Mason formula and have a Mason book. I could write you an encyclopedia now on the plotting of Mason stories. Briefly, it gets down to these simple, fundamental factors: there are two ways of writing a mystery.

The first is to build up an attractive character who is affected by the mystery, have him or her in danger, and then bring in the super-sleuth who solves the thing in the nick of time (these things are damned easy to write and is the reason they are a drug on the market – isolated houses in which wayfarers are marooned, islands, country estates, snowbound houses, etc. A dozen people all hating each other, and a series of murders.) – It's the formula for Agatha Christie's latest book, and damned if it doesn't seem to be the formula for the mystery the Post is now publishing.

They're theatrical, unreal, etc. However, readers like them and it seems to be the formula that most slick paper editors fall for, so I may have to take a whirl at it someday – but not as a Mason.

The second type of mystery was the protagonist story with a super-sleuth. The reader knowns that he is going to solve it and there's no suspense. If you analyze the market, you will find there are godda** few protagonist mystery books which have ever been written and have been a success. This is because it takes a lot of damned hard work to plot them.

There there's a modification to the latter where a Dr. Watson is baffled until about page two hundred when the super-sleuth winds it up in thirty pages of fast action and explains to the reader in thirty more pages. Fairly easy to write.

I have learned a hell of a lot about the Mason stories since I last talked with you. The reason the Mason stories have stood out is because there are just damn few authors who have figured out how to write a protagonist story in which there is any suspense, in which the central character can be dragged into danger, yet preserve for the reader the illusion of masterminded competence which makes the character attractive in the first place.

Apparently, there is a new 'school' of detective writing predicated upon the startling discovery made in The Thin Man that marital relations are not platonic, and murder mysteries are dressed up by taking the reader into the bedchamber, or even between the sheets. I personally am such a simpleminded hick that I was going to write you that he basic plot of a mystery story was the real salad, and the garnishment of the novelty was just dressing.

But then, I read the Leslie Ford's Saturday Evening Post serial, in which the whole plot is predicated on the theory that somebody tells a guy the woman he's in love with and who's in love with him doesn't really care for him…There's some very clever writing in that story, some damn nice characterization, and if readers actually fall for plots like that, why in hell should I waste my time analyzing plot fundamentals or your time in making you read through such a hell of a mess of stuff in order to come to the following signature? Yours, Gardner.
Clearly, Gardner is not a fan of Christie's murder mysteries, which often fit into that first category. And he obviously thinks little of that style, though, because he is having a hard time selling his work, he almost sarcastically says he may try to write that type of story to get into the slick magazines. But his wording strongly implies he wouldn't sink to that level with a Perry Mason tale. Gardner did not hide how he felt in his letters.
It's interesting to note that the danger to the protagonist that Gardner mentions, in the case of Perry Mason, is losing the case. Obviously, this has serious repercussions for his client – possibly the death penalty (if Mason ever actually lost. He's the Harlem Globetrotters of the courtroom!). And Mason doesn't want to lose in court. But it's not like Mason's life is in peril. It's not deadly peril.
Gardner was repeatedly rebuffed by the Saturday Evening Post, which was a high-paying, respected magazine. So, in his mood, the last paragraph criticizes a recent mystery story printed there and indicates if that's the kind of thing people like, why should he even bother studying his craft?
I'm guessing that the Harry Ransom Center at the University of Texas, which has Gardner's papers and his actual writing office, has an extensive collection of his correspondence. Could not some Gardner researcher/fan put something together from them?
---
You can read Bob Byrne's 'The Public Life of Sherlock Holmes' column here at Black Gate every Monday morning.
He founded www.SolarPons.com, the only website dedicated to the 'Sherlock Holmes of Praed Street' and blogs about Holmes and other mystery matters at Almost Holmes.
He has contributed stories to The MX Book of New Sherlock Holmes Stories – Parts III, IV and V (and the upcoming VI).