The Public Life of Sherlock Holmes: Cool and Lam are Back!!!!
The Public Life of Sherlock Holmes: Cool and Lam are Back!!!!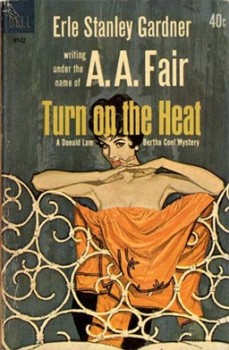 Erle Stanley Gardner is best known as the creator of Perry Mason. Mason, of course, was the famous lawyer portrayed almost three hundred times (!!!) by Raymond Burr, spanning three decades of television. But Gardner was a prolific pulpster who wrote far, far more than just Mason stories.
For example, his Ed Jenkins was one of the early hard boiled detectives appearing in Black Mask. And under the name of A.A. Fair, he wrote twenty-nine thoroughly entertaining novels about the mismatched PIs, Bertha Cool and Donald Lam. And that's who we're going to talk about today. Make sure you read to the end for some very cool news (No, don't just jump ahead to there, please!).
Cool and Lam appeared in twenty-nine novels over thirty-one years, with the final tale coming out the same month Gardner passed away.
Bertha Cool, profane, massive, belligerent and bulldog, sat back of her desk, her diamonds flashing in the morning sunlight as she moved her hand over a pile of papers….

Bertha Cool said, "Now, don't make any mistakes about Donald. He's a go getter. God knows he hasn't any brawn, but he has brains. He's a half-pint runt and a good beating raises hell with him, but he knows his way around.

Donald can find her if anyone can. He isn't as young as he looks. He got to be a lawyer, and they kicked him out when he showed a client hot to commit a perfectly legal murder. Donald thought he as explaining a technicality in the law, but the Bar Association didn't like it. They said it as unethical. They also said it wouldn't work…

'Donald came to work for me, and the first case he had, damned if he didn't show 'em there was a loophole in the murder law through which a man could drive a horse and buggy. Now they're trying to amend the law. That's Donald for you!"
So we read on the first page of Turn on the Heat, the third book featuring Cool and Lam. It's a pretty good summary description of the main characters. In the first book, Lam is literally down to his last dime and hasn't eaten. Cool, surprisingly, takes him on and makes him essentially a junior detective. I say surprisingly because when it comes to work expenses, Cool's parsimony makes Ebenezer Scrooge look like an extravagant spender.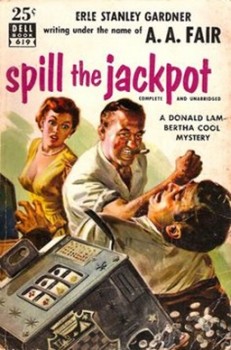 She is consistently berating Lam for making long distance telephone calls to her, for taking people (usually young women) out to dinner while on a case and telling him he can sleep in the agency's beat up old jalopy instead of getting a hotel room.
At one time, she had been the dutiful wife, keeping her weight down and doting on her husband. Then she found out he was cheating on her and she ate what she wanted, gained weight and basically stopped worrying about her husband. When he died, she took over his detective agency and that's where we find her in The Bigger They Come.
Partly because of her world-class cheapness, Cool and Lam argue ALL the time. But there's more to it than that. She constantly accuses Lam of falling in love with pretty young things (not entirely untrue, but she way overstates the matter) and of keeping her in the dark on cases. The latter is true, but it's because Lam is good at what he does and she likes to meddle in his methods. There are occasions where she acts on her own and completely muddles up what he's doing – often with grave consequences to the agency.
They are a completely mismatched pair. But while Lam is an adopted stray at the beginning, he becomes the agency's cash cow and pushes Cool for a partnership. Of course, she objects, since that would cut into her profits. But he pushes and she finally relents in Double or Quits to avoid losing him. The balance of power has clearly shifted and Lam, who pretty much did whatever he wanted anyways, now has a firmer footing to do so.
Lam is a small guy. I believe he loses EVERY single fight in the entire series, except for one. Which occurred after he had received some training from a boxer. By posing no physical threat whatsoever, Lam goes against the type of the typical private eye.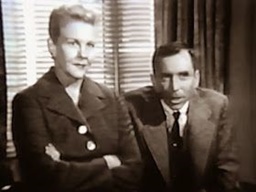 While Bertha loses some weight after being ill, she is, unlike Lam, physically imposing. There are several times that she roughs up a female who doesn't think that Cool and Lam are going to do anything to her. The victim is proven to be quite mistaken.
Elsie Brand is the virgin secretary for the pair and her unacknowledged attraction to Lam remains unrequited but dances around the edges of their interactions. Lam has a more nemesis-than-friend on the local force in Detective Frank Sellers, who pops up in several books and gets along okay with Cool. As per the norm in private eye novels, he's not nearly as smart as the protagonist.
Gardner was a lawyer and legal matters and trials pop up throughout the series. But a common characteristic throughout are hyper-complex plots. I often have trouble following what Lam is up to, even when he's explaining it to Cool. I'd say Gardner wrote the most complex plots I read.
I have read dozens of mystery authors, and Gardner, along with Rex Stout, has the smoothest, easiest to read writing style of them all. Your eyes seem to glide over the page as you work through the stories. The prolific Gardner was a master factioneer.
Cool and Lam almost made it to television screens in the fifties. The first Cool and Lam book was published in 1939. In 1958, with Perry Mason massively popular, Gardner developed a television pilot based on the third book (and one of my favorites), Turn on the Heat.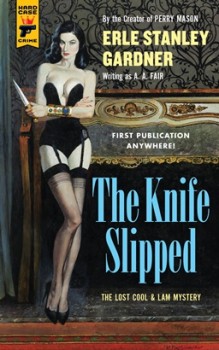 Billy Pearson played Lam. With only three prior screen appearances (and two of them uncredited), he didn't exactly bring star power to the project. He would appear in a Perry Mason episode later that year and had only one other on screen appearance. It was a short career. The undersized former jockey almost had as many wives as screen credits!
Benay Ventura had been a beautiful, slender blonde during her vaudeville and Broadway days. Older now, she still carried a smaller frame than Bertha Cool and had a severe countenance. She's certainly not who I pictured as I read the books.
Neither actor fit the part, which may be a reason the pilot wasn't picked up, even though Gardner himself recorded a plug, taped on the Perry Mason set, for the new show.
It's not a particularly enthralling episode and an awful lot of the book was left out, losing much of the story's complexity. The whole thing feels rushed. I 'd love to see a Cool and Lam miniseries from one of the web providers. Or some television movies, like the Jesse Stone series.
Last week, I talked about The Knife Slipped, which was to be the second book in the Cool and Lam series. But William and Morrow Company (Gardner's publisher) objected to the content. So it languished in the Gardner papers at the University of Texas' Harry Ransom Center (the HRC is a national treasure, as far as I'm concerned). Tomorrow, The Knife Slipped will be published by Hard Case Crime. Awesome!!
---
You can read Bob Byrne's 'The Public Life of Sherlock Holmes' column here at Black Gate every Monday morning.
He founded www.SolarPons.com, the only website dedicated to the 'Sherlock Holmes of Praed Street' and blogs about Holmes and other mystery matters at Almost Holmes.
He has contributed stories to The MX Book of New Sherlock Holmes Stories – Parts III, IV and V.