The Public Life of Sherlock Holmes: Michael Stone's Streeter
The Public Life of Sherlock Holmes: Michael Stone's Streeter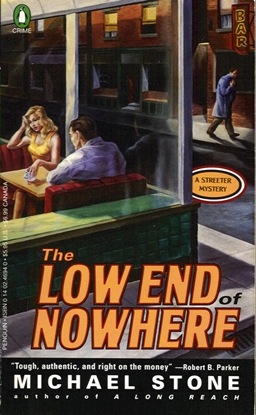 Just after I moved to Colorado Springs, a Denver private investigator named Michael Stone released his first book about Streeter, a bounty hunter in the Mile High City. The Low End of Nowhere had a very cool cover by Owen Smith, who would provide three more for A Long Reach, Token of Remorse, and Totally Dead.
Then, nothing: After four very good novels, Stone simply quit writing. It was as if he'd suddenly passed away. Over the years, I tried to find some news of him on the web but came up empty. He just seemed to lose interest in being a writer in 1999.
That's a shame, because the Streeter books are quite good. They are very much in the style of the old pulpsters, but with a light touch. Stone clearly appreciated those who had gone before him, like Hammett and Nebel. But his character was no Mike Hammer or Race Williams. There's finesse in the writing that reminds me of Joe Gores and his DKA novels.
Steeter (we never learn any other name) is physically imposing, having played football at a small division one school for two years before a fight with tragic consequences derailed that life plan. He was working as a bouncer and an accountant (how many of those have you read about?) when he ended up getting a job as a bounty hunter.
He lifts weights daily, fighting a slowly losing battle against the aging process. He even buys some hair-restorer but promptly puts it in a bathroom drawer, afraid to use it. Streeter isn't a superhero: he's a guy who works hard at working hard.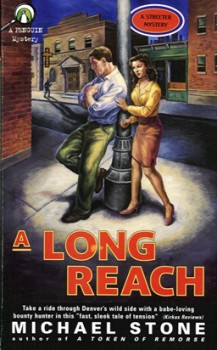 It's a fact that his Achilles heel is women. He's been married four times and engaged thrice more and he's not exactly a beacon of relationship stability. It's not clear who is more to blame overall: him or the opposite gender. Though, one ex-wife is quite the character in book number two, A Long Reach.
Personality-wise, Streeter reminds me some of John D. MacDonald's Travis McGee and that's a good thing. He's a worn but noble knight who always tries to do the right thing. He goes all out for his clients and doesn't whine about his fate during a case (which certainly distinguishes him from Philip Marlowe). The miles are starting to show a bit, but he's still in his prime.
He lives in an old church with Frank Dazzler, a retired cop who runs a bail bond service and the guy who got Streeter out of the bouncing business. Dazzler gets Streeter work and occasionally helps out, though he's really more of a sounding board for the bounty hunter.
There are a couple of cops who are regulars. Carey is a buddy who helps him out unofficially. Hanley isn't quite Inspector Lestrade, but he's just about as lacking in imagination and desire to look beyond the obvious. But this is really a solo series.
The antagonists are generally divided into two groups: the smarter bosses and the bad guys who aren't as good as they think they are. Sometimes the two groups are allies; others, they're in competition. Streeter always has his hands full with villains in this series and it really does help keep the plot moving forward.
Because Stone uses multiple character viewpoints throughout the story, he adds depth to the characters. You won't find cardboard cutouts here. One bad guy that I like is Mitch Bosco, who is in the process of committing a little arson when we meet him. Stone takes us inside the man's head in his first appearance:
'Diversity of skills ensures your marketability. Mitch had read something to that effect two years earlier when he first embarked on his Ladder of Success. That's what he'd labeled his self-improvement jag in his Prosperity Journal back then. And he was dead serious about the whole thing.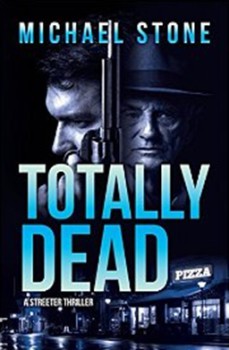 Back on his fortieth birthday, Mitch Bosco had done some serious soul searching and had decided to turn his life around. He knew he would never be a real citizen with an actual job and benefits, paying withholding taxes and all. That, obviously, was not Mitch. But if he was going to be an outlaw, he determined to be the best outlaw he could be and to make it profitable.
So, he immersed himself in the works of all the self-help gurus: Anthony Robbins, Stephen Covey, M. Scott Peck and the like. Even dabbled in New Age spirituality. He'd read scores of books, attended dozens of workshops, and listened to countless hours of tapes. And he chronicled it all in the Prosperity Journal he carried with him always.
Actually, except for its being the wrong house, Mitch did an outstanding job that morning.'
Tell me you aren't interested in Mitch Bosco now. He is not your typical hired hand. But he's not a "look at me" minor character, either. Stone is good at this type of thing. And he mixes in humor throughout.
Denver is a big city with a western feel. It's got everything a major metropolis has, but it isn't like Chicago (Midwest) or Los Angeles (West Coast). And Stone blends Denver into the books, making it an effective background character. His short descriptions of suburbs he doesn't like and the references to the 'salvaging' of LoDo (lower downtown) with the advent of Coors Field bring the city to life.
It's a shame that Stone gave up on the series after four books. There was definitely a lot of life left in Streeter.
I'm happy to report that the newly established Brash Brooks is bringing all four Streeter books back into print. Co-founder Lee Goldberg didn't rule out the possibility of a new book in the series when I asked, err, pleaded with him about it. I'm guessing it's a rather low percentage, but after over a decade of silence, I'll take it!
---
Bob Byrne founded www.SolarPons.com, the only website dedicated to the 'Sherlock Holmes of Praed Street' and blogs about Holmes and other mystery matters at Almost Holmes. 
He has also asserted in print, that the hard boiled school can actually trace its roots back to Sherlock Holmes in Hard Boiled Holmes.