With a (Black) Gat: Frederick Nebel's Donahue
With a (Black) Gat: Frederick Nebel's Donahue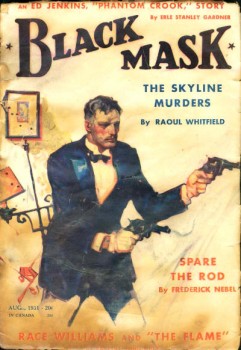 (Gat — Prohibition Era term for a gun. Shortened version of Gatling Gun)
Carroll John Daly's action-packed adventures of Race Williams sold more copies of Black Mask than any other author's stories. But editor Joe 'Cap' Shaw, who was willing to hold his nose and put Williams on the cover, considered the far more literate Dashiell Hammett to be the magazine's cornerstone.
In January of 1930, the final installment of The Maltese Falcon appeared in Black Mask. A Continental Op story followed in February, then the next three months saw the stories that would become The Glass Key. But at the peak of his pulp abilities, Hammett left the genre. He was interested in the easy money of Hollywood and the better paying 'slick' magazines. He bid adieu to Black Mask in November of 1930.
Shaw had lost his best writer. The irreplaceable Hammett had to be replaced. He turned to Frederick Nebel, whose MacBride and Kennedy stories had appeared over a dozen times. That November issue of Black Mask included the thirty-sixth and final Continental Op story, "Death and Company." It also featured "Rough Justice," the first tale of Donahue of the Inter-State agency.
After the phenomenal success of The Maltese Falcon, Shaw had urged Hammett to write more stories featuring Sam Spade. Dash wasn't interested and not only refused, but he shortly thereafter left the magazine forever. Though, he did write three more Spade stories in 1932 for the slicks. Shaw tagged the reliable Nebel to provide Black Mask readers with a tough private eye to replace the immensely popular Continental Op. The writer most certainly did that.
In "Rough Justice," the Irish New York City PI, a former cop bounced from the force for being too honest, finds himself in sweltering St. Louis. In August of 1931 Donahue would return to the Arch City in "Spare the Rod." In between, Nebel wrote a three-story serial of connected adventures that appeared in consecutive issues.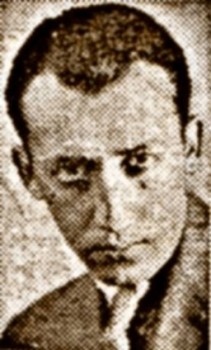 In December, 1930. "The Red Hots" saw Donahue hanging out in a new client's apartment, clueless that the man was dead in another room. Things get going when Donahue finds the body. A lazy, corrupt cop named Roper enters the case. He's not a fan of our hero. A long chase ends with Donahue blasting one of the villains, then going soft for a woman who is involved up to her elbows. While a couple of killings are resolved, the entire matter had been about a missing diamond, which was never found.
"Gun Thunder" starts with Donahue and Roper both near a killing in the street. It's a man named Adler, a janitor and manager in the building where Donahue found the body in the prior story. Donahue finds the diamond, though he and his temporary partner take a beating from a villain after the diamond. And Irene Safarrans, who Donahue played the sap for earlier, is using her wiles again.
Nebel knew how to write a violent pursuit and absolutely how to write a violent finale. He was as hardboiled as anyone at the Mask (and better at it than Daly). Irene gets her just desserts, the bad guy gets his, Donahue gets shot and the diamond is recovered. It's a pure hardboiled tale. Except: the diamond is a glass imitation. Somewhere along the way, it was switched with the real thing.
Which leads us to the series finale, "Get a Load of This." I'm not going to give anything away, other than that it brings the whole affair to very hardboiled conclusion, tying everything together. Roper's role even gets wrapped up (he doesn't become President of the Donahue Fan Club). Donahue doesn't have a lot of depth, but he gave Black Mask readers what they wanted: a tough guy who can shoot and punch, use his head, take a beating or a shot and stay on the trail.
Donahue is blunter and less well-rounded than the Continental Op. Nebel, while a writer in the Hammett school, wasn't as polished and his detective comes across as rougher and tougher. Talking to a woman involved in the matter, Donahue snarls, '"Don't pull a song and dance on me!" he rapped out. "We can get along fine as long as you don't play me for a jack-ass. Come on now, break clean. What kind of a racket are you in on?"'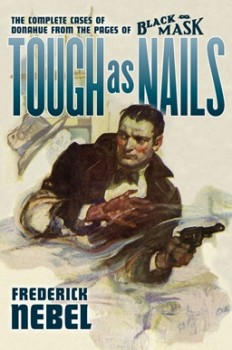 He has brains but he is more than willing to trade lead or pound his way through a problem. He gets knocked about some but always pushes forward towards completing the job, with bodies piling up along the way.
Nebel was a stickler for describing chases and trips across town, using street names and sketching out routes in great detail. For me, it's the weakest part of his writing in the series. There are relatively long passages, tracing Donahue's path. It's not unusual to involve a chase, but still; there's a lot of directions given. I don't really care.
Nebel also used the weather in the Donahue stories. Will Murray, in his introduction to Altus Press' complete Donahue collection, Tough as Nails, explains that publisher Fiction House, whom Nebel wrote for, told writers "no weather reports." Freed of this stricture at Black Mask, the sweltering heat of St. Louis is almost a character in "Rough Justice." Cold, storms, rain, lighting; Donahue is consistently out in the elements as he pursues his cases.
Dime Detective Magazine emerged as Black Mask's greatest competition. The magazine, which touted itself as "twice as good – for half the price" (Black Mask cost 20 cents at the time; though the price would shortly drop to 15 cents, in part due to Dime Detective's success at the cheaper cost) lured many Black Mask writers by offering an extra penny a word.
Nebel was one of the many writers who signed on with Dime Detective. Donahue went on a vacation as Nebel's 'Jack Cardigan of the Cosmos Detective Agency' became a mainstay at Dime Detective. Shaw kept after Nebel, who still liked and admired 'Cap' and Donahue returned after a nine-month absence.
In all, there would be fifteen Donahue cases, the last appearing in March of 1935. Cardigan and the popular MacBride and Kennedy stories would also cease shortly thereafter, with Nebel leaving the pulps.
Nebel appeared in Dime Detective 45 times and 44 of those stories were about Cardigan! Some assert that Cardigan was nothing more than Donahue transplanted to St. Louis: I disagree. I think that Cardigan (who I prefer) has more depth as a character. Donahue is more the stereotypical tough private eye.
Nebel, an extremely successful pulpster who left the market in 1937, sold well to the slicks, appearing in Cosmopolitan, The Saturday Evening Post, Liberty, Colliers and American Magazine in the thirties, forties and into the fifties. He had several stories in Ellery Queen's Mystery Magazine between 1956 and 1962, but his health was in serious decline (he long suffered from high blood pressure) and he suffered a stroke and then died in 1967.
In the early forties, Joe Shaw was compiling his Hard Boiled Omnibus (the standard for hardboiled anthologies for decades). While Hammett, Chandler, Whitfield and other Black Mask stars signed on, he was stunned when Nebel denied permission to include a MacBride and Kennedy story. "Dammit, Fred, you can't be left out, any more than Dash or Ray Chandler," protested Shaw in a letter. But Nebel, who felt his pulp work was dated, refused to relent and he was left out of that all star Black Mask collection.
Frederick Nebel, who also wrote a great many adventure and air action stories before becoming a Black Mask Boy, was one of the best of the pulpsters and is one of my favorites.
Altus Press has published collections including EVERY story featuring Donahue, Cardigan and MacBride and Kennedy. And other series' written by Nebel. As I mentioned, I am a Cardigan fan first and foremost, but I recommend checking out the Donahue book. It's full of good hardboiled PI pulp.
Previous entries in the series:
With a (Black) Gat: George Harmon Coxe
With a (Black) Gat: Raoul Whitfield
With a (Black) Gat: Some Hard Boiled Anthologies
With a (Black) Gat: Thomas Walsh (Next Week)
Other hard-boiled related ramblings I've done at Black Gate:
A Century of John D. MacDonald
A Man Called Spade
Asimov's The Caves of Steel
Carroll John Daly & the Birth of Hard Boiled
Cool & Lam are Back!
Erle Stanley Gardner on Mysteries
Gideon Lowry – Key West Private Eye
Glen Cook's Garret – PI
Hard Boiled Holmes (my best pre-Black Gate work. Click on over!)
Hard Case Crime Q&A
John D. MacDonald – A Writer's Writer
Lester Dent's Master Plot Formula
The Maltese Falcon in Film
Michael Stone's Streeter
Richard Diamond – Private Eye
Robert E. Howard Goes Hard boiled (Steve Harrison)
Shovel's Painful Predicament
---
Bob Byrne's 'With a (Black) Gat' appears weekly every Monday morning at Black Gate.
His 'The Public Life of Sherlock Holmes' column ran every Monday morning at Black Gate  from March 2014 through March 2017 (still making an occasional return appearance!). He also organized Black Gate's award-nominated 'Discovering Robert E. Howard' series.
He is a member of the Praed Street Irregulars, founded www.SolarPons.com (the only website dedicated to the 'Sherlock Holmes of Praed Street') and blogs about Holmes and other mystery matters at Almost Holmes.