Birthday Reviews: Nictzin Dyalhis's "Heart of Atlantan"
Birthday Reviews: Nictzin Dyalhis's "Heart of Atlantan"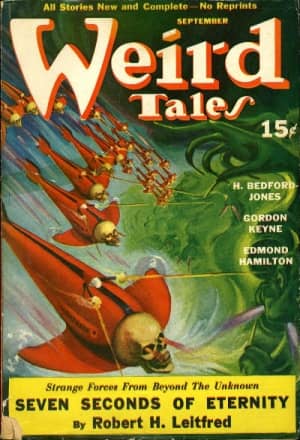 Nictzin Dyalhis was born on June 4, 1873 and died on May 8, 1942.
Dyalhis's writing career began with the story "Who Keep the Desert Law" in 1922 and saw the publication of fewer than 20 stories over the next 18 years. His first story in Weird Tales, "When the Green Star Waned," may have been the first use of the word "blaster" for a ray gun. Although L. Sprague de Camp has stated that Nictzin Dyalhis was his birthname and appears on his draft card, people have suggested that he changed the spelling of his last name from Dallas. Dyalhis also appears to have changed the date of his birth as suited him. One of the few members of the science fiction community to have actually met him was Willis Conover, Jr.
"Heart of Atlantan" first appeared in the September 1940 issue of Weird Tales, edited by D. McIlwraith. It remained out of print for 30 years before Lin Carter selected it for his anthology The Magic of Atlantis. In 1976, Peter Haining published a retrospective of Weird Tales and chose the story to represent Dyalhis's contributions to the magazine. Wildside Press issued several of Dyalhis's stories, including "Heart of Atlantan" in their e-book The Golden Age of Weird Fiction Megapack: Volume 4 in 2015. The story most recently appears in The Sapphire Goddess, published in 2018 by DMR Books and edited by Dave Ritzlin. "Heart of Atlantan was Dyalhis's final published story.
Framing techniques in weird fiction were a common device in the early pulp era, an attempt to give some sort of credence to the tale. The events didn't often happen to the narrator, but to a friend, or were found in a book. In "Heart of Atlantan," Henri d'Armond describes how he was having a conversation with his friend, Leonard Carman, about the possibility of lost ancient civilizations. Carman is convinced they exist and to prove his point calls a woman, Otilie, to join them. Bent, broken, ugly, and illiterate, Otilie has the ability to serve as a medium, writing messages from a lost race.
Otilie manages to summon the shade of Tekala, a princess of Atlantan. Through Otilie, Tekala is able to describe the fall of Atlantan as her parents, who were despotic, turned against the ancient ways. Wanting a boy, they tried to kill Tekala, who was rescued by a priest, but their subsequent sons followed in their footsteps. Tekala describes the purging of Atlantan society, the counterattempts to save their culture, and eventually its ruin as she became the last survivor.
One of the problems with using a framing mechanism is that it puts the story at an extra remove from the reader, and "Heart of Atlantan" suffers because of this. Rather than a harrowing experience for Tekala, the civil war she describes has a clinical detachment. Even when the events of her own time begin to encroach on Carman, d'Armond, and Otilie, there is no real sense of reality in what happens to them. Furthermore, while Tekala is described as being a reasonably powerful woman, Dyalhis's depiction of Otilie clearly ties her worth to appearance even when she demonstrates her occult abilities and compassion.
Reprint reviewed in the collection The Sapphire Goddess, by Nictzin Dyalhis, edited by Dave Ritzlin, DMR Books 2018.
---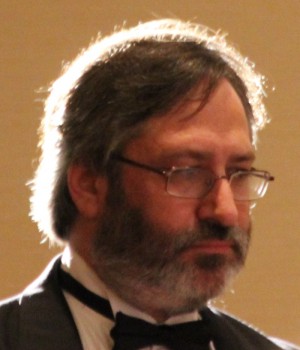 Steven H Silver is a sixteen-time Hugo Award nominee and was the publisher of the Hugo-nominated fanzine Argentus as well as the editor and publisher of ISFiC Press for 8 years. He has also edited books for DAW and NESFA Press. He began publishing short fiction in 2008 and his most recently published story is "Doing Business at Hodputt's Emporium" in Galaxy's Edge. Steven has chaired the first Midwest Construction, Windycon three times, and the SFWA Nebula Conference 6 times, as well as serving as the Event Coordinator for SFWA. He was programming chair for Chicon 2000 and Vice Chair of Chicon 7. He has been the news editor for SF Site since 2002.