With a (Black) Gat: Some Harboiled Anthologies
With a (Black) Gat: Some Harboiled Anthologies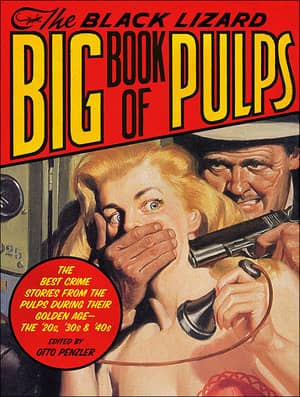 (Gat — Prohibition Era term for a gun. Shortened version of Gatling Gun)
There are a lot of anthologies out there that collect old pulp stories and I'm using several for the With a (Black) Gat series. While my hard-boiled collection doesn't remotely rival my Sherlock Holmes library (or even my Nixon/Watergate, Civil War and Constitutional Convention of 1787 libraries), I've managed to amass quite a bit of good reading.
Of course, I have novels and individual short story collections from Black Lizard, Mysterious Press, Hard Case Crime and other imprints, as well as anthologies of stories from just one author. But for this post, I thought I'd talk about a few of the multi-author anthologies I'm drawing on. I'll do a similar post with a few of the reference books I'm tapping.
The Black Lizard Big Book of Pulps
I got the idea for the new column from this book. It's one of a series of 'Big Books' edited by Otto Penzler. We talked about The Big Book of Sherlock Holmes Stories (which, of course, I own) here at Black Gate earlier. It's a great series for collecting a wide variety of stories in a particular genre. This bad boy has more than 50 stories covering over 1,100 pages, including multiple tales from such pulpsters as Dashiell Hammett, Raymond Chandler, Paul Cain and Roger Torrey.
I like the interior artwork, which includes original illustrations from Black Mask, Dime Detective and Detective Fiction Weekly. I try to include at least one piece in each With a (Black) Gat post.
You can go to the book's Amazon page and 'Look Inside' to see the Table of Contents. Quite frankly, I can't imagine any pulp fan not finding this anthology to be an excellent buy. And if you were just starting out, this is probably my very first recommendation. It's a fantastic collection and I'll be talking about quite a few of the stories in With a (Black) Gat.
NOTE: This book was originally published in England as three separate volumes: Pulp Fiction: The Crime Fighters, Pulp Fiction: The Villains and Pulp Fiction: The Dames. You do NOT need those individual volumes if you have this one!
The Black Lizard Big Book of Black Mask Stories
I think of this as a companion book to The Big Book of Pulps; but primarily because I bought the other one first. It could stand pre-eminent in most libraries. This is another massive tome, edited by Otto Penzler, coming in at just about 1,100 pages. Every one of the fifty-three stories originally appeared in the pages of Black Mask – including the entirety of The Maltese Falcon.
Whereas The Big Book of Pulps drew from other magazines, offering a wider range of authors and stories, this one had to be a bit more creative. I like that it's got other authors I might not otherwise have read. Stewart Sterling, H.H. Stinson, Norvell Page and Cleve Adams are just a few.
Now, the big names like Hammett, Chandler, Gardner, Daly and Whitfield are represented. As well as some of the Black Mask 'mid-listers,' such as Norbert Davis, William Campbell Gault and John D. MacDonald (my favorite author and a titan in the business, but he made his name in paperbacks, not at Black Mask).
It features the same types of illustrations as The Big Book of Pulps, which is cool. I would start with the other book and then buy this one next. Between the two, you will have years of hard boiled reading. Heck – you could even write your own regular blog column!
These stories aren't collected from prior anthologies, so no worries about duplicates as with The Big Book of Pulps. There's a pretty good introduction by Harry Alan Deutsch, who formerly held the rights to Black Mask, which now belong to Matt Moring of Altus Press.
Hard-Boiled: An Anthology of American Crime Stories
Bill Pronzini and Jack Adrian edited this 1995 anthology which is still extremely well-regarded in hardboiled circles. Pronzini is the author of the hardboiled 'Nameless' PI series and is married to Marcia Muller, creator of the trend-setting hardboiled PI, Sharon McCone.
The book opens with a FANTASTIC introduction from Pronzini, tracing the evolution of the pulps, the birth of the hardboiled school, the death of it with the rise of paperbacks and on in to the nineties. It's almost worth the price of the book alone. And it's followed by Hammett's Continental Op story, "The Scorched Face." I defy you to put the book back on the shelf after that start!
It's divided into decades, with Hammett and W.R. Burnett (author of High Sierra, the excellent Bogart movie) kicking off the twenties and James Ellroy, Lawrence Block and Ed Gorman representing the nineties. Because of the time-line evolution, this anthology is quite a bit different from the two mentioned above. And well worth investing in.
Paul Cain, Chandler, Chester Himes (there's a guy that deserves WAY more attention!), Elmore Leonard (he was writing hard boiled westerns before people even knew what they were), Leigh Brackett, Gil Brewer, Jim Thompson, and James Reasoner are some of the thirty-seven stories.
If you want a hardboiled anthology that's not firmly anchored in the pulps of the twenties and thirties (though you'll get those stories), this is highly recommended.
Hard-Boiled Detectives
Before The Big Books came out, this was a favorite of mine, because it collected twenty-three stories from the pages of Black Mask's only serious competitor, Dime Detective Magazine, which touted itself as "twice as good – for half the price."  Pulp fans had to scrounge a bit to find the old stories, and, understandably, ones from Black Mask got the lion's share of the attention. Edited by Robert Weinberg, Stefan R. Dziemianowich and Martin Greenberg, it went after 'the best of the rest,' as it were.
Frederick Nebel (one of my favorites), Carroll John Daly, Erle Stanley Gardner, Max Brand, Norbert Davis, Merle Constiner, Hugh B. Cave, Raymond Chandler, William P. McGivern – there are some stellar writers in this collection. I think this book is where I discovered Nebel's Cardigan of the Cosmos Detective Agency and I was hooked (you can find the complete Cardigan Canon at Altus Press).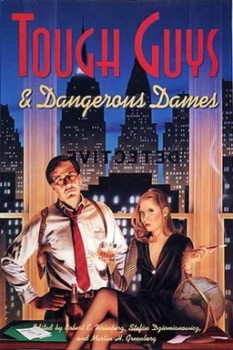 There are a few misses, as with any anthology, but this collection showcases why Dime Detective, at it's peak, was the second-most popular mystery pulp. Dziemianowicz's introduction, perhaps a bit short, is informative and a good read. This is still one of my favorite anthologies.
Tough Guys & Dangerous Dames
Another anthology from the trilogy that edited Hard-Boiled Detectives, this one casts a much wider net, hauling in two dozen stories. If you wanted five quality writers to begin a hardboiled anthology, you couldn't do much better than Lester Dent (Kenneth Robeson of 'Doc Savage' fame), Raoul Whitfield, Paul Cain, Raymond Chandler and Frederick Nebel. Yeah – that's pretty impressive.
I'm a big fan of weird menace maven Hugh B. Cave's drunken Boston PI, Peter Kane, and he's present. Another giant in the horror field, Donald Wandrei, gets his hardboiled on as well. Fantasy Grand Master Fritz Lieber, Robert Bloch (Psycho) Leigh Brackett and Conan creator Robert E. Howard (I believe I may have mentioned him here at Black Gate a time or two…) are all represented. It's an eclectic hardboiled mix that lets this book stand out from other anthologies.
You'll get several stories here you'll likely not find in too many other anthologies, so I think that makes this a good buy. Try to get past the cheesy cover.
The Mammoth Book of Pulp Fiction
I have recollections of this being maybe the first hardboiled anthology I purchased and it was well perused. The Mammoth book line, edited by Maxim Jakubowski, were godsends to anthology-starved fans in many genres back in the day. I have the Sherlock Holmes book and a couple for true crimes.
Almost three dozen stories spread over five hundred, small print pages were heaven. It contains a mix of 'old and new' hardboiled writers. Along with Hammett and Paul Cain, there are some other neglected masters, like Charles Williams, David Goodis, Day Keene (I'll definitely be doing a post on him!) and Frederic Brown.
Plus, more modern practitioners, such as Max Allen Collins, Donald Westlake (THERE is a guy who simply hasn't gotten his due!), Joe Gores and John Lutz. And both MacDonalds' are covered (John D and Ross).
This is another solid addition to a pulp library and one of the best representations of hard boiled writing up to contemporary times (1996).
American Pulp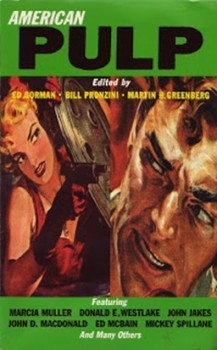 Edited by Ed Gorman, Bill Pronzini and Martin H. Greenberg, this isn't really a pulp collection, but a showcase of some of American mystery fiction from the fifties into the nineties, centered on the digest-sized mystery magazines that replaced the pulps, like Manhunt and Ellery Queen's Mystery Magazine.
John D. MacDonald, William Campbell Gault, Evan Hunter, Mickey Spillane, Richard Prather, Wade Miller, John Jakes (yeah, the guy who wrote those historical epics; he also wrote Conan-like sword and sorcery back in the day) and many other names that typify the days of Gold Medal paperbacks and digest mystery magazines.
Over thirty stories from as many different authors covers a wide range of edgy and suspenseful mysteries. I think this is a neat book to have because it gives a good look at the American mystery scene after the demise of the pulps.
Pulp Fictions
This one, edited by Peter Haining, certainly seems to have been an attempt to cash in on Quentin Tarrantino's 1994 movie. It even ends with Christopher Walken's speech about the watch. But for all that, it does have some interesting hardboiled stories.
It veers from James Ellroy (a tremendous and tremendously dark writer) to Daly, Hammett and Chandler; from Ross Macdonald and Elmore Leonard to Cornell Woolrich and Samuel Fuller; even from Jim Thompson to Stephen King.
I found this to be a good collection of hardboiled stories, even if calling it Pulp Fictions was a bit of a stretch. It includes one of Ed McBain/Evan Hunter's 87th Precinct stories. I don't believe anybody has come close to mastering the Police Procedural as well as McBain did. The novels and the short stories are excellent reads.
So…
Those are the anthologies I have on hand. William F. Nolan's excellent The Black Mask Boys is another, but I'll talk about that in my post on hard boiled references. Nolan includes some fine bio info on the authors covered. Joseph Shaw's Hard Boiled Omnibus is noticeably absent. That's because I don't own a copy, though I may rectify that soon. Next week – back to the authors!
Previous entries in the series:
With a (Black) Gat: George Harmon Coxe
With a (Black) Gat: Raoul Whitfield
Other hard-boiled related ramblings I've done at Black Gate:
A Century of John D. MacDonald
A Man Called Spade
Asimov's The Caves of Steel
Carroll John Daly & the Birth of Hard Boiled
Cool & Lam are Back!
Erle Stanley Gardner on Mysteries
Gideon Lowry – Key West Private Eye
Glen Cook's Garret – PI
Hard Boiled Holmes (my best pre-Black Gate work. Click on over!)
Hard Case Crime Q&A
John D. MacDonald – A Writer's Writer
Lester Dent's Master Plot Formula
The Maltese Falcon in Film
Michael Stone's Streeter
Richard Diamond – Private Eye
Robert E. Howard Goes Hard boiled (Steve Harrison)
Shovel's Painful Predicament
---
Bob Byrne's 'The Public Life of Sherlock Holmes' column ran every Monday morning at Black Gate  from March 2014 through March 2017 (still making an occasional return appearance!). He also organized Black Gate's award-nominated 'Discovering Robert E. Howard' series.
He is a member of the Praed Street Irregulars, founded www.SolarPons.com (the only website dedicated to the 'Sherlock Holmes of Praed Street') and blogs about Holmes and other mystery matters at Almost Holmes.
He has contributed stories to The MX Book of New Sherlock Holmes Stories – Parts III, IV,  V and VI.
And coming this summer, look for another Robert E. Howard series with an all star cast!