Announcing the Black Gate Book Club: Downbelow Station by C.J. Cherryh
Announcing the Black Gate Book Club: Downbelow Station by C.J. Cherryh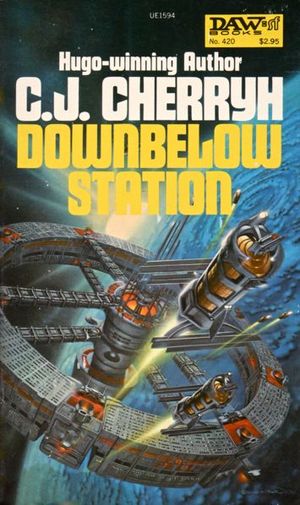 Last year, when I reviewed C.J. Cherryh's The Pride of Chanur, Adrian Simmons mentioned he had been thwarted by her Hugo-winning Downbelow Station (1981). That led to him suggesting another go at it, but this time with the impetus of a reading group to spur him on and to discuss it. Thus the idea of the Black Gate Book Club was born. It's taken a year to actually get around to getting this off the ground, but here we are.
For forty years, C.J. Cherryh has been a powerful voice in science fiction. Her work is noted for its "intense third person" style, where only things noticed by or of importance to the point of view character are included in the narration. Her science fiction is notable for its complex and detailed societies and its relative hardness.
Many of her books are set in the Alliance-Union universe. By the 24th century, humanity has spread to the stars. While Earth, overpopulated and culturally and economically stagnant, is ostensibly in charge of the merchant space stations and the few planetary colonies, that is not actually the case. Under the direction of a scientific elite, the planet Cyteen has declared its independence. In response, Earth has built a massive fleet of military vessels and sent them out to retake Cyteen.
Downbelow Station opens in the late days of the consequent war, when the forces of Earth are in retreat from the seemingly invincible fleets of Cyteen. Downbelow Station, a trading orbital above a planet in the Tau Ceti system, becomes the focal point of both military forces as well as a nascent third one: the independent merchants.
The plan is to read Downbelow Station over the month of June and post a discussion of it each Monday afternoon. This time around, the Book Club participants will include Adrian Simmons, Charlene Brusso, Chris Hocking, and me. We'd love it if you'd read along with us and join in the conversation.